RIT around the world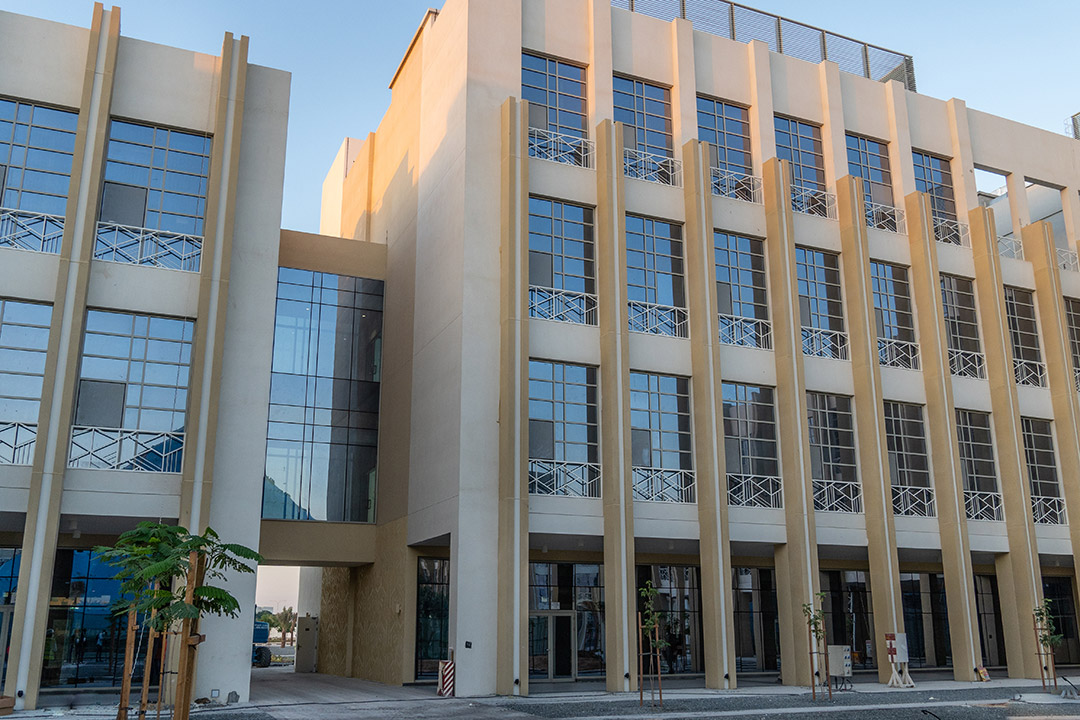 RIT Dubai
RIT Dubai began the year by being named the Best American University for Engineering in the UAE, 2019 by Global Brands Magazine. This achievement strengthens the aspiration of the RIT Dubai campus to be the region's university of choice for engineering, computing, and business students.
Established in 2009 and growing enrollment to more than 900 students, this vision has not wavered through the pandemic. The university offered a first-of-its-kind international virtual consulting bootcamp this past summer. The program engaged students from RIT Dubai, RIT Croatia, RIT China, RIT Kosovo, and students from the main campus in Rochester. Students participated in intensive training workshops followed by placements in international consulting teams working with local and global organizations.
Construction of the first phase of RIT Dubai's new $136 million campus is nearly complete. The hope is to start the spring semester there.
RIT Croatia
RIT Croatia enrolls almost 900 students between two locations. The Dubrovnik location was opened in 1997 and Zagreb in 2011. RIT Croatia has focused efforts on developing new and innovative opportunities for students to engage in academic programming and cooperative education. This resulted in record summer course enrollment and a 95 percent employment rate for RIT Croatia co-op students. 
It has been a year of firsts for the RIT Croatia campus. RIT Croatia introduced the MS in information sciences and technologies as the newest graduate degree offered at the Zagreb campus last fall. Additionally, RIT Croatia welcomed the largest number of incoming exchange students from Austria, Czech Republic, France, and Spain, and secured its largest amount of Erasmus funding, 99,470 EUR (~$120,000 USD). These funds will be used to further develop transnational partnerships as well as student and faculty opportunities throughout Europe.
Martin Žagar, a web and mobile computing faculty member, received the EIT Health InnoStars RIS Innovation 2020 grant for his work on 3D virtual navigation, integrating high-resolution stereo-depth cameras for medical imaging systems with over-the-air, real control of a surgeon's hands.
RIT China
Established in 2015, RIT China is the most recent global campus with nearly 500 students enrolled between the Weihai and Beijing locations. Students earn a dual degree from RIT and its international partner Beijing Jiaotong University (BJTU), one of the top public universities in China. At the Weihai location, students recently established Tiger House, a club for RIT China students to connect with other students and faculty through virtual and in-person activities focused on preparation for graduate school and strengthening the RIT spirit. Approximately 70 percent of RIT China graduates continue on for graduate education at top-ranked universities around the world— including RIT.
The Beijing location also enrolled its sixth and largest cohort of new students (31) and is approaching 100 graduates from RIT's Saunders College of Business. Students benefit from a newly developed experiential entrepreneurship program including monthly virtual workshops, professional mentors, organized industry visits, and individual support.
RIT Kosovo
This year, RIT Kosovo received a $1.16 million gift from the Biberaj Foundation Inc. This is the largest gift received from a private foundation to the Kosovo campus. The donation established the Biberaj Family Scholarship, a full scholarship for 40 students to earn a bachelor's degree from RIT and complete one semester of study at the main campus in Rochester. The scholarship program will primarily support students from rural locations in Kosovo with a strong focus on women interested in STEM disciplines.
RIT Kosovo, founded in 2003, currently enrolls nearly 500 students and its largest freshman class in five years. RIT Kosovo expanded its degree program offerings in 2020 to include the BS in computing and information technologies and an MS in professional studies, with a concentration in strategic foresight and innovation. The offerings enhance the RIT Kosovo goal to be a leader in academic excellence, research, and innovation within Kosovo and the region.
Topics