RIT celebrates Martin Luther King Jr.
RIT honored King's impact through songs, ASL performances and reflections on his work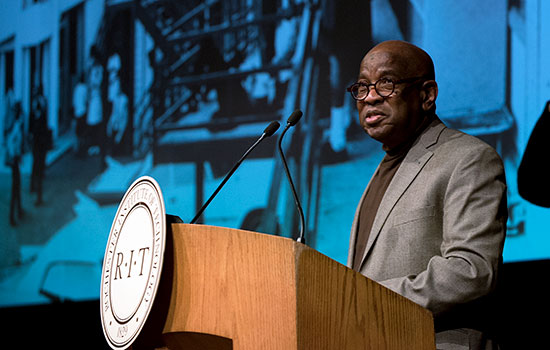 A. Sue Weisler
Several hundred members of the Rochester Institute of Technology community gathered in Ingle Auditorium last Monday to celebrate the life and work of Martin Luther King Jr. during the university's first Let Freedom Ring event. The event was devised by RIT President Munson as a way for students, faculty and staff to celebrate the federal holiday and complement RIT's Expressions of King's Legacy, which has been an annual tradition for 36 years.
"RIT has long recognized the importance of diversity to organizational growth and synergy," said Munson during the program. "Beginning in the 19th century, when we welcomed women into our classes, decades before other colleges even considered co-education, we have intentionally sought students, faculty and staff from multiple backgrounds, ethnicities and countries. In 1968, the addition of the National Technical Institute for the Deaf brought an intellectual, linguistic and programmatic diversity to RIT that is unmatched in higher education. We are likewise proud of the growing number of underrepresented and international students enrolled at RIT. The unmatched diversity of our academic programs is a direct result of the diverse voices, in Martin Luther King Jr.'s stead, that constantly participate in the RIT conversation."
The program featured an ASL performance of King's I Have a Dream speech by Dangerous Signs, songs associated with King and the Civil Rights movement performed from Eastman School of Music students Jonathan Rhodes and Andrew Chen, and remarks from William Davis Jr., who reflected on growing up in a segregated Mobile, Ala., and attending King's funeral in 1968 while he was a college student. Davis was in the process of pledging Alpha Phi Alpha Fraternity Inc., the same fraternity that Martin Luther King Jr. was a member of, when King was assassinated.
Keith Jenkins, RIT's vice president and associate provost for diversity and inclusion, invited Davis to speak because of his unique connection to King and his distinct perspective on King's impact. "When we reflect on that challenging day that King was assassinated, I thought of one who experienced life before, during and after King was assassinated and who could share reflections of that period," Jenkins said.
RIT will continue to honor King's work on Jan. 25 during the 36th annual Expressions of King's Legacy event. Marc Lamont Hill, host of BET News and a political contributor for CNN, will be the keynote speaker and the program will also feature performances by Rochester soul band Danielle Ponder and the Tomorrow People and local poet Reenah Golden. The band and poet will also deliver a concert performance the same evening, at 7 p.m. at the Robert F. Panara Theater on RIT's campus. For information and registration for this and other programs in the event, go to rit.edu/diversity/expressions.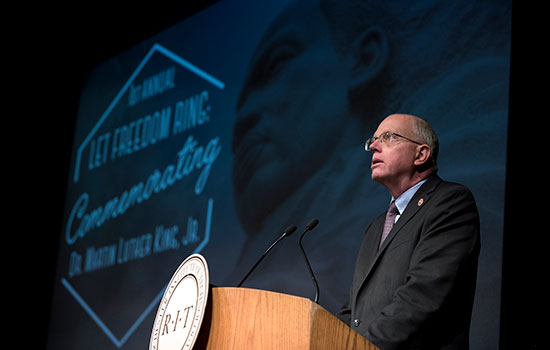 A. Sue Weisler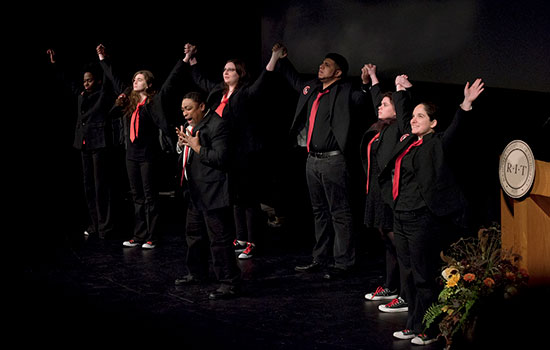 A. Sue Weisler