RIT celebrates opening of Global Village
Campus community, local leaders marvel at one-of-a-kind university marketplace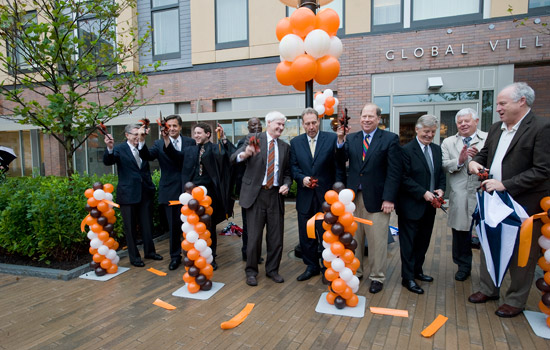 A. Sue Weisler
Despite less-than-cooperative weather conditions, Rochester Institute of Technology celebrated the grand opening of Global Village in style, complete with a steel-band performance, food tasting and tours of the international-themed complex. The festivities took place under rainy skies today at the location situated between Crossroads and the Center for Student Innovation.
Supporting the global and entrepreneurial missions of RIT, Global Village provides resources that prepare students to enter the global community and culturally diverse workforce including educational programming, unique activities and an international living environment representing regions from around the world—East Asia, the Middle East, Central Europe and Central America.
"When I arrived at RIT in 2007, the university was already an international player," said President Bill Destler during the dedication. "After all, we have relationships with more than 60 nations across the globe. Leading and preparing students for successful careers in a global society is the crux of our university mission statement. But something was missing on our main campus in Henrietta—until now. Global Village will provide a unique environment for RIT students as they prepare to enter the global community, travel overseas and join a culturally diverse workforce."
The project takes the shape of a European courtyard complete with an international market, Mexican cantina and fresh sushi bar. Global Village's 414-bed student residences feel more like an upper-Manhattan hotel with décor reminiscent of regions from around the world and provide upper-class students with a state-of-the-art global living experience. Other unique aspects of the complex include heated outdoor seating, a beach volleyball court, water feature, outdoor fire pit and ice-skating rink and a performance area with a stage. The Global Village courtyard also includes 28,000 square feet of heated pavement to increase usability in winter.
In addition to new dining options, the complex features a hair salon, post office, wellness center, art gallery, and a soon-to-be-added sports outfitter. Due to the global nature of the project, RIT's Study Abroad and Fellowships office has relocated to Global Village, along with Global Initiatives and Programs, Native American Future Stewards Program and the Entrepreneurial Center.
"Global Village becomes a one-stop facility that will greatly facilitate how students, faculty and staff obtain support for both multicultural and global education," explained Jeremy Haefner, RIT provost and senior vice president for academic affairs. "Preparing students for success in a global society is explicit in RIT's vision and Global Village becomes a gleaming example of that commitment."
Greg Pollock, RIT Student Government president, echoed that sentiment. A fourth-year professional technical communication student, Pollock has studied abroad three times throughout his college career.
"The student experience is enhanced so much more when we're allowed to believe in the true value of cultural exchange," he stated. "This facility allows a mere taste of that sensation. Global Village is a symbol of RIT's commitment to building a global community."
Howard Ward, assistant vice president for student auxiliary services at RIT, reminisced about conversations related to creating new housing with a "wow factor" for the campus community.
"The idea of Global Village was born," said Ward. "Global Village is clearly the university's 'pearl.'"
Other speakers at the grand opening event included James Watters, RIT senior vice president for finance and administration; Donald Boyce, chairman of RIT's Board of Trustees; and Michael Yudelson, Henrietta town supervisor.
RIT's Global Village—At a Glance
Cost: $57 million
Project Size: 182,271 gross square feet
Retail space: Approximately 24,000 square feet of commercial and retail space
Contractors: ARC/Architectural Resources Cambridge, architectural, planning and interior design firm specializing in educational, science, sports and corporate facilities, and SWA Group, specializing in landscape architecture, urban design and planning.
##