RIT center continues to make 'MAGIC'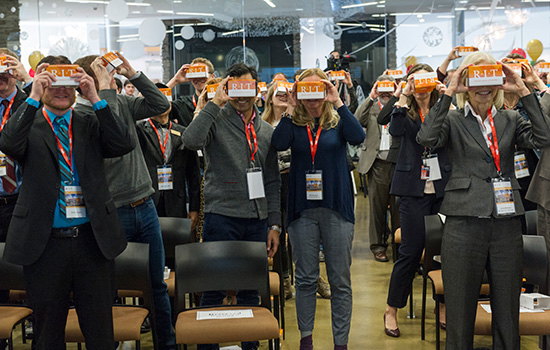 A. Sue Weisler
In the two years since its establishment, RIT's Center for Media, Arts, Games, Interaction and Creativity (MAGIC) has focused transforming ideas into award-winning digital products. Set up to help bridge the gap between university research and commercial production, MAGIC helps students, faculty and staff from across the university take their creations, such as video games, apps and software, and get them to market.
In 2013, MAGIC provided support for what became its first commercial project, the video game Chain Gang Chase. Since then, MAGIC has supported more than 20 projects and published three games through its third-party production studio, MAGIC Spell Studios.
It's also been the home base for e-NABLE, the international online community founded by research scientist Jon Schull that makes and improves affordable 3D-printed prosthetic devices for people in need, and recently launched a Religion, Culture, and Policy Initiative for research focused on games, religious literacy, the acquisition of cultural practices and the implications on policy and politics. This summer, five multidisciplinary teams will be funded for summer cooperative education experiences, allowing students to work on a project that leads to "start-up" products and commercial activities.
With a host of new student projects, research initiatives and grants on the way, the MAGIC Center is creating a buzz that extends far beyond the bricks of RIT. Here's a look at two recent projects:
Super Deluxe students
For the past three years, RIT students Dan Plate and Gary Porter — best friends since high school — have spent their free time creating Super Daryl Deluxe, a 2D slapstick orientated action video game that draws loosely from their high school experiences and inside jokes. While the game is not yet complete, it is already winning awards, taking first place in the Visual Quality category of the 2015 Intel University Games Showcase at the Game Developers Conference and the top prize in the Microsoft Imagine Cup U.S. Nationals.
"How often do you get to make a completely absurd game with your best friend?" said Plate, a fourth-year illustration major from Waterloo, N.Y. "Well, my answer would be all too often."
Plate and Porter, a fourth-year game design and development major, share a passion for being creative and are kicking around the idea of making a YouTube cooking show and writing a screenplay.
"When I decided to attend RIT, I told our group of friends that I wanted make a game about them and how goofy they are," said Porter. "When Dan transferred to RIT two years later, we started joking about the idea of actually making it."
Porter is the programmer; Plate is the artist. The duo co-wrote the six-chapter game, which borrows elements of their lives, including the look of the school, names of characters and even the likenesses of a few evil teachers.
The game's main character, Daryl Whitelaw, is a stereotypical high school kid whose special powers include a hammer that turns into a rhino on a stick when Daryl levels-up. Daryl is the new kid at a school that has been taken over by a group of evil scientists. With the help of a school janitor, Daryl uncovers the plot and attempts to the save the world — all while trying to be the most popular kid at school.
Their company, Dan and Gary Games, is being incubated in MAGIC Spell Studios, and this will be the first game released by their company. Super Daryl Deluxe is expected to be published and released within a year.
Splattershmup makes a splash
Fifteen RIT students can now add title credits to their résumés after working as a class on Splattershmup.
Created as part of Production Studio, an elective course offered through RIT's School of Interactive Games and Media, Splattershmup marks the first time that an RIT class has set out to produce and publish a complete game. The game was demonstrated at the 2015 Game Developers Conference, published through MAGIC Spell Studios and is available in Microsoft's Windows Store.
The free desktop computer game is a cross between a shmup — a classic shoot 'em-up arcade game, such as Asteroids — and abstract Jackson Pollock-style action painting.
"The class making the game is probably why Splattershmup turned out so awesome," said Ashwin Subramanian, a composer and audio programmer who attended GDC and tested the game. "The more eyes you can get on something, the more iterative your process can become. It's just so unique in terms of the concept."
The game has gained international recognition, being selected from more than 40 submissions for the 2015 Blank Arcade exhibit at the Digital Games Research Association conference in Germany. The exhibit highlights experimental games and artwork that push the boundaries of game design and theory.