July 15, 2010
by John Follaco
RIT Collaboration Facilitates Government Transparency on the Internet
New York Senate Chief Information Officer, media members and Red Hat,Inc. join advisory board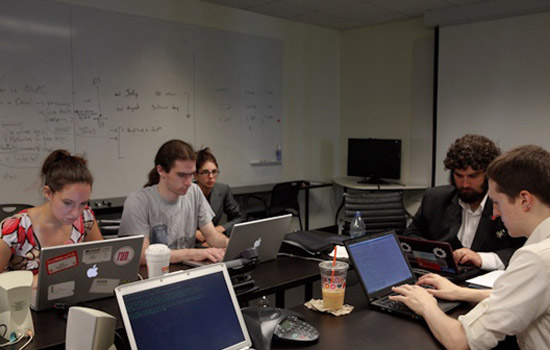 Two Rochester Institute of Technology alumni have teamed with students and faculty at RIT to bolster government transparency through journalistic and academic research.
Luke Macken and Remy DeCausemaker have developed CIVX.us, a website that aggregates various types of public data in a free and open-source format. Users can now research lobbying expenditures, corporate filings, campaign contributions and other information from one site.
While other public information aggregators exist, they often require fees and lengthy account set-up and login processes.
Macken, a software engineer, and DeCausemaker, a legislative and campaign researcher, partnered with RIT's Lab for Technological Literacy and Center for Student Innovation to create the site, which is currently in a beta version and will officially launch in September. The group decided to implement New York's datasets first, largely because CIVX builds on the online transparency efforts that have been made by the New York State Attorney General's Office and the New York State Senate.
"We didn't just choose New York because we do business here, we chose it because of the unprecedented amounts of openness that the New York State Senate and Attorney General's Office are bringing to public information," says DeCausemaker, who now serves as an alumni fellow at RIT. "We are thrilled to help them solve the big problems and show the public successful open source models that they can use to do the same."
Andrew Hoppin, the New York State Senate chief information officer, has followed the development of CIVX and has agreed to join the organization's advisory board.
"I am glad to see the academic community making use of the government transparency data published by the New York State Senate's Open Senate Initiative," says Hoppin. "Effective transparency requires that data not only be published, but that it also be easy to find, analyze and make use of. I am looking forward to seeing how CIVX can contribute in this regard."
CIVX has also added journalists from Rochester's City newspaper and its public broadcasting station, WXXI, to its advisory board. Mary Anna Towler, City's editor-in-chief, and Rachel Ward of WXXI's Local Journalism Center will periodically suggest features and datasets that will make the site a useful media tool. WXXI journalists will be trained to use CIVX in the upcoming months.
Red Hat and the Fedora Project, members of the engineering and development communities, have provided hardware and software for the project's infrastructure. Tom Callaway, Fedora's engineering manager, has also joined the CIVX advisory board.
A development team of students and alumni continue to work to improve the site's functionality and interface in an effort to make it more accessible to a wide variety of users. Their efforts are supported by a grant from RIT's Provost's Office.
"RIT recognizes the value that an effort like CIVX can provide to both the university and the region," says Stephen Jacobs, director of RIT's Lab for Technological Literacy. "The site will not only be an excellent tool for journalists and government officials, but it will be a great tool for RIT's journalism and political science students."
CIVX will present the results of their research and development at CapitolCamp, an event sponsored by Hoppin that discusses how technology can improve government, in Albany on Aug. 20. The event is open to the public. Those interested can email press@civx.us for more information.