RIT Dining delivering safe solutions to keep students fed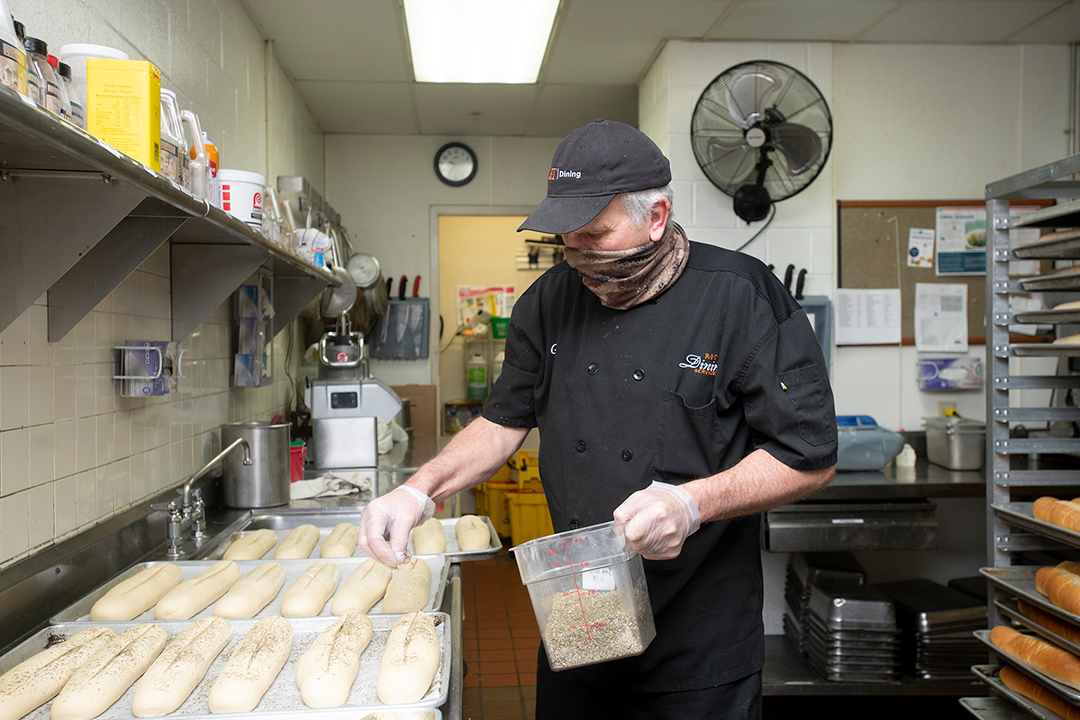 A. Sue Weisler
With so many uncertainties due to the COVID-19 pandemic this year, one thing remains constant: People on the Rochester Institute of Technology campus need to eat.
Whether it's a breakfast sandwich, a healthy salad, or even a hot Thanksgiving Day meal, the essential workers at RIT Dining have scrambled this year to safely accommodate hungry students, faculty, and staff.
"There was no class on how to do our jobs during a global pandemic," said Donald LaFlam, senior director of operations for RIT Dining. "We know it is our job to feed these students. They can't leave if there's bad weather or a global pandemic, so we take it to heart."
This semester, RIT Dining served more than 9,000 meals each day, including 1,800 that were ordered online. About 1,000 breakfast sandwiches were served each day, as were more than 1,000 slices of pizza.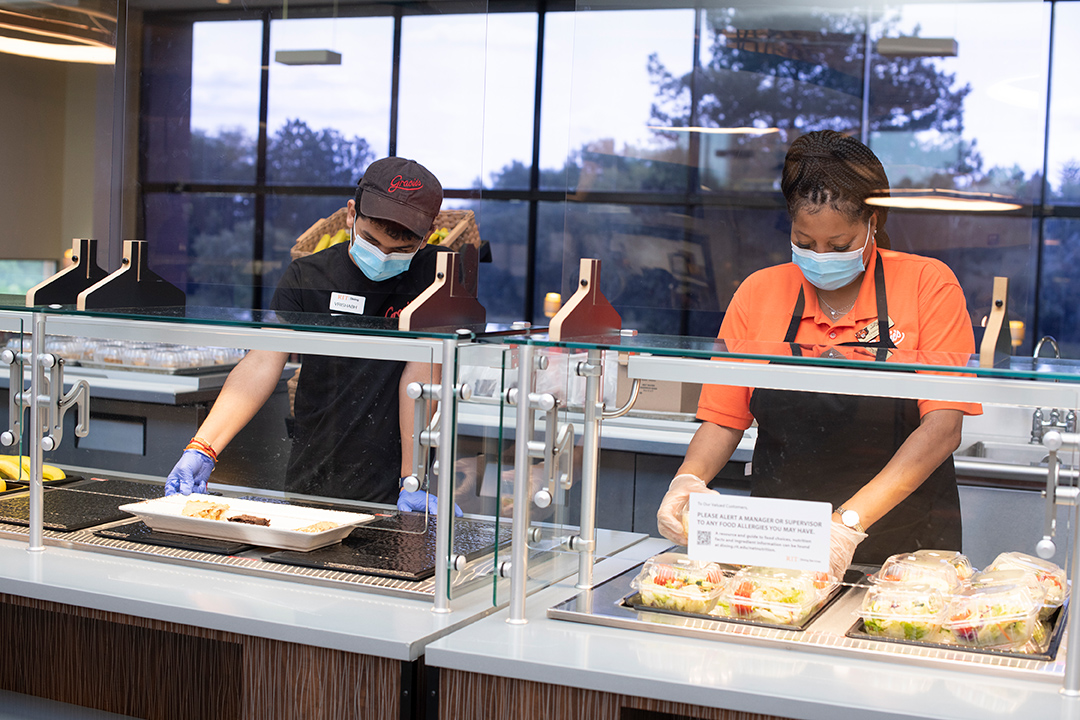 A. Sue Weisler
Numerous changes—through physical renovations and with new technology—were implemented as more was learned about COVID-19. Outdoor seating was added, distancing and new traffic patterns were initiated, and occupancies reduced. Plastic dividers were installed, online ordering and more carry-out options were established, and an app was introduced so people may see how busy dining areas were. Student dining plans were also made more flexible to allow them to eat wherever they wanted.
Some locations were not opened, but RIT Dining still offered 15 locations on campus for food, LaFlam said. There was no event catering this fall, but the staff kept busy making and delivering about 2,500 meals to students in isolation or quarantine.
"We can serve them as many meals as they want. They can order five entrées a day if they want to," he said.
And 17 pop-up events in two outdoor dining tents were added this fall. About 2,400 people enjoyed breakfast sandwiches, a barbecue dinner, surf and turf, a poutine burger, and Naan bowls. The events also helped RIT Dining know what items were popular enough to offer more regularly in the spring.
"We wanted to do some special things to engage the students and break up the monotony of class, or to find an alternative place to go to avoid a busy location," LaFlam said.
A full Thanksgiving meal will be offered at The Commons on Thursday. "And we'll have normal selections, pizza, and grill options as well," LaFlam said.
Another curveball Dining is handling for the first time: they will be open on Christmas Day and the last week of the year, when RIT normally shuts down. A few hundred students—mostly international students or students who have no other place to go—are expected to stay on campus in December.
"We had to notify staff upfront about the need to work and ask what their availability was," LaFlam said. "We had an overwhelming response to work through the holidays. I'm so proud of our employees who have stepped up to help serve our students."
On Christmas Day, Crossroads plans a brunch and a carved ham dinner from 10 a.m. to 4 p.m.
"We think about it on a personal level, what if it were our children who were stuck someplace?" LaFlam said. "We just want to make sure the students are taken care of."
All of their experiences this year have helped RIT Dining better plan for the spring semester to enhance student experience, LaFlam said.
One thing they learned: students this semester had different schedules for eating. The breakfast and lunch hours were slower as students ate around their class schedules, but dinnertime was much busier than in the past.
"We had a complete shift we weren't expecting until we got into it," LaFlam said.
The large outdoor tents at Global Village and Frisina Quad are expected to return in the spring, and they will be large enough to handle snow. More food trucks will be on campus, dining opportunities will be expanded—including in Ritter Arena—and online ordering will be expanded.
"We've done everything we can to keep our environment safe," LaFlam said. "We're really excited for more students, faculty, and staff to come back in the spring so we can share what we learned this fall and continue to provide for the RIT community."
Dining's 150 dedicated full-time employees remained working this fall, but only about 600 student workers were hired, about 800 fewer than normal, LaFlam said.
One long-time employee is Garry Stellman, a production cook at The Commons, who usually starts his day at 6 a.m. baking bread for the sub shop (32 trays, six loaves per tray), pastries for the coffee shop, and preparing the entrées for the day.
"We always have so many compliments," Stellman said. "It's all about how fresh the food is, we're not overproducing and having it sit around before we serve it."
Stellman started in restaurant business when he was 14 years old, working as a dishwasher at a Penfield restaurant.
"By the time I was 16, I was cooking on the line for them," he said. "I was just doing it for the money in high school, working 30 hours a week. It just came to me and everyone said I was good at it."
He came to RIT in 1986 and worked at Gracie's for five years before moving to The Commons, which serves about 1,400 lunches or dinners a day. At the end of his shift, he's gotten as much done as possible for the next day.
Stellman loves working at RIT and the importance of his team's work and dedication to make sure their food always manages to get served, whether there's a pandemic or a blizzard.
"You have to feed the students," he said. "When you're in this business, if you can get here safely, you get here. The kids are on campus and they have to eat. You can't just say we have to shut everything down."
Stellman, who has six children and six grandchildren, lets his wife, Susan, cook when he gets to his home in Irondequoit after work.
"I hate to cook at home – I do it all day," he said. "And my wife's a great cook."
Topics