RIT Dubai joins city science global initiative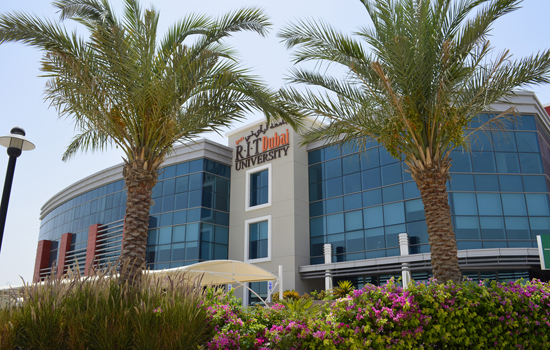 Dubai is on a quest to become the world's "smartest city" before hosting World Expo 2020. And RIT Dubai is helping make it happen.
Smart cities are a way for municipalities to improve quality of life for residents in areas such as water and electricity, public health, sanitation, transportation, affordable housing, infrastructure, IT connectivity and digitalization, and safety and security.
Tapping RIT's core strengths in sustainability, architecture, computing, imaging science, design and engineering, RIT's global campus in the United Arab Emirates was invited to partner with the Dubai Silicon Oasis Authority and Smart Dubai to support this goal.
Last year, RIT Dubai launched the first smart city professional diploma and a Master of Science in city science—the first of its kind postgraduate degree specifically for Dubai. The courses were developed by an interdisciplinary team of faculty from RIT's Golisano Institute for Sustainability, the B. Thomas Golisano College of Computing and Information Sciences, and the College of Liberal Arts.
James Myers, RIT associate provost of international education and global programs, said RIT has received requests to develop similar initiatives from municipal governments in China, India and Peru. "We have used the unique capabilities of the School of Individualized Studies to integrate content from across campus to address the emerging needs of urban environments.
"City science is studying all functions of the city—from transportation, waste management, and the movement of goods and people, to the management and flow of information across the city," said Myers."This is not a course in urban planning; city science as a discipline is totally new. We are the test bed of an emerging interdisciplinary plan of action that includes the designer, the technologist and the humanist all working together. That's pretty exciting."
According to RIT Dubai President Yousef Al-Assaf, the smart city professional diploma program was initially aimed at government employees and leaders to give them practical knowledge on smart city developments and make them key innovators.
"The introduction of the Master in City Science closes the circle of developing experts in the field that could benefit the development of the smartness concept in Dubai," said Al-Assaf.
Completed student projects for the smart city professional diploma included the top winner: "Dubai Funds," an online/smartphone platform for crowd-funding government collaborations.
The second and third projects addressed Dubai's goal of attracting 20 million visitors by 2020: "Smart Tourism," an online app where tourists connect with one another and all the city has to offer, and "Happy Taxi," the promise of free and fun taxi rides for all in Dubai.
Citing United Nations predictions that the number of people living in cities will double to nearly 70 percent by 2050, Nabil Nasr, an adviser to RIT Dubai's new degree program, said reducing the city's environmental footprint is one of the challenges of cities.
"People tend to think of smart cities as futuristic, and there is even talk about 'smart planets,' but with more than half the world's population living in cities today, the need to optimize and enhance the quality of life for urban residents and communities becomes even greater," said Nasr, RIT associate provost and director of the Golisano Institute for Sustainability (GIS).
"RIT Dubai is working closely with GIS because we have the nuts and bolts to make things happen. We've done it, worked with communities in planning and design and all the new technology and infrastructure that is the core functionality in any city."
Mark Krystofik, program manager in GIS, said the wave of the future is when smart cities can talk—giving us live status updates through our wireless networks on traffic patterns, pollution, parking spaces, water and energy resources.
"The critical part in the equation is human behavior," said Krystofik, who went to Dubai last year to oversee the early stage plans of the degree program. "Technology must be supported by the daily habits and life choices of people using it. Changing a habit, like how you wash dishes, or making long-term sustainable choices, like investing in a greener kitchen, are individual efforts that add up to make the whole 'smart city' concept work."
Nasr agreed and said smart cities are like putting together a jigsaw puzzle. "It's all about making connections—a piece-by-piece strategy that takes time, patience and planning. Dubai is a global dimension of RIT where university, government and industry are working together to help shape a new model of city life."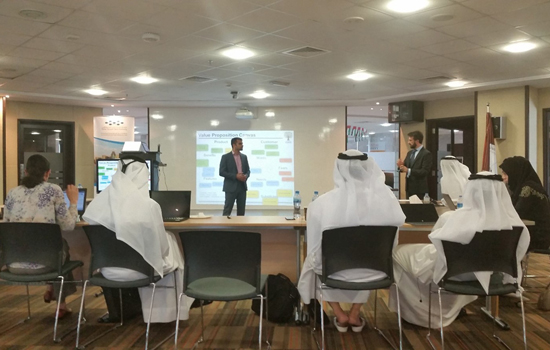 Topics