RIT to expand student anti-terrorism initiative
Saunders College of Business project It's Time: ExOut Extremism continues its winning streak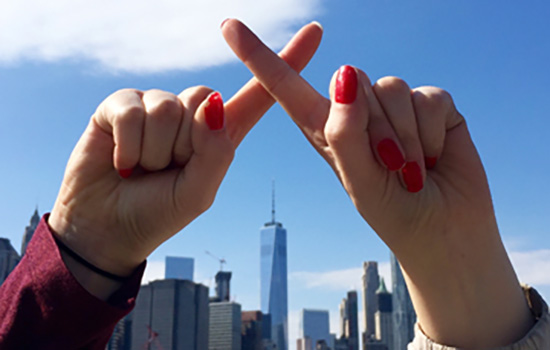 It's Time: ExOut Extremism, a Rochester Institute of Technology student project, has won yet another prestigious prize.
The online initiative, which started out as a classroom assignment, has been awarded $149,000 from the Department of Homeland Security to continue its campaign to counter violent extremism. The latest award comes just months after winning a global award at a star-studded gala and winning the State Department's Peer to Peer (P2P) Challenging Extremism competition.
"I'm proud of this team of students for harnessing the power of social media to help fight extremism and global terrorism. This funding will allow RIT to expand this innovative and important campaign," said U.S. Rep. Louise Slaughter, D-N.Y., in announcing the award.
RIT Saunders College of Business Professor Adriana Bóveda-Lambie said she couldn't be more impressed with the 17-member team of students from her social media marketing class who worked with the Muslim community in Rochester, N.Y., to develop a campaign that included a logo, website, social media, video platforms and events to raise public awareness.
According to Bóveda-Lambie, the Department of Homeland Security grant program will allow RIT to "Challenge the Narrative" and expand its online social media campaign to include a mobile app, supplemental materials and workshop/seminars for students and educators.
"This grant will allow us to continue building It's Time and ensuring it is impactful," said CEO Olivia Hauck '16 (advertising and public relations) from Irondequoit, N.Y. "The funding will go towards developing new educational resources and materials to help challenge extremist rhetoric. My co-CEO (Jessica Kellner '16 (new media marketing) from Honeoye Falls, N.Y.) and I would like to express our gratitude to the Department of Homeland Security for the chance to continue our work.
"And we are continually grateful to EdVenture Partners for all the doors the Peer to Peer: Challenging Extremism program has opened for us."
Hauck was recently hired by EdVenture Partners as program director and will be helping to facilitate the P2P program and the Facebook Global Digital Challenge with teams domestically and internationally. In March, Hauck will be speaking at SXSW Interactive Festival on a panel alongside Tony Sgro, CEO and founder of EdVenture Partners; Monika Bickert, head of global policy management at Facebook; and Matthew Rice from the Department of Homeland Security's Countering Violent Extremism task force. The panel will focus countering violent extremism and taking back the Internet.
It's Time: ExOut Extremism also received the Fight Against Online Hate Award in a dinner and awards ceremony held last September at the Metropolitan Museum of Art in New York City. The event, emceed by CNN Lead Political Anchor Wolf Blitzer, honored 12 individuals and groups from around the globe for their extraordinary contributions to the campaign against violent extremism.
"In this age of self-radicalization and terrorist-inspired acts of violence, domestic-based efforts to counter violent extremism have become a homeland security imperative," said Secretary of Homeland Security Jeh Johnson. "I know from visiting numerous communities across this country that very often the best efforts to counter violent extremism are local, tailored to a particular community."
Last June, the RIT team outsmarted 56 university teams from around the globe and was the only group from the United States to reach the finals of the P2P: Challenging Extremism competition, becoming the first U.S. team to win first place. The P2P international competition was hosted by the Department of State and the Department and Education and Cultural Affairs, and supported in part by Facebook. Judges for the competition were officials from the State Department, Facebook, the U.S. Department of Homeland Security, the Combating Terrorism Technical Support Office and the National Counterterrorism Center.