RIT eyes deeper engagement in Silicon Valley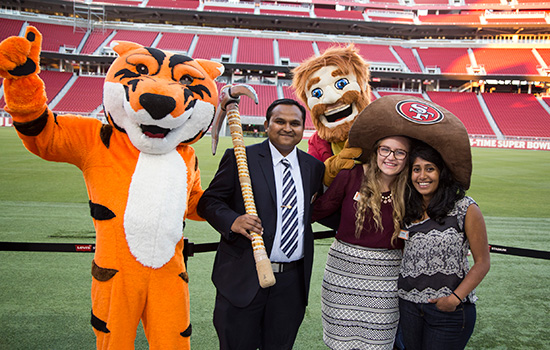 Seth Affoumado (1984 graduate, illustration)
SAN JOSE—From serving as a vice president at Apple to being involved in eight startup companies, Mark Oney personifies the enterprising culture of Silicon Valley. Now Oney '81 (electrical engineering) envisions a perfect alignment with his alma mater and the region that is world-renowned as the heart of innovation.
"Think of all the opportunities RIT has out here," said Oney, a member of RIT's West Coast Board of Advisors, a team that is advising university leadership on strategies along the Pacific. "Just having more co-op students work with alumni is one easy way to get connected to Silicon Valley. Geek is chic in the Valley. And RIT produces problem-solvers and doers."
Oney joined other San Francisco Bay area alumni in July to provide feedback on how RIT can amplify its presence and network out West. An 82-member delegation also held strategic meetings with 27 global high-tech companies and organizations. Discussions during the "Silicon Valley Engagement Initiative" centered on innovation, entrepreneurship, corporate research and development, philanthropy, recruitment and alumni engagement.
"RIT aspires to be more engaged with the West Coast, particularly in Silicon Valley," said RIT President Bill Destler. "We are building deeper relationships with our alumni, companies and foundations. We are exploring what key opportunities there are for RIT to become more aligned with this incredibly enterprising region. We have the talent, how can we help? RIT is a place where innovation is in our DNA."
Land of risk takers
As president and CEO of Sunnyvale Silicon Valley Chamber of Commerce, Don Eagleston '73 (photography) has a front-row seat to the flurry of disruptive technology that drives the region.
He believes RIT can be a larger part of the action in the land of risk-takers and curiosity-seekers. California is the sixth largest economy in the world and Silicon Valley—home to many of the most valuable technology companies on the planet—is the 10th largest. The region has an abundance of patent holders and traditionally attracts more than 40 percent of all venture investment in the U.S.
RIT's presence in California is growing. More than 4,000 alumni live in the San Francisco Bay region, a figure that has doubled in less than a decade. About 700 RIT co-op students complete 1,200 work assignments each year in California, mostly in Silicon Valley. And California is the fifth highest state for RIT freshman applications; sixth highest in freshman enrollment.
"University leadership visited Silicon Valley in 2008 and incorporated many of the recommendations provided by the tech community into our curriculum," said Christine Whitman, chair of the RIT Board of Trustees. "Since then, RIT's momentum in research, innovation, entrepreneurship, sustainability and online education has produced impressive results. We came out again to learn what the next generation of jobs will require in terms of additional skills. As times change, what do our students need going forward?"
Pivot West
The RIT delegation split into teams and made house calls to each of the 27 companies and organizations. The delegation included members of the Board of Trustees, Alumni Association Board of Directors, President's Roundtable, West Coast Board of Advisors, governance groups and campus leadership. They saw firsthand RIT students at work on co-op assignments.
"I've been able to dive into the work since day one," said Kaitlyn Keenan, a computer science student who spent her summer on co-op with Juniper Networks. "I immediately felt like I was part of the Juniper team and RIT prepared me for that."
Each delegation looked for future strategic opportunities with the firms, varying from cybersecurity to UX (user experience). Discussions with alumni spurred a recognition that RIT must increase its visibility in the region.
RIT is committed to hiring a full-time director of West Coast Engagement. The director will be the face of RIT in Silicon Valley and seek opportunities for research and philanthropic partnerships, as well as advance new relationships for career and co-op placements. Some alumni during the visits already volunteered to establish corporate alumni chapters within their firms. "Our alumni have been extremely instrumental and passionate in helping the university develop a strategy out West," said Lisa Cauda, vice president for Development and Alumni Relations. "We are building off that momentum and it will be exciting to have a director living and working in the Valley."
RIT plans to offer certificate programs in information assurance (cybersecurity) to residents in the San Francisco Bay area starting this spring.
The certificates are designed for working professionals who will study in a hybrid format which features an online component and a lab environment with faculty. The "stackable" courses allow students to progress toward a master's degree. RIT plans to lease space in a convenient Silicon Valley location, which will facilitate the delivery of hybrid programs and create a sense of community for RIT alumni and current students. "Ultimately the space will serve as a foothold for a greater presence and recognition in the Bay area," said Jeremy Haefner, provost and senior vice president for Academic Affairs.
From Danielle Valliere '01 (information technology) and Marc Weil '10 (software engineering), who work at startups Jetlore and CloudMine, to Tad Hunt '97 (computer science) at Google, RIT alumni are proud to see the strategic direction of their alma mater and are willing to assist "flying the orange RIT flag" in Silicon Valley.
Kevin Surace, the 2009 Inc. magazine "Entrepreneur of the Year," was a lead organizer for the initiative and was inspired by the visit.
"Our engagement with technology companies is critical as we deliver students with the skills they require in the coming decades," said Surace '85 (electrical engineering technology), an RIT trustee. "We're producing students that will be sought after by more companies. And the best ambassadors for RIT are the alumni because we can learn so much from each other."
Corporate takeaways
The delegation heard many common themes from companies such as Adobe and Tesla that could strengthen corporate relationships. Areas where RIT can make a difference include:
Big data analytics
Cybersecurity
Diversity (increasing the talent pipeline)
Machine learning/artificial intelligence
Mobile/wireless
Photonics
Program and project management
Sustainability
UX (user experience)
Valley visits
RIT leadership met with the following companies and organizations during the university's Silicon Valley Engagement Initiative:
Adobe
Advanced Micro Devices
AutoDesk
Cisco
Cisco Meraki
Dolby
Electronic Arts
Facebook
Fluidigm
GE Digital
Google
GoPro
HP Inc.
IBM
Intuit
Juniper Networks
LinkedIn
Lockheed Martin
Oracle
Plug & Play
Qualcomm
Silicon Valley Community Foundation
Sony Interactive Entertainment
Sunnyvale Silicon Valley Chamber of Commerce
Tesla Motors