RIT Golisano Institute for Sustainability Ph.D. student wins Outstanding Graduate Woman
Sherralyn Sneezer will receive award during Graduate Education Week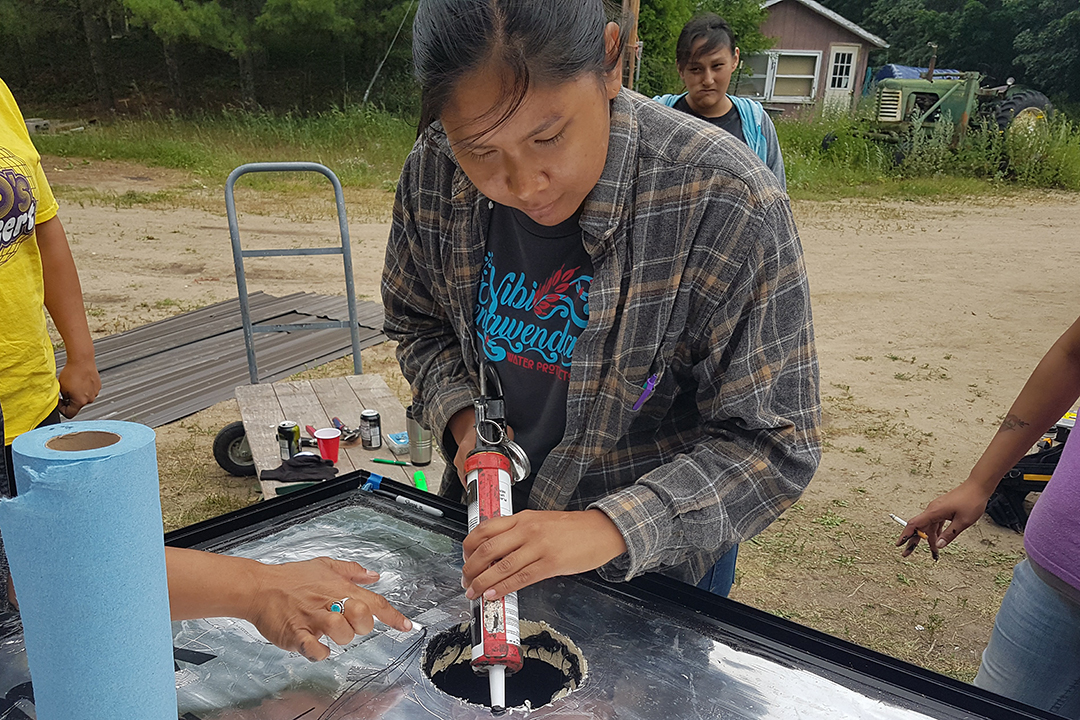 Sherralyn Sneezer was named this year's Outstanding Graduate Woman for her commitment to working with indigenous communities to develop renewable energy systems on tribal land. Sneezer, a Ph.D. student in Golisano Institute for Sustainability, is the president of the RIT chapter of the American Indian Engineering and Science Society and a past recipient of the Student Beacon Award from the RIT Division of Diversity and Inclusion. Diane Slusarski, RIT associate provost and dean of the Graduate School, will present Sneezer with an award and $500 during the Graduate Education Week awards presentation. The RIT Outstanding Graduate Woman Achievement Award was established in 2018 to recognize a current student who is making a positive impact in their field.
Visible signs of energy production were part of the landscape of Sherralyn Sneezer's childhood on the Navajo reservation in Shonto, Ariz. Now a Ph.D. student in RIT's Golisano Institute for Sustainability, Sneezer recalls the uranium disposal cells she mistook for a pond, the coal conveyor belt suspended over traffic, and a coal-slurry pipeline that depleted an aquafer under a site sacred to Navajo and Hopi people.
Sneezer's graduate research identifies various tribes' energy needs and challenges. Her interest in energy sovereignty grew from observing the Navajo Nation's dependence on the fossil fuel industry for economic benefits. The tradeoff polluted the land, and thousands of Navajo people still live without electricity, she said.
"My goal overall is to see how we can increase renewable energy development on tribal lands," said Sneezer (Navajo/Diné and San Carlos Apache). "First, it's understanding what are the biggest challenges tribes are facing at the moment and how can we take successes and apply them to other tribes."
As sovereign nations, tribes have a unique status within the United States. They are domestic dependent nations with energy sovereignty over resources on tribal lands. Sneezer is building a network of contacts in the indigenous communities. She has visited tribes in Alaska and New Mexico and met with different tribal members, leaders, and energy professionals at conferences to discuss nuances of energy sovereignty. 
The ambiguous term can mean different things, Sneezer said. To the Osage tribe in Oklahoma, energy sovereignty means protecting their oil and natural gas resources. Whereas, to the Navajo Nation, it means transitioning from coal to renewable energy solutions to create new jobs and replace revenue once generated by coalmines and power plants, Sneezer said.
She chose a career path that would help tribal nations. Her grandparents instilled this value in her as tribal leaders and role models. After earning her Ph.D., Sneezer hopes to join a national laboratory and work directly with tribes to develop renewable energy systems.
Sneezer decided to focus on renewable energy as her way of giving back to her community after taking an undergraduate energy and environment class. When the classroom conversation turned to the negative impacts on the environment, she perked up.
"I thought, wait a minute, I have a ton of experience with this," Sneezer said. "I know all about this from growing up on the Navajo Nation. Coal energy? I got that one down. Uranium? Also, I got that one. From there, I decided this is what I'm interested in, I can see it has a tangible impact."
RIT celebrates Graduate Education Week April 3­-7
The RIT Graduate School will celebrate graduate students' accomplishments during Graduate Education Week and Showcase with multiple events, starting April 3, and coinciding with the national Graduate Student Appreciation Week.
The Graduate Student Showcase is the week's main event. It will be held from 9 a.m. to 5 p.m. April 5. The showcase will feature oral presentations, poster sessions, live demonstrations, and three-minute lightning talks. Alumnus Nicholas Conn '11 (electrical engineering), MS '13 (electrical engineering), '16 Ph.D. (microsystems engineering) will give the keynote address and student awards will be presented from 3:30 to 5 p.m. in Ingle Auditorium in the Student Alumni Union, with a reception to follow.
Other events during Graduate Education Week include:
A viewing of Missing Link, 2019 Golden Globe Award for Best Animated Feature Film. The film features work by Adam Fisher, who earned his MFA in animation from the College of Art and Design.
An interactive applied critical thinking event, "How Thinking." Students are invited to share how their graduate school experience has changed their thinking. Students may share one Power Point slide or an object.
Event details and registration can be found at the Graduate Education Week and Showcase website.
Topics