RIT Graduate Showcase highlights 'Transformative Research Changing the World'
Call for student proposals ends at midnight Sept. 15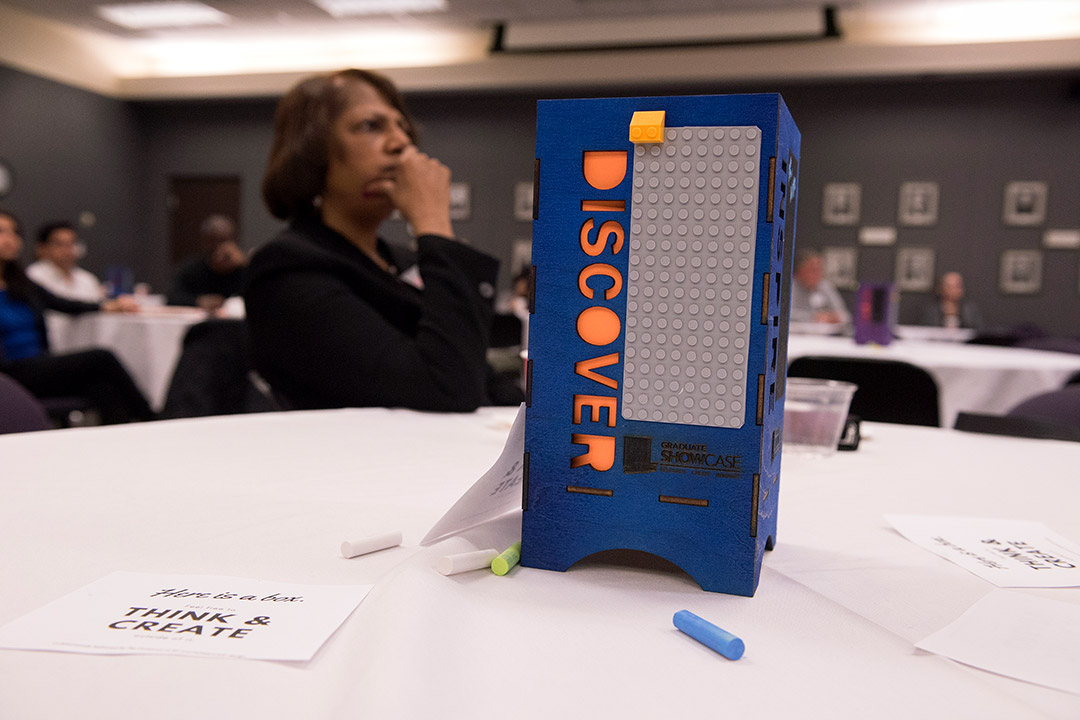 A. Sue Weisler
All RIT graduate students are encouraged to submit proposals for oral presentations, demonstrations or poster talks by midnight Sept. 15 for the annual Graduate Showcase on Nov. 22.
The daylong symposium on the RIT campus will celebrate the diverse forms of scholarship conducted by RIT students pursuing their master's or doctoral degree. Research exploring new ideas in the arts and humanities and in the technical and scientific fields shows the breadth of influence an RIT graduate education can make on the world.
The RIT Graduate Showcase—free and open to the public—will be held from 10 a.m. to 5 p.m. Nov. 22 in Louise Slaughter Hall and Sustainability Institute Hall. An award ceremony at 4:15 p.m. will recognize winners from their submission categories. Participants, attendees and volunteers are asked to register for the event at www.rit.edu/academicaffairs/graduateshowcase/registration, which will include a luncheon program. Registration opens in mid-October.
"We chose this year's theme, 'Transformative Research Changing the World,' as the defining concept from around which we could experience the scope of our graduate students' research—and by that I mean all forms of scholarship," said Twyla Cummings, RIT associate provost and dean of Graduate Education. "The research, creativity and scholarship at RIT is conducted through a thoughtful, rigorous and systematic process of inquiry. These approaches are utilized by faculty and students to solve problems, answer questions and add to the body of knowledge, and ultimately make a difference in the world in which we live."
Cummings; Ellen Granberg, RIT provost; and Ryne Raffaelle, vice president for research, will address the graduate students. Still to be named, a keynote speaker will address the influence an RIT graduate education can make on the local, national and global community.
Approximately 3,000 graduate students are currently enrolled in more than 100 graduate programs on RIT's Henrietta campus and across its global satellites. The Graduate Showcase shows the growing impact of graduate culture on RIT, Cummings said.
In addition to the Office of Graduate Education, sponsors from across campus and the Rochester community support the RIT Graduate Showcase event. This year's sponsors include the College of Art and Design, Division of Diversity and Inclusion, National Technical Institute for the Deaf, the Office of the Provost, School of Individualized Study, Sponsored Research Services, Bond Schoeneck & King, and Merlin Digital Printing Solutions, among others.
To learn more about the RIT Graduate Showcase, go to https://www.rit.edu/academicaffairs/graduateshowcase.
Topics