RIT hits the runway for Fashion Week of Rochester
Nancy Munson joins students and alumni showcasing dazzling jewelry to sold-out crowd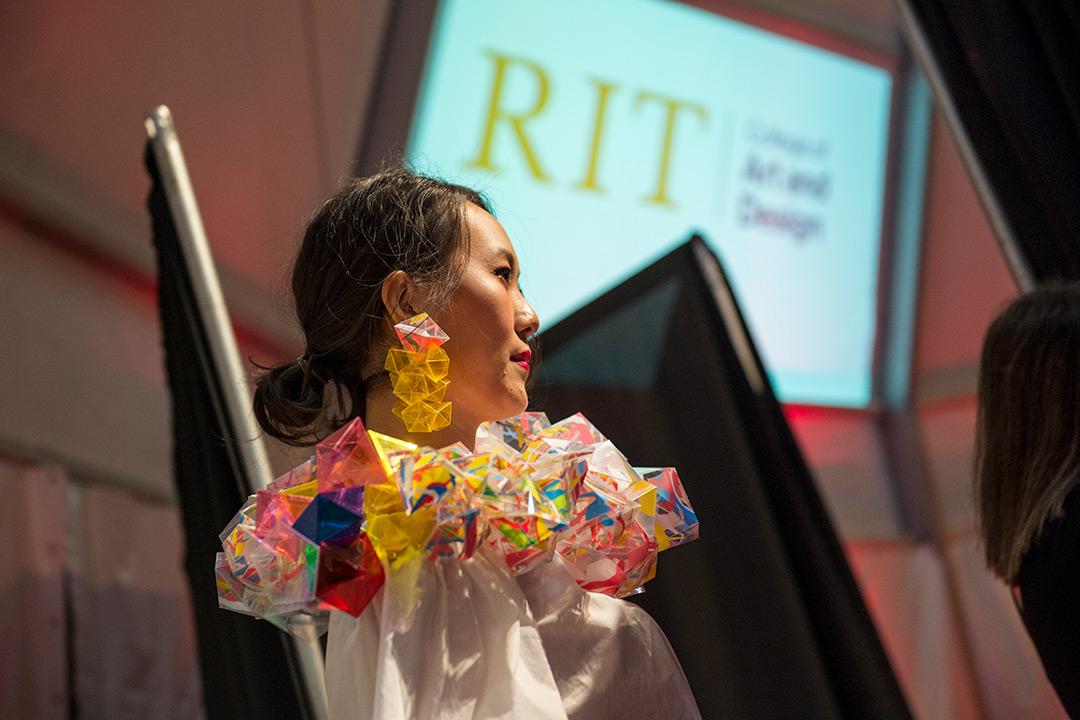 Elizabeth Lamark
A dazzling demonstration of technology, art and design coming together was on full display Thursday night, as students and alumni from RIT's School for American Crafts (SAC) took to the runway in front of a sold-out crowd at Fashion Week of Rochester.
Sixteen students and two alumni showcasing self-designed jewelry were joined on the runway by Nancy Munson, the wife of RIT President David Munson, for the second consecutive year. The edgy Walk and Roll Show was held under a tent next to Midtown Athletic Club at 100 E. Highland Drive in Rochester.
"We were thrilled to have Nancy walk again with us this year," said Len Urso, the Ann Mowris Mulligan Distinguished Professor in SAC. "She really inspires our students and alumni and shows them that what they are doing is tremendously valued by the university."
One of those students, Kaeun Jang, a metals and jewelry design graduate student from Busan, South Korea, was participating in her fourth Fashion Week and first as RIT's student director.
Jang created a stunning wearable piece made of aluminum screening and inspired by the Hanbok, a traditional Korean dress for semi-formal or formal attire characterized by vibrant colors and simple lines.
"The Hanbok can show rhythm and movements, and I created this sculptured, wearable piece with the desire to capture this fascinating moment," said Jang, who worked on the piece for nearly a semester.
Jang noted that one of the key reasons she came to RIT was the metals and jewelry design program's openness to employing a variety of materials when it comes to creating pieces.
"Most people think a jeweler uses only metal such as silver and gold, but now I am challenging new possibilities in the market by discovering and using various materials such as plastic, recycled products and food."
Urso, an internationally recognized and award-winning artist, said one of his students this year approached him about creating a ceramic jewelry and he's looking to incorporate soft goods into future shows.
Zoey Perse, a graduate student in the program from Newton, Mass., "explored the connections between people through space" for her Fashion Week piece.
"The concept for my piece was based on how individuals form relationships over time and how the body through space is never an object alone," Perse said. "I hope that people who see this piece think about how we are all connected in our lives … as groups and individuals."
As a result of RIT's growing role at the annual event celebrating fashion in Rochester, Urso said the runway project has become an ever-growing part of the metals and jewelry design curriculum.
"I always try to bring in professionals from the industry because my scorecard is where they go from here," said Urso, who added that the program continues to send graduates to such companies as Tiffany & Co. and Simon Miller.
"Fashion Week has become a yearlong effort. We're already working on next year," he added. "It's an evolutionary process and an endless cycle … but a very nice cycle."
Now in its ninth year, Fashion Week of Rochester is the largest fundraiser for the Center for Youth. Proceeds from this year's event will help support Center for Youth initiatives such as two crisis nurseries, a young men's shelter and an LGBT house.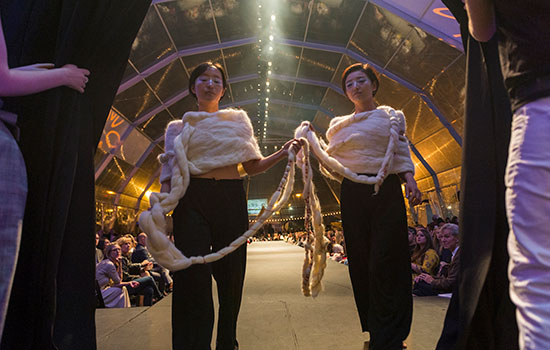 Elizabeth Lamark