RIT Holds Seventh Annual Lighting The Way Ceremony Aug. 31
Event aims to welcome, inspire incoming female students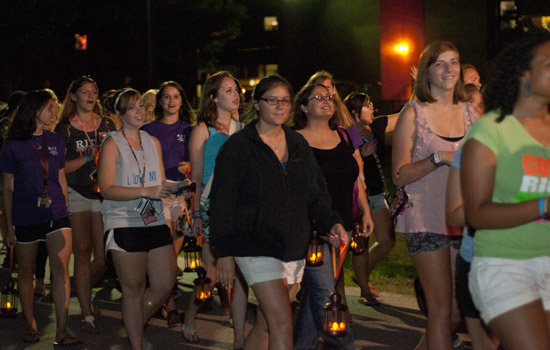 Prisca Edwards
The women of Rochester Institute of Technology will unite to welcome and support female first-year, transfer and graduate students during the university's weeklong orientation events.
RIT will hold its seventh annual Lighting The Way ceremony at 7:30 p.m. Aug. 31. Starting in the Gordon Field House, the event allows female students, faculty and staff to show incoming female students that they are supported and appreciated by RIT.
"RIT is aware of the unique challenges that female students may face and we have many support services in place should they need them," says Darci Lane-Williams, director of the Center for Women and Gender. "This is an amazing time to be a woman at RIT."
The ceremony will begin with a performance by ENCORE! and Vocal Accent, two of RIT's women's a cappella groups. Speakers for the event include Lane-Williams; Mary-Beth Cooper, senior vice president of student affairs; and Nicole Steinberger, women's senator of RIT Student Government. The women will then lead a processional with LED candle-lit lanterns along the Quarter Mile to a dessert reception at the Brick City Café. The reception will allow students the opportunity to meet women from various groups and organizations on campus and learn about getting involved.
"This year we have added more information tables at the reception, in addition to a commemorative banner that students are encouraged to sign," says Cha Ron Sattler, associate director of the Center for Women and Gender. "The banner will be displayed in the Center for Women and Gender as a symbol of solidarity and support."
The event is sponsored by the Center for Women and Gender, the Office of the Vice President of Student Affairs and the Office of the Vice President of Finance and Administration. The event was started by James Watters, senior vice president of finance and administration at RIT, and is modeled after the University of Pittsburgh's "Lantern Night," a 91-year-old tradition.