RIT holds 'virtual' college fair for female applicants in high-tech fields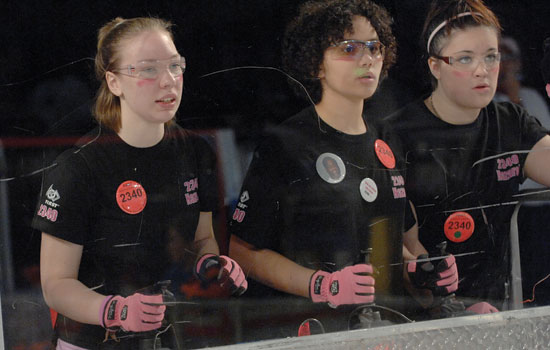 A. Sue Weisler
Like many high school seniors, deciding where to go college is weighing on the mind of Gretchen Smith. Smith, a standout student at Nazareth Academy, is a member of the school's FIRST Robotics Team and part of the Academic Scholarship in Computing, Engineering and New Technology program. RIT wants Smith to be among its incoming freshman class of female engineering students. Accepted applicants must decide by May 1.
In an effort to reach the current female applicants specifically interested in the university's undergraduate programs in science, technology, engineering and math (STEM) disciplines, RIT's Division of Enrollment Management and Career Services hosted a "virtual" college fair on Feb. 26.
High-school sophomores and juniors who've made inquiries about these programs were also invited to participate in the online chat.
Individual chatrooms were set-up for the Kate Gleason College of Engineering, B. Thomas Golisano College of Computing and Information Sciences, College of Applied Science and Technology and College of Science. The Offices of Admissions and Financial Aid also had its own online room. The high-school students could "chat" with female faculty and students from the various STEM majors as well as admissions and financial aid staff members. Young women logged on from all over the world including India, Texas, Vermont, Colorado and Maryland.
"I thought the virtual chat was really helpful," says Smith. "None of the other schools I've applied to have had anything like it so it is a very unique tool. It was nice to chat with administrators because they had all of the answers to my questions, but talking to the students was even better because they are the ones living the college life."
The high-school students asked a variety of questions to current RIT students ranging from: "Do you like the quarter system? How diverse is the campus? What made you choose RIT? What is the co-op program like? When you first got to campus, how did you get involved with people?"
One prospective student wrote: "RIT is about six hours away from me, but I plan to visit soon. I'm just trying to do what I can over the Internet before making that kind of trip."
Marian Nicoletti, RIT senior associate director of undergraduate admissions, says this inaugural online chat was a success.
"We wanted to do something special to let these young women talk one-on-one with current female RIT students in the STEM majors," says Nicoletti. "Our students are the university's best ambassadors and they, along with our faculty, did a tremendous job addressing the students' questions. It was also a way to educate our invitees about the numerous community, social and mentoring opportunities RIT has in place for women interested in high-tech careers."
In a survey conducted by the U.S. Department of Education, nearly 852,000 bachelor's degrees were awarded to women in the United States in 2006, but only 11 percent of those degrees were in the science, technology, engineering and math disciplines. In contrast, men earned 23 percent of B.S. degrees in those programs.
RIT has implemented various strategies university-wide to recruit more women into the STEM disciplines. RIT's Kate Gleason College of Engineering has an extensive outreach program and its enrollment numbers for women reflect its success. In 2007, the freshman engineering class for women was 13 percent. In 2008, that number jumped to a record-breaking 19 percent.
Web extra: R News covered the inaugural online chat for young women interested in the STEM disciplines. To watch the story, visit www.youtube.com/RITUniversityNews. To learn more about RIT's global initiatives to recruit more women into hightech fields, visit www.rit.edu/news/?v=46656.