RIT hosts annual Spring Juggle-In on Saturday
41st annual Spring Juggle-In features free workshops for beginners to pros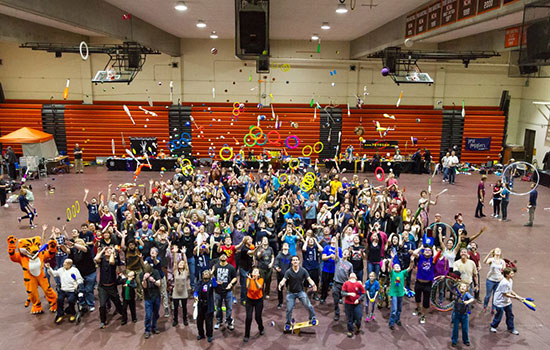 Jason Paul
One of the longest running juggling festivals in North America, the RIT Spring Juggle-In celebrates its 41st year from 10 a.m. to 6 p.m. April 7 with more than 500 attendees expected on the campus of Rochester Institute of Technology.
The public is invited to attend, to juggle, learn to juggle or just watch. There will be free activities for jugglers and spectators of all skill levels, including workshops throughout the day in Clark Gym and a family show at 10:30 a.m. in the Auxiliary Gym next to Clark Gym.
"We have very high-caliber talent every year, but this year they are especially talented, with many of them touring the world," said Jeff Peden, the event coordinator. "We have a large turnout due to our reputation, with people attending from all over."
The Saturday night show, at 7:30 p.m. in Ingle Auditorium, will feature multiple Guinness Book of World Records holder David Cain as emcee, joined by Cate Great and her balance act, champion juggler Delany Bayles, RIT senior and diabolo artist Sebastian Ferlo, and the acrobatic duo of Kevin and Copper.
Another performer, Tuey Wilson, can juggle five rings while standing atop a ladder, perform an 11-part combination trick and use spinning balls to shoot Nerf arrows.
Tickets for the evening show are free for RIT students; $12 for RIT faculty, staff and alumni; and $18 for the public. A portion of the proceeds will be donated to the Dystonia Medical Research Foundation.
For more information, visit the Juggle-In website, Facebook page, contact RITjuggle@gmail.com or call Jeff Peden at 585-748-2433.