RIT hosts 'Enabling the Digital World' conference
Industry panel discusses how electronics are being integrated into next-generation technologies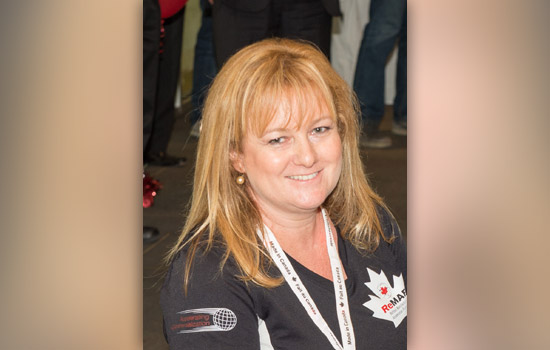 Rochester Institute of Technology is expanding its university/corporate partnership with ASM Systems focusing on next-generation electronics manufacturing, research and workforce development. The partners are highlighting projects underway during "Enabling the Digital World: The Future of Electronics and Manufacturing," a half-day of events from 1 to 5 p.m. Wednesday, June 21. Opening events take place in the Golisano Hall auditorium, located in RIT's B. Thomas Golisano College of Computing and Information Sciences.
Co-presented with ASM and RIT's Center for Electronics Manufacturing and Assembly (CEMA), the event includes tours and demonstrations of state-of-the-art electronics packaging equipment taking place in the CEMA Laboratory, located in RIT's Louise Slaughter Hall. A panel discussion led by industry experts and information about workforce needs and research trends in electronics also will be highlighted during the event.
An agenda of the half day of activities includes:
1 p.m.: Opening remarks, Martin Anselm, director, CEMA Lab
1:15 p.m.: "RIT's Commitment to Research and Industrial Outreach," Manian Ramkumar, CAST interim dean
1:30 p.m.: "ASM Enabling the Digital World," Jeff Timms, managing director ASM Americas
1:45 p.m.: Ceremonial ribbon cutting and networking hosted by Ryne Raffaelle, vice president for research at RIT
2:15–3 p.m.: Panel discussion: "The Culture of Electronics, Manufacturing & Research" with panelists Irene Sterian, executive director, ReMap; Martin Anslem, director, CEMA; and Jeff Schake, process engineer, ASM
3–5 p.m.: ASM Line/Equipment Demonstration, guided tour of CAST and CEMA, student electronics manufacturing and packaging research poster session and test laboratory tours
ASM, an international supplier of electronics assembly and packaging equipment, has installed two machines in the CEMA lab—a DEK screen printer, which precision-prints solder paste, and a SIPLACE SX2 pick and place machine for flexible, high-speed surface mount technology component placement. A ceremonial ribbon-cutting takes place at 1:45 p.m. in the atrium of Golisano Hall.
The new equipment expands CEMA's capabilities in electronic manufacturing and will be a means to contribute to AIM Photonics, one of its many industry collaborations. The working relationship reinforces and improves upon both companies' direction toward next-generation electronics devices and packaging, positioning both to contribute to the growing industry, said Martin Anselm, CEMA director and assistant professor of manufacturing and mechanical engineering technology in RIT's College of Applied Science and Technology.
"CEMA provides a unique service in the area of workforce training and research for the electronics industry, and with this new equipment from ASM, coupled with the growing research partnership we're building, we can make a big impact in applied research in the area of electronics manufacturing and packaging," said Anselm.
Jeff Timms, managing director of ASM Americas, agreed. "As the world's leading provider of capital equipment and robotics used in electronics manufacturing, ASM has had a strong relationship with RIT for many years to develop process capabilities and practical solutions for today's electronics manufacturers. As the level of system and packaging integration has continued to increase, the complexity of manufacturing systems has also increased, leading to challenges in manufacturing that have yet to be solved.
"This is particularly true in the world of system in package devices, wafer level fan out applications, and the emerging world of photonics. Based on past experience, we knew we could not simply partner with just any institution, therefore we chose to work with RIT. RIT has the experience, the tools, and the know-how to tackle the electronics manufacturing challenges of today and the future. This is why we selected RIT as a process development and application partner," Timms said.
One of the central activities of the day is an experts panel led by Irene Sterian, executive director of ReMAP, who will discuss the culture of electronics, manufacturing and research and how electronics will be fully integrated into next-generation technologies such as the Internet of Things, autonomous vehicles, wearable technologies and renewable energy. The panel discussion begins at 2:15 p.m.
Sterian leads ReMap's Network of Centres of Excellence for renewable energy, new materials and optics and photonics. Together with dozens of start-ups, subject matter experts, large organizations, and leading research institutions from across Canada, she has formed an integrated, shared ecosystem dedicated to accelerating the commercialization of electronics products manufactured in Canada for the global market.
Over her 30-year career with IBM and Celestica, Sterian has experience in innovation management, product enablement and global technology transfer. She has contributed to the Surface Mount Technology Association, serving on its board of directors for six years, and has been both speaker and organizer of international manufacturing programs such as the 2016 Exponential Manufacturing Summit and the Canadian Global Impact Challenge. Sterian is a recipient of the IBM Technology Award and the Celestica Leadership Award. She holds a patent in high-density package design and has published more than 30 papers and articles for industry publications on electronics assembly and emerging technology.
Topics