RIT hosts Grammy-winning recording engineer
Richard King, professor of music research at McGill University, discusses technology improvements in music entertainment industry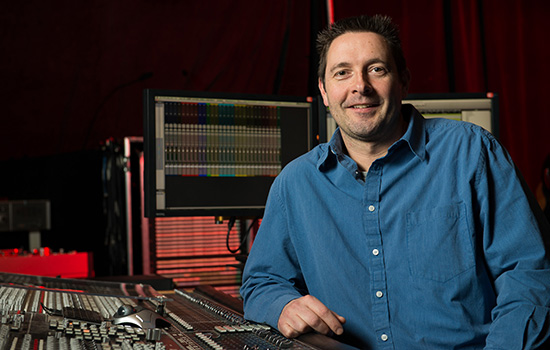 Rochester Institute of Technology will host Richard King, a Grammy Award-winning recording engineer, for the 2017 CAST Dean's Lecture Series. He will discuss how science influences the art of recording at an open session from 4:30 to 6 p.m. Wednesday, April 19, in RIT's Center for Bioscience Education and Technology building, room 75-2170.
The lecture is free and open to campus and the general public. King will discuss new technologies being used in the evolving audio industry, specifically about how recording combines art and science and how "acoustic energy in air" is transformed into recorded sound.
King, an associate professor in the music research department at McGill University's Schulich School of Music, is known for his expertise in small environment and control room acoustics, and multichannel recording and reproduction. He is also a member of the Centre for Interdisciplinary Research in Music, Media and Technology, based at McGill and focused on developing innovative approaches to the scientific study of creative arts that span a wide range of topics from the creation of music in the composer's or performer's mind, the performance of music, its recording and/or transmission, and the reception of music by the listener. It is also interested in the ways in which vision, haptics and touch interact with music and sound.
Prior to becoming a university professor, he worked for 15 years with Sony Music in New York City and owned his own company, RK Recording LLC. According to Sound on Sound magazine, the last time an audio engineer captured the two prestigious Best Engineering Grammy Awards given for classical and non-classical categories was in 1960 by Capitol Records engineer Hugh Davies. King managed that feat more than 40 years later, in 2012. His work with international performers in classical, jazz and on a variety of film-score projects have earned him 14 Grammy Awards.
The program is sponsored by RIT's College of Applied Science and Technology, the University of Rochester Department of Audio & Music, and the RIT student chapter of the Audio Engineering Society.