RIT Hosts Rochester City School District Students for Women in Sports Day Feb. 1
More than 200 female students will connect with mentors and cheer on RIT Lady Tigers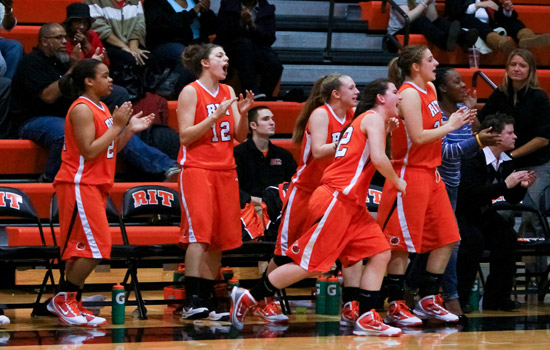 Dylan Heuer
First Lady Michelle Obama's "Let's Move" campaign has opened America's eyes to raising healthier kids by providing balanced meals and encouraging physical activity.
On Feb. 1, female athletes at Rochester Institute of Technology will do their part to help young students stay fit by sponsoring Women in Sports Day.
More than 200 female Rochester City School District students—ranging in age from 10 to 16—will arrive at RIT's Campus Center at 4:30 p.m. The students will be paired with more than 50 female RIT scholar-athletes for an evening of mentoring. Together, the students will also create signs for the Lady Tigers basketball game, which begins at 6 p.m. An autograph session immediately follows.
"Women in Sports Day is an opportunity for RIT mentors to talk with these young people about how higher education has made a major impact on their lives and how staying physically active in sports have helped them succeed," says event organizer Cassie Aman. "Research shows that remaining active in sports improves self image and lowers pregnancy rates in the teen years. Women in Sports Day is also a good way to connect with our local community. It would be great to see some of these young people become RIT scholar-athletes one day."
Women in Sports Day is sponsored by RIT's Division of Student Affairs and the Center for Women and Gender. For more information, call 585-475-7464.
##