RIT hosts Rochester's first all-girl youth hackathon
Rochester's first all-girl youth hackathon powered by AT&T, iCanCode and RIT's Women in Computing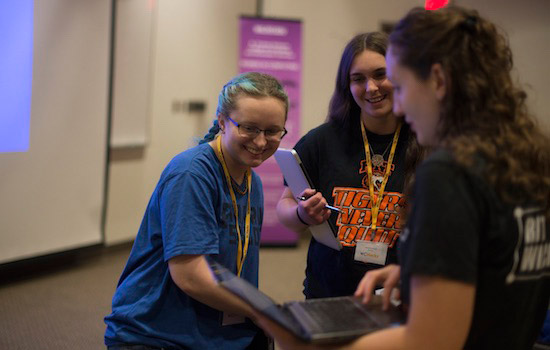 Brittainy Newman
Girls as young as 8 years old will use their laptops, imagination and teamwork skills for social good at ROCGirlHacks Powered by AT&T, Rochester's first all-girl youth hackathon hosted Oct. 28 at Rochester Institute of Technology.
The free hackathon is intended for all girls in grades 3–12, including those who have never programmed before, those who are already building apps and anyone in between. The learning program will challenge participants to come up with technological solutions and tools to address the growing problem of cyberbullying and internet safety.
Spots are limited for the Saturday hackathon, which will run 10 a.m.–6:30 p.m. at RIT's B. Thomas Golisano College of Computing and Information Sciences. Students and parents can register at www.icancodeclub.com/events.
The event is a collaboration between iCanCode, Women in Computing at RIT (which is housed in the B. Thomas Golisano College of Computing and Information Sciences) and AT&T. The program was born out of a desire to expand coding opportunities for Rochester-area girls and to encourage them to enter the field of technology, specifically coding, an industry that is statistically male-dominant.
Farah Sammour, founder of the after-school community iCanCode, said that she wants to make sure local kids are prepared for the future.
"So many of our youth, including girls, have the potential for high achievement in computer science but have not had the opportunity to develop skills in computer science," said Sammour. "We want to find them, introduce them to other coding enthusiasts, help them develop their minds and skills and show parents and educators how to cultivate young talent in this area."
The hackathon will allow girls to collaborate to build apps, games, websites, animations and interactive stories that address cyberbullying and internet safety. Mentors from Women in Computing at RIT, tech companies and local developers will be on hand to assist participants on their work.
"Exposing girls to computing at a young age is important because they need to know it's a career option," said Lana Verschage, director of Women in Computing (WiC) at RIT. "We have an Outreach Committee that is dedicated to creating opportunities for young women to learn about computing before high school in a fun and engaging environment, and it's a win-win situation when our student leaders interact with young girls as role models to help encourage them to see computing as a field they can succeed in."
Final projects at Powered by AT&T will be judged by a panel made up of local tech experts, community leaders, education experts and elected officials. Each submission will be scored on its potential impact on the category entered, the quality of execution and creativity or novelty within the work.
AT&T's support for the region's first all-girl youth hackathon is part of the company's legacy of supporting educational programs focused on STEM disciplines in New York state through AT&T Aspire, the company's signature $400 million philanthropic initiative that drives innovation in education by bringing diverse resources to bear on the issue including funding, technology, employee volunteerism and mentoring.
"AT&T is proud to collaborate with Women in Computing at RIT and iCanCode to develop and support this innovative experience for local girls as it further enhances our commitment to providing resources for STEM-related educational programming throughout the Rochester region and builds upon our vigorous efforts to bridge the gender gap in the technology industry," said Marissa Shorenstein, president of AT&T Northeast Region. "Our economy continues to transform at a robust pace — requiring a workforce with a focus on technological education and literacy — and computer science programs like this one are vital to ensure that the students of today, despite gender, are equipped to compete in the global innovation economy of tomorrow."
According to the Bureau of Labor Statistics, by 2020 there will be 2.4 million unfilled STEM jobs in the U.S. The urgency for more STEM and computer science educated employees is accentuated by the low percentage of females who are currently employed at major technology firms (29 percent) and women pursuing bachelor's degrees for computer science—18 percent. Increasing opportunities for women in these fields is an important step toward realizing greater economic success and equality for women across the board.
For a full schedule and to register for the event, go to www.icancodeclub.com/events. Follow the challenge on Twitter using the hashtag #ROCGirlHacks.