RIT Hosts Third Imagine RIT Festival May 1
More than 300 examples of innovation and creativity to be on display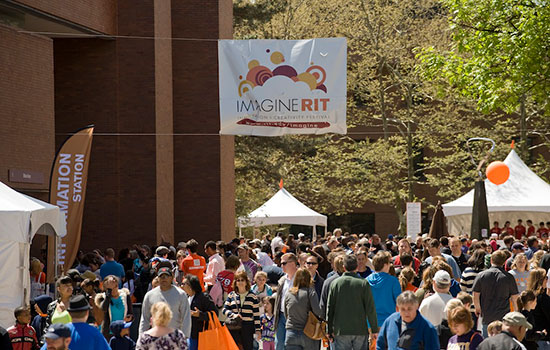 A. Sue Weisler
Visitors to Imagine RIT: Innovation and Creativity Festival will learn about medical informatics and then run through quick sand. They'll watch their children operate a robot and then delve into finger painting. They'll see a presentation on the colonization of Mars before enjoying lunch and an a capella performance.
This unique start to Rochester's festival season takes place from 10 a.m. until 5 p.m. May 1, on the Rochester Institute of Technology campus. More than 300 examples of innovation and creativity—in the form of exhibitions, demonstrations and live performances—will be on display. And more than 80 percent of them will either be completely new or a variation of exhibits from the previous two Imagine RIT festivals.
"Imagine RIT has something for everyone," says RIT President Bill Destler. "Exhibits range from sophisticated to old-fashioned festival fare. It's a chance for our students, faculty and staff to show off their innovative and creative spirits to the world."
The fun begins before the festival even formally kicks off, with Destler's Green Vehicle Challenge. Destler has challenged the RIT community to develop energy efficient vehicles that can complete a three-mile loop while using less energy than his own custom-made electric bicycle. The team that consumes the least amount of energy will get to choose from two prizes: an antique banjo from Destler's collection, or $1,000. The Green Vehicle Challenge begins at 9 a.m. in front of RIT's Student Alumni Union.
Admission to the festival is free. Parking is available on the RIT campus and there is also a free shuttle service from Monroe Community College. For more information, visit www.rit.edu/imagine.
##