RIT joins Ph.D. career pathways study
Project aims to improve career services, professional development and mentoring in doctoral programs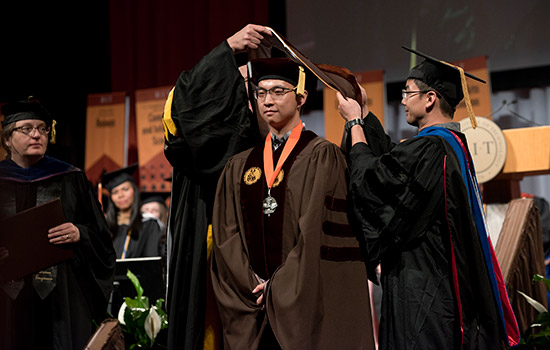 A. Sue Weisler
Rochester Institute of Technology recently joined a new study focusing on Ph.D. careers in science, technology, engineering and math (STEM) and humanities fields as an affiliate partner. The Understanding PhD Career Pathways for Program Improvement project was announced by the Council of Graduate Schools (CGS) and funded by grants from the National Science Foundation and the Andrew W. Mellon Foundation.
Over the course of several years, a coalition of universities will collect data from current Ph.D. students and alumni to help faculty and university leaders strengthen career services, professional development opportunities and mentoring in doctoral programs. RIT is one of 47 universities from across the U.S. participating in the study.
"Data from the surveys will help RIT ensure that we are offering the most appropriate program structures to allow our graduates to be successful in their careers," said Twyla Cummings, dean of Graduate Education at RIT. "Hearing about the experiences of current and past students can assist us in ensuring the best learning experience for students while they are here and will guide divisions such as career and co-op services in steering students to career opportunities that align with their goals."
During the multi-year project, RIT's office of Institutional Research and Policy Studies will work with with the colleges at RIT that offer Ph.D. degrees to administer the survey to RIT participants. CGS expects to send the first wave of the survey to Ph.D. alumni in fall of 2017 and will begin publishing the first wave of survey findings the following fall.
For more information about the Understanding PhD Career Pathways for Program Improvement project, go to http://cgsnet.org/understanding-career-pathways.