RIT Launches The Golisano Institute for Sustainability
Initiative results from $10 million commitment to the university from B. Thomas Golisano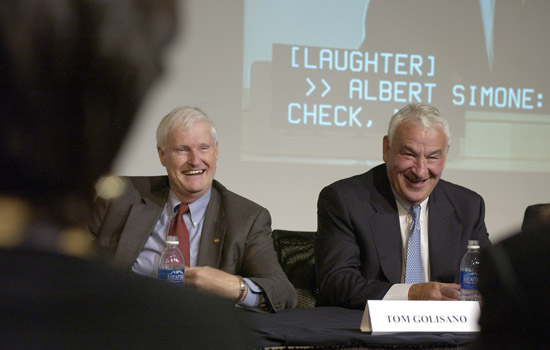 A. Sue Weisler
Building upon its leadership in the field of sustainable production, Rochester Institute of Technology has established The Golisano Institute for Sustainability. The announcement came today during a ceremony on campus to formally recognize a $10 million commitment to the university from B. Thomas Golisano.
The Golisano Institute for Sustainability at RIT offers the premiere platform for universities, corporations and governments around the globe to collaborate in the creation of innovative education and technology development systems related to sustainable design, life-cycle engineering, remanufacturing and pollution prevention. RIT also expects to become the first technological university to provide a full spectrum of career-focused, integrated and interdisciplinary programs that embody the principles of sustainability in product development.
"The Golisano Institute for Sustainability is a natural extension for us," states RIT President Bill Destler. "It expands our initiatives in education, research and technology transfer that build upon some of RIT's strongest academic programs and the internationally respected research of the Center for Integrated Manufacturing Studies."
Destler adds, "RIT is proud to take a lead role in the sustainability movement, and we are extremely grateful to Tom Golisano for his unwavering support of this university."
"It is imperative that we accelerate strategies to promote a sustainable society and ensure future generations the opportunity to address their own needs," explains Golisano. "For that reason, it is my desire for The Golisano Institute for Sustainability to produce the first generation of professionals with the vision and know-how to deliver on the promise of sustainability, and I am very proud to be associated with this exciting endeavor."
Golisano's investment in the institute will fund new development and new academic programs as the university works toward creating one of the world's first doctorates in sustainability, which will focus on sustainable production. Formation of this interdisciplinary degree program is supported by a $465,000 development grant from the Henry Luce Foundation and a $500,000 gift from the Chester & Dorris Carlson Charitable Fund. Funding for the construction of a "green" facility to house the institute will be incorporated within the next phase of RIT-sponsored activity designed to further this initiative.
The Golisano Institute for Sustainability will be lead by Nabil Nasr, RIT assistant provost and director of the Center for Integrated Manufacturing Studies. Nasr is a world-renowned expert in the field of sustainability and environmental issues, and he has been the catalyst in building RIT's expertise in sustainable product design and environmentally conscious manufacturing.
"Here at RIT, we have focused on projects that reduce the use of hazardous materials in production, expand the quality and implementation of remanufacturing processes and have worked to design production systems that are completely closed loop with no waste product and feature the complete reuse of all materials," notes Nasr. "Through our partnerships with industry, government, non-governmental agencies and other universities, we will seek to develop new technologies and processes that will assist in implementing sustainable processes in industry while also disseminating knowledge, education and training in the field."
Edwin Pinero, federal environmental executive with the White House Council on Environmental Quality, believes the institute will provide a setting for innovation in the area of practical applications of sustainability in industry.
"Equally important is the fact that the institute will help develop within the next generation of professionals a practical understanding of the integrated nature of the environment, society and the economy," observes Pinero. "I look forward to developing a partnership with the institute that will help nurture cooperation between government and industry in developing and deploying sustainable practices and technologies."
Albert Simone, RIT president emeritus and chair of Greater Rochester Enterprise, emphasizes the importance that the new institute brings to enhancing RIT's student research opportunities while advancing local economic development initiatives.
"The Golisano Institute for Sustainability will be vital to developing and maintaining competitive advantages for existing Rochester businesses," says Simone. "Those who aren't part of the sustainability movement may well be left behind in the global economy, and having this institute here at RIT provides invaluable knowledge and assistance to this region."
Establishment of The Golisano Institute for Sustainability is consistent with Golisano's ongoing support of the William J. Clinton Foundation. Golisano is a sponsor of the Clinton Global Initiative.
"For the past few years, I have been very proud to have Tom's support for the Clinton Global Initiative, which works to inspire innovative solutions to some of the world's most pressing challenges," remarks President Clinton. "One of our most significant ones is the threat of climate change, and I'm very glad Tom is continuing to look for a solution through the creation of this institute for sustainability."
Golisano has strong ties to RIT. In 2001, he donated $14 million for the creation of the B. Thomas Golisano College of Computing and Information Sciences. RIT's Golisano College is the largest comprehensive college of computing in the nation, featuring programs in computer science; information technology; software engineering; networking, security and systems administration; and game design and development.
Golisano is founder and chairman of Paychex Inc. and owner of the National Hockey League's Buffalo Sabres. He also serves as a member of RIT's Board of Trustees.
Video
Topics