RIT launches MicroMasters in Design Thinking
Innovative program offers flexible way to study online and advance career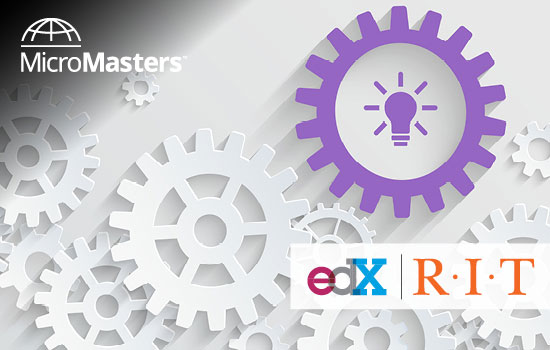 Professionals looking to add design thinking as a top skill on their résumé can now master it with a new online program from Rochester Institute of Technology.
Starting in April, learners can begin the RITx Design Thinking MicroMasters program offered on edX, the leading nonprofit online learning destination founded by Harvard and MIT, and earn a credential to show employers. Upon completing the MicroMasters program, learners also have the chance to take it a step further and apply that credential toward earning an accelerated and reduced-cost master's degree in professional studies from RIT.
"Today's professionals are looking for ways to get value out of any new skills they learn," said Thérèse Hannigan, director of RIT Online. "Not only can learners show off their MicroMasters certificate, they can also build on it because they're already on a path toward earning an RIT master's degree, saving them time and money."
The Design Thinking MicroMasters program will teach learners how to use the design thinking process to solve problems creatively, collaboratively and empathetically.
Design thinking was developed out of the processes used by designers—including user understanding and user experience—to address product-oriented problems. However, its application can also be used when innovating new product or service possibilities, implementing procedural change and identifying a new strategic direction for a company.
"Design thinking is an inclusive process that promotes user understanding and collaborative product development process to solve problems," said Dan Harel, an adjunct professor of industrial design at RIT who will be teaching the offerings.
The five-part program is currently open for enrollment, with the first offering beginning April 23. The six-week offerings include:
Design Thinking Fundamentals (starts April 23)
Design Thinking: Empathizing to Understand the Problem (starts Aug. 20)
Design Thinking: Ideation, Iteration and Communication (starts Oct. 29)
Design Thinking: Prototyping and User Testing (starts Jan. 7, 2019)
Design Thinking Capstone (starts March 18, 2019)
"Design thinking is an important skill to obtain and hone because it ensures the innovative ideas generated are grounded with user needs, technology possibilities and business requirements—key components of any product or service success," Harel said. "In addition, the process is repeatable leading to implementable solutions that are in line with a company's vision or strategic intent."
This graduate-level online Design Thinking MicroMasters program is designed for anyone with an undergraduate degree who wants to add more creative and strategic thinking into their career. The program could benefit professionals who work in teams, executives, managers and science, technology, engineering and math professionals looking to grow a business.
Those who successfully earn the MicroMasters certificate can build on their work by applying to RIT for the master's in professional studies program—a customized, interdisciplinary and career-oriented graduate degree. If accepted, they can be awarded nine credits for the MicroMasters certificate toward a graduate program at RIT, saving more than a quarter of the time and cost of a traditional RIT master's program.
"I hope that our learners come away from these classes with better understanding and appreciation for this integrated process, and with useful tools to help their businesses succeed," said Harel.
MicroMasters programs are a new category of master's-level online education that offer a credential with a pathway to credit. The programs are designed for learners looking for in-demand knowledge to advance their careers or follow a path to an accelerated, fully accredited advanced credential.
"We are honored to work with RIT to offer a MicroMasters program in Design Thinking—a blended skillset comprised of rational, analytical, intuitive and emotive competencies in huge demand in today's workplace," said Anant Agarwal, edX CEO and MIT professor. "As a university with expertise in technology, arts and design, RIT is uniquely positioned to deliver this program because of their multidisciplinary expertise and focus."
In 2016, RIT became one of the first universities to offer a MicroMasters program with edX. Twenty-five universities and organizations around the world are offering MicroMasters programs in other areas of study, including MIT, Columbia University, University of Michigan and Indian Institute of Management Bangalore.
Details and enrollment information for RIT's Design Thinking MicroMasters can be found at rit.edu/ritonline/ritx/design-thinking.