RIT launches MicroMasters program in cybersecurity
Innovative program offers flexible online studies for career advancement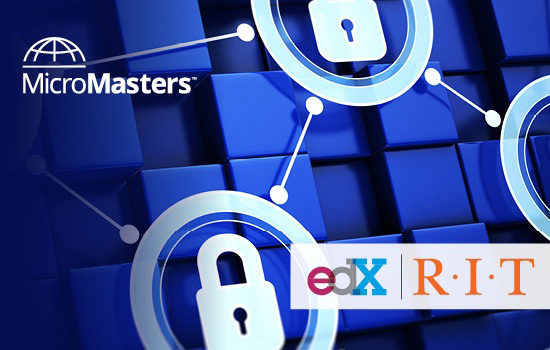 Professionals looking to break into a cybersecurity career now have an accelerated and reduced cost option to earn a master's degree from Rochester Institute of Technology.
Starting in March, learners can begin the RIT Cybersecurity MicroMasters program with edX, the leading nonprofit online learning destination founded by Harvard and MIT. Upon completing the five-part program and earning a MicroMasters credential, learners can apply to RIT and may be awarded nine credit hours toward their degree requirements—making up nearly one third of a master's program.
The program is currently open for enrollment, with the first offering beginning March 21.
"You can't go a few days without hearing about another cybersecurity breach or attack, but we still don't have enough professionals to protect our infrastructure," said Bo Yuan, chair of RIT's Department of Computing Security. "This MicroMasters program is a terrific opportunity for RIT to engage with edX's more than 9 million global learners and encourage more workers to become qualified in cybersecurity."
RIT's MicroMasters program in Cybersecurity will provide learners with the expertise in network security and forensics needed for a cybersecurity position in enterprise environments. With the program, RIT is helping to meet the demand of a growing field that anticipates 6 million new cybersecurity jobs being created by 2019, according to Forbes.
Those who earn the MicroMasters credential can then build on their work by applying to RIT for the master's degree in computing security, the advanced certificate in information assurance or the master's degree professional studies.
The graduate-level online MicroMasters credential is designed for people whose undergraduate major or minor was in a computing specific discipline, as well as those who have a strong background in a field where computers are applied, including engineering, science or mathematics.
The RIT MicroMasters program includes modules in Cybersecurity Fundamentals, Computer Forensics, Cybersecurity Risk Management, Network Security and a Cybersecurity Capstone. The program is 40 weeks of instruction.
"The shortage of skilled and qualified cybersecurity professionals is one of the biggest issues facing our Internet-connected world today," said Bob Kalka, vice president of the IBM Security Business Unit and a 1989 RIT computer science alumnus. "Professionals who gain the skills and tactics needed to defend against the next generation of security threats will be better prepared for careers at IBM and other organizations in the cybersecurity industry."
MicroMasters programs are a new category of master's-level online education that offer a credential with a pathway to credit. The programs are designed for learners looking for in-demand knowledge to advance their careers or follow a path to an accelerated, fully accredited advanced credential.
In September, RIT became one of the first universities to offer a MicroMasters program with edX, launching a MicroMasters in Project Management. Fourteen universities around the world are offering MicroMasters programs in other areas of study, including MIT, Columbia University, University of Michigan and Indian Institute of Management Bangalore.
"We are honored to work with RIT to launch a MicroMasters program in Cybersecurity, an area of expertise that has become increasingly more vital in the modern workplace," said Anant Agarwal, CEO at edX and professor at MIT. "This new offering marks a new and exciting step toward furthering our shared mission to expand access to high-quality education. MicroMasters programs provide the next level of innovation in learning and meets the needs of learners, universities and employers in today's on-demand, tech-driven world."
For a full list of available MicroMasters programs, go to the edX website.
RIT's MicroMasters program in Cybersecurity is made possible by RIT's B. Thomas Golisano College of Computing and Information Sciences and the Innovative Learning Institute, which houses RIT Online and Teaching and Learning Services.
Details and enrollment information can be found at the RIT Online and Professional Education website. Enrollment for the Cybersecurity Fundamentals module is open now.
Topics