RIT launches new brand strategy and identity
University will leverage the power of technology, the arts and design for the greater good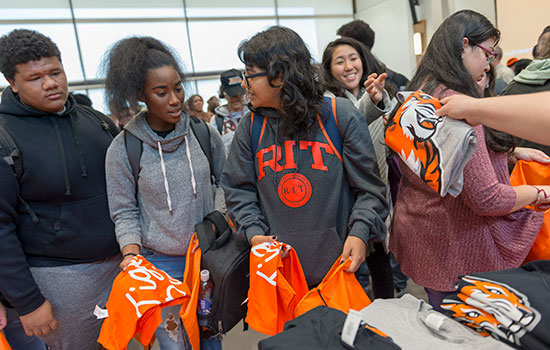 Rochester Institute of Technology will start telling its story in a more compelling and cohesive fashion with the launch of a new brand strategy.
RIT President David Munson led a campus-wide celebration Thursday while introducing a stronger narrative for the university that "leverages the power of technology, the arts and design for the greater good."
"Our brand will focus on a creative community and innovation in every discipline, with a dose of adventure and excitement," said Munson. "For our university, branding answers a fundamental question: Who and what is RIT? Having an identifiable brand will help distinguish our university from others, in the minds of prospective students and parents, colleagues at other universities, funding agencies, government officials and the general population. Our brand works by forming emotional connections from the very first interaction—a billboard in downtown Rochester, a conversation at the Imagine RIT festival, an inquiry from a potential student about NTID, or an interaction with an RIT alumna in Silicon Valley. These interactions accumulate and shape the way people think and feel about our university."
John Trierweiler, RIT vice president and chief marketing officer, said the new brand is derived from rigorous qualitative and quantitative research that includes feedback from target audiences—prospective students, corporate and community partners, school counselors and academic peers—as well as students, faculty, staff and alumni.
"We have constructed a unified RIT story that we can now collectively share with the rest of the world," said Trierweiler. "The purpose of our branding effort is to shine a bright spotlight on this amazing university to our audiences that will enable RIT to continue its incredible upward trajectory. But how will we do that? By creating the language—both written and visual—that brings the RIT story to life in a clear, compelling and consistent manner."
In October, Trierweiler said, the new brand will begin to come alive across campus. This includes on buildings, on light poles, in bus shelters, and on buses. In January, the university will roll out a newly branded web environment on rit.edu, as hundreds of websites are converted to a new architecture and design. The Division of Marketing and Communications team also plans to launch RIT's first-ever national brand reputation advertising campaign in January.
Munson also noted that the evolving university brand aligns with RIT's vision and mission, revised 2025 strategic plan, and $1 billion blended fundraising campaign, "Transforming RIT: the Campaign for Greatness."
"When a stranger asks me what I do as president of RIT, I am going to respond: 'I am a cheerleader for a university that is shaping the future and improving the world through creativity and innovation,'" said Munson. "Let me reinforce that RIT is an outstanding university and is only going to move upward … Because at RIT, we're always on to something amazing!"
Branding Resources
Watch President Munson's "elevator speech" video as a brand champion.
(Available Monday, Oct. 1) To learn more about the new branding elements and guideline, please visit the new brand portal at https://www.rit.edu/brandportal. Here, you will find more information related to designs, logos, colors, typography, brand language, frequently asked questions and more.
Do you have more questions? Email brand@rit.edu for more information.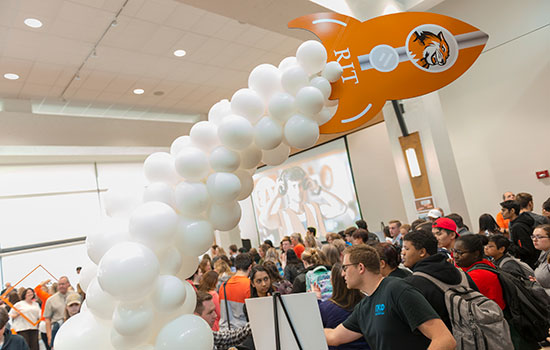 Elizabeth Lamark
Topics