RIT named among nation's leading 'green colleges'
Sustainability initiatives help achieve university's placement for fourth consecutive year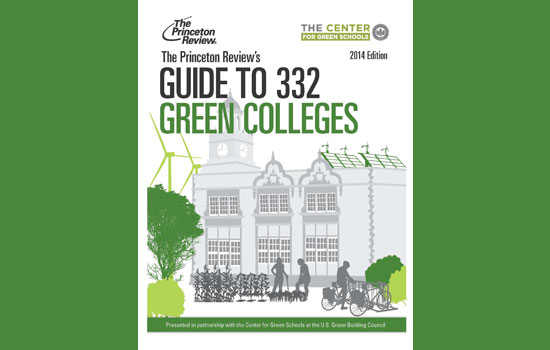 Rochester Institute of Technology, for the fourth consecutive year, has been named one of North America's greenest universities by The Princeton Review.
The company's 2014 Guide to 322 Green Colleges evaluates colleges and universities on environmentally related policies, practices and academic offerings. In partnership with the U.S. Green Building Council, best known for developing the Leadership in Energy and Environmental Design (LEED) standard for green building certification, The Princeton Review has produced lists of North America's green colleges since 2010. The guide is an alphabetized list of schools that meet The Review's guidelines for being green and provides no ranking.
"We strive to lead by example, as shown by our newly LEED Platinum certified Golisano Institute for Sustainability," said Enid Cardinal, senior sustainability advisor to the president. "Here at RIT, we are committed as a university to sustainability through our research, academics and operations."
The guide features profiles of the colleges and universities that provide application information plus facts, statistics and write-ups reporting on the schools' environmentally related policies, practices and academic offerings.
The Princeton Review chose the 322 schools based on a survey it conducted in 2013 to tally its annual green rating scores of colleges for school profiles included in its college guidebooks and website. The survey asks administrators questions about their institution's sustainability-related policies, practices and programs. The company tallied ratings, which are scaled from 60 to 99, at 832 institutions last summer. The 322 schools in this year's guide received scores of 83 or above in that assessment.
In the guide's profile, RIT is commended for serving as the headquarters for the New York State Pollution Prevention Institute and for founding GIS, which is committed to advancing education and research in sustainability. In addition to establishing RIT's Committee for Sustainable Practices to advise the campus on environmental issues, RIT President Bill Destler is applauded for signing the American College & University Presidents' Climate Commitment, ensuring that RIT will have a formal plan for reducing energy consumption and greenhouse gas emissions on campus. To further these efforts, RIT has determined that all new construction projects will seek, at minimum, LEED Silver, to complement the four LEED-certified buildings already on campus. RIT has also put together a $38 million heating and cooling plant replacement project that will reduce campus emissions and improve overall energy efficiency.
"We are pleased to recommend RIT to the many students seeking colleges that practice and promote environmentally responsible choices and practices," said Rob Franek, senior vice president and publisher, The Princeton Review.
The 216-page book—the only free, comprehensive, annually updated guide to green colleges and universities—can be downloaded at http://www.princetonreview.com/green-guide.aspx.