RIT named core partner of new robotics institute
Initiative marks seventh advanced manufacturing hub to which university has been selected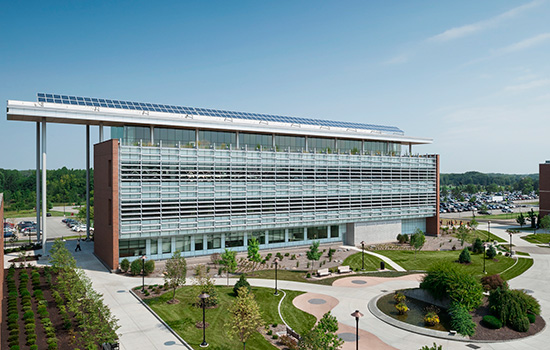 David Lamb Photography
Rochester Institute of Technology's Golisano Institute for Sustainability (GIS) is a core academic partner in a new advanced robotics manufacturing institute announced by the U.S. Department of Defense Jan. 13.
The Department of Defense (DoD) awarded the 14th public-private Manufacturing USA institute—the Advanced Robotics Manufacturing (ARM) Innovation Hub—to American Robotics, a nonprofit venture led by Carnegie Mellon, with more than 220 partners in industry, academia, government and the nonprofit sector nationwide.
The eighth DoD-led institute, the ARM institute joins the Manufacturing USA network in its collective effort to help revitalize American manufacturing and incentivize companies to invest in new technology development in the United States.
This marks the seventh Manufacturing USA initiative in which RIT has been named a significant partner, including last week's announcement that GIS will lead the U.S. Department of Energy's new Reducing Embodied-Energy and Decreasing Emissions (REMADE) Institute.
About American Robotics
Headquartered in Pittsburgh, Pa., the winning advanced robotics consortium contributed $173 million, to be combined with $80 million in federal funding. The substantial cost matching reflects the importance the U.S. robotics community places on this institute and its value to U.S. businesses, academia, and state and local governments. The ARM Institute, with founding industrial and academic partners in New York and 30 other states, will organize the current fragmented domestic capabilities in manufacturing robotics technology and better position the United States relative to global competition.
"As a proud core academic partner of American Robotics, RIT is truly excited for this opportunity and we look forward to collaborating with the outstanding members of this consortium," said Nabil Nasr, associate provost and director of the GIS team. "In addition to RIT's longstanding heritage in robotics-related technologies, the leading technologies that we have developed in asset-health management and prognostics were extremely attractive to our partners."
The use of robotics is widespread in manufacturing environments, but today's robots are typically expensive, singularly purposed, challenging to reprogram, and require isolation from humans for safety. Robotics are increasingly necessary for defense and other industrial manufacturing needs, but capital cost and complexity of use limit the participation of mid-size and small manufacturers. The Advanced Robotics Manufacturing Institute (ARM) will integrate the diverse collection of industry practices and institutional knowledge across many disciplines.
About Manufacturing USA
Manufacturing USA is a network of regional institutes, each with a specialized technology focus. Formerly known as the National Network for Manufacturing Innovation (NNMI), the consortium brings together academia, industry and federal partners with a goal to increase U.S. manufacturing competitiveness and promote a robust and sustainable national manufacturing research and development infrastructure. The institutes are tasked with bridging the gap between basic research and product development in key technology areas regarded as critical to U.S. manufacturing.
Launched in 2012, there are now 14 research institutes. The federal government has committed over $1 billion, matched by more than $2 billion in non-federal investment across the Manufacturing USA network. RIT is involved in seven of the institutes with the latest, REMADE Institute, being the first where the university will serve as the lead member.
For more information regarding Manufacturing USA, go to https://www.manufacturingusa.com/.
Topics