RIT names alumnus Orlando Ortiz the 2020-2021 Minett Professor
Manufacturing businessman and avid community volunteer becomes the 29th person to serve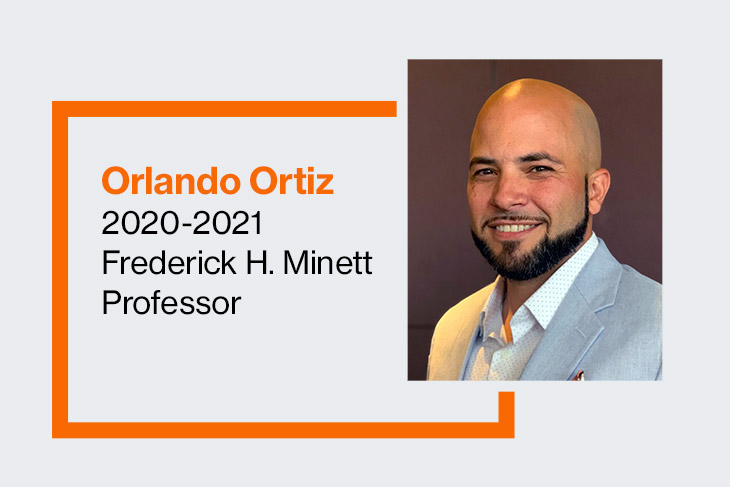 Rochester Institute of Technology's newest Frederick H. Minett Professor is an engaged alumnus, successful professional in the manufacturing industry, and highly active community volunteer. Orlando Ortiz '04 (manufacturing engineering technology), '08 (MBA) is the 29th person appointed to the prestigious position, established in 1991.
The Minett Professorship brings distinguished Rochester-area multicultural professionals to RIT to share their professional knowledge and experience with RIT's students, faculty, and staff for one academic year. The professorship emphasizes the connections between education and industry, and also highlights the value of diversity. Minett Professors are selected by the Minett Professors Emeritus, then appointed by RIT President David Munson and Keith Jenkins, RIT's vice president and associate provost for Diversity and Inclusion.
"We are delighted to welcome such an accomplished and active alumnus to serve in this role," said Jenkins. "Orlando Ortiz continually gives back to the RIT community, and we are excited to have him in this capacity where he will be able to expand on that close relationship even further."
Ortiz has worked in the manufacturing industry since 1998 and has served as a manufacturing manager with The Gleason Works for the past seven years. As an RIT student, he became heavily involved in community service and many clubs and organizations on campus. While at RIT, he joined Latino America Unida, Lambda Alpha Upsilon Fraternity Inc. and currently serves as the alumni advisor to the local chapter. Through the fraternity, he began volunteering for the Puerto Rican Festival, and has now served as a board member for 15 years as its volunteer coordinator, treasurer, and for the past 11 years, as its president. He also serves on the board of Foodlink, as board chair of The Housing Council, vice-chair of the board for Pathstone, and as secretary on the board of the RIT Alumni Association. In 2019, Ortiz was named Hispanic Businessperson of the year by the Rochester Hispanic Business Association.
Ortiz said that he has several initiatives he wants to focus on as Minett Professor, including strengthening RIT's ties to the nonprofit organizations he is involved with, such as Foodlink and PathStone. He also wants to use his experience in the manufacturing industry to expose more underrepresented minority students to career opportunities in the field, encourage student involvement in clubs and organizations, and increase the Rochester community's awareness of the Destler/Johnson Rochester City Scholars program. Ortiz was part of the RIT Strategic Plan steering committee in 2014 and said he sees joining the ranks of the Minett Professors gives him a unique opportunity to help see that plan through.
"It's an honor to be a part of this group," said Ortiz. "As an RIT alum, it's even more gratifying for me because it presents another opportunity for me to connect the various 'hats' I wear daily. I want to make sure I move the needle and leave my mark not only on the strategic plan creation, but now actually being a part of executing it and making an impact with students. It's nice to come full circle."
Ortiz succeeds longtime Urban League of Rochester leader William Clark, who served as Minett Professor from 2019-2020. Others who have served in the position include many of Rochester's most prominent business, academic, medical, and law enforcement professionals.
The professorship is named after one of RIT's early benefactors, Frederick Minett, who started a tool and die company on Water Street in downtown Rochester in the early 1920s. He was familiar with RIT, formerly called the Mechanics Institute, and employed some students. Minett died in 1971, leaving more than $5 million endowment to RIT. Originally divided between RIT's College of Continuing Education and the general endowment, the bequest was intended to support Minett's and RIT's vision of career education.
Topics