July 15, 2022
by Rich Kiley
RIT names Jorge M. Rodriguez new member of board of trustees
CEO and Saunders College of Business alumnus Jorge Rodriguez joins university's leadership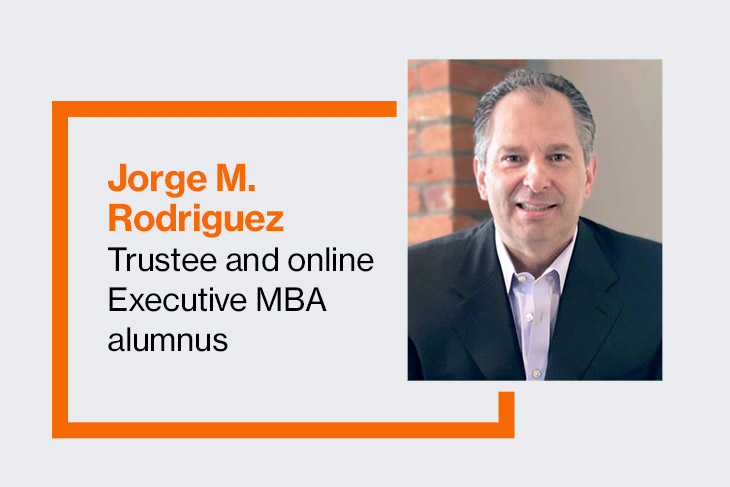 RIT appointed a new member—who also is an alumnus—to the university's board of trustees on July 14.
Jorge M. Rodriguez '15 MBA (online Executive MBA), chief executive officer of Salt Lake City-headquartered Sorenson Communications, has more than 30 years of experience in the telecommunications and information technology industries—including in both domestic and international markets.
Sorenson, the world's leading provider of accessible communication services for Deaf and hard-of-hearing individuals, is the largest private employer of Deaf people and sign language interpreters. The company offers caption and video relay services, over-video and in-person sign language and spoken language interpreting, real-time event captioning services, and post-production language services.
Rodriguez joined the company in January 2022, becoming its first Latino CEO. Under his leadership, Sorenson is seeking to continue expanding critical communication services to Deaf, hard-of-hearing, and other diverse and underrepresented communities, while also promoting new opportunities for equity and inclusion.
Prior to joining Sorenson, Rodriguez served as president and CEO of multiple subsidiaries of América Móvil, Latin America's largest wireless company. His roles included CEO positions with América Móvil companies such as Claro Enterprise Solutions and Telvista Inc. He also established global alliances, leveraged technology to drive next-generation capabilities for enterprise customers, and served on multiple América Móvil company boards. Prior to his tenure at América Móvil, Rodriguez held various executive positions at AT&T and AT&T Latin America.
Outside of his Sorenson role, Rodriguez serves on the board of overseers of Columbia University's School of Professional Studies. In 2019 and 2020, he was named to the Hispanic Information Technology Executive Council (HITEC) 100, a list of the most influential Hispanic leaders in the technology industry. Rodriguez holds a BA in molecular biology from Colgate University and an MS in technology from Columbia University, and is a graduate of the UNC Kenan-Flagler Business School advanced management program.
Rodriguez has served as a member of the Executive MBA Advisory Board at Saunders College of Business since 2019. His engagement with RIT has continued to grow since he assumed leadership of Sorenson, a longtime RIT/NTID supporter.
Notably, Rodriguez has recently begun exploring ways in which RIT/National Technical Institute for the Deaf (NTID) and Sorenson can partner, including through joint efforts to grow the population of trilingual interpreters and interpreters of color, and through collaborations to develop next-generation telecommunications tools that provide equitable access for Deaf and hard-of-hearing populations.
Additionally, in May 2022, Rodriguez established the Rodriguez-Sorenson Communications Endowed Scholarship, which will support deaf or hard-of-hearing RIT/NTID students, with emphasis on students from historically underrepresented and/or financially underserved communities.
The RIT board has 42 active trustees and 30 trustees of emeritus status.
Topics