RIT part of group awarded NNMI grant
Researchers from the Kate Gleason College of Engineering and College of Imaging Arts and Sciences lead university's contingent in Department of Defense manufacturing innovation hub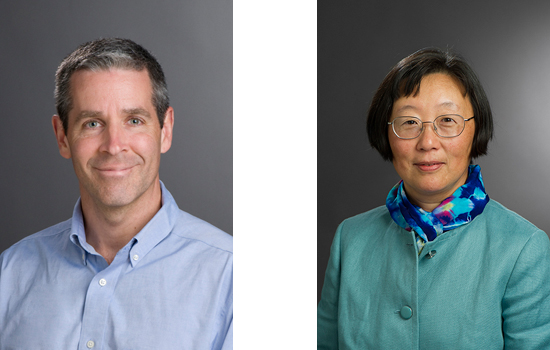 Rochester Institute of Technology is part of a consortium recently awarded a federal grant to establish a research center for employing flexible electronics in manufacturing.
The National Network for Manufacturing Innovation grant was awarded to FlexTech Alliance, a consortium of 162 companies, universities and nonprofits, for the purpose of creating the Manufacturing Innovation Institute for Flexible Hybrid Electronics. The institute will be managed by the U.S. Air Force Research Laboratory. RIT's anticipated role will be to contribute expertise in high performance print systems and functionality, engineering processes and materials development.
Flexible electronics is viewed as the intersection of electronics and high-precision printing, both areas in which RIT has considerable expertise. The technology involves assembling electronic devices by printing circuit patterns on flexible substrates and then placing the electronic components where needed. The technology has the potential to create an array of products ranging from wearable devices to improved medical health monitoring technologies. The technology is also expected to increase the variety and capability of sensors that already interconnect the world, resulting in applications for both consumers and the military.
This is the seventh National Network for Manufacturing Innovation (NNMI) that has been announced, an initiative focused on bringing together government, industry and academia to advance U.S. leadership in manufacturing. RIT will be contributing to the work of four NNMI institutes, the others being additive manufacturing, photonics and digital manufacturing.
"RIT will be contributing to these four important emerging fields that have the potential to shape the future of U.S. manufacturing," said Ryne Raffaelle, vice president of research and associate provost. "Not only will our faculty-researchers bring expertise in these areas, but they will be including students in their research efforts, preparing them for future positions in the changing economy."
RIT's contributions will be led by Denis Cormier, the Earl W. Brinkman Professor of Industrial and Systems Engineering, part of the Kate Gleason College of Engineering, and Shu Chang, the Melbert B. Cary Jr. Distinguished Professorship in RIT's College of Imaging Arts and Sciences.
Cormier's research is on printed electronics, specifically the synthesis of printable nano-inks, the development or enhancement of printing processes, and the design of novel printed electronic devices. He also is an expert in the area of additive manufacturing and multifunctional printing—the intersection of traditional additive manufacturing and printed electronics. RIT was recently awarded a NYS Center for Advanced Technology (CAT) in Additive Manufacturing and Functional Printing (AMPrint Center), of which Cormier is the director. The AMPrint Center is one of the first academic centers in the U.S. specifically dedicated to multifunctional printing. Its core focus is to develop a better scientific understanding of how materials in a multifunctional device interact with one another and affect the overall composite material's performance.
Chang's research identifies techniques to bridge the system and material aspects of conventional digital printing to the rapidly growing field of additive manufacturing. She is currently working on characterizations of additive printer capability through the use of geometrical graphical targets as well as on the understanding of the microstructure of printed materials. Prior to joining RIT, Chang worked in printing technology research and development at Xerox Corp. for more than 20 years. Her work at Xerox spanned printing technologies and materials science research to sustainability in printing and market explorations.
Topics