RIT partners with Peru university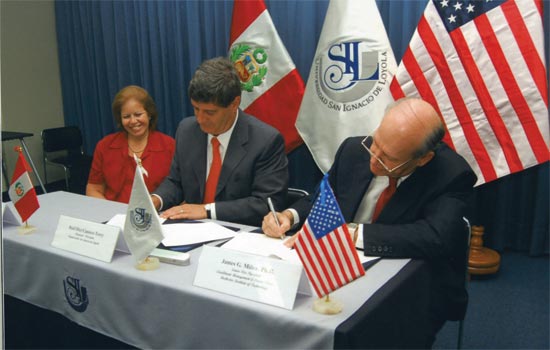 Submitted photo
RIT has formed a partnership with the Universidad San Ignacio de Loyola in Lima, Peru. The agreement will allow qualified Peruvian students to earn both undergraduate and graduate degrees from RIT.
About 15 to 20 Peruvian students attend RIT annually. The new agreement assures the yearly total will increase with many Peruvian undergraduate students transferring by way of Tompkins Cortland Community College to RIT through the Global Connections Program, while graduate students from USIL seek direct entry into selected RIT graduate programs.
The agreement also provides opportunities for USIL faculty development through advanced degrees or visiting scholar status at RIT. The feasibility of offering RIT students and faculty time-shortened Peruvian cultural and Spanish language immersion at USIL's Cusco-Machu Picchu location will also be explored.
Jim Miller, senior vice president for enrollment management and career services; Raul Diez Canseco, president of the board of San Ignacio de Loyola; and Rectora (Chancellor) Lourdes Flores signed a partnership agreement in February in a ceremony in the capital city of Lima.
The USIL initiative builds on and complements more than 60 existing partnerships and agreements RIT has established with foreign universities, international organizations and government agencies spanning five continents, says Miller.
"As RIT continues to push forward with implementation of the global dimension of our strategic plan, agreements like the USIL/RIT agreement will continue to be added when they are of mutual interest to the partners and advance RIT's presence and brand throughout the world," adds Miller.
RIT currently enrolls approximately 1,500 foreign students representing 95 countries in undergraduate and graduate programs in Rochester. More than 900 additional international students are pursuing RIT degrees at existing international locations.