May 1, 2012
by Marcia Morphy
RIT Press book on Rochester's Johnny Antonelli
Author Scott Pitoniak collaborates on an inside look at the game's Golden Age, the 1950s
A half-century has passed since Johnny Antonelli threw his last pitch in a Major League Baseball game, but his memories of his illustrious career remain as vivid as if they occurred 50 minutes rather than 50 years ago.
One of only 17 players in big-league history never to have spent a single day in the minors, Antonelli knows how to deliver a story as well as he once delivered a fastball. And that's something author Scott Pitoniak picked up on the first time he interviewed Antonelli.
Pitoniak convinced the humble, five-time National League All-Star pitcher that his career truly was worthy of a book and the collaboration resulted in Johnny Antonelli: A Baseball Memoir, published by RIT Press, a scholarly enterprise at Rochester Institute of Technology.
"He spun one great tale after another about memorable games and performers he played with and against while pitching for the Boston Braves and New York and San Francisco Giants back in the 1950s," Pitoniak recalls. "I wound up having lunch with him and some other Rochester, N.Y., sports legends a couple of times a year after that, and the more I listened to Johnny, the more I thought we should get these stories into a book so that future generations will be able to enjoy them too."
Pitoniak is a nationally renowned sports columnist and best-selling author of 15 books. He says Antonelli wasn't the type to blow his own horn—even though he was one of baseball's most dominant pitchers during the 1950s.
"He twice won 20 games for the Giants and was the ace of the staff that swept the heavily favored Cleveland Indians in the 1954 World Series," Pitoniak notes. "He played with Hall of Famers such as Willie Mays and Warren Spahn and against the likes of Jackie Robinson, Hank Aaron, Ted Williams and Mickey Mantle. He has wonderful, insightful stories about each of them, and about what it was like to play ball in New York City at a time when the Big Apple fielded three teams and was the capital of baseball."
In the book, Antonelli recollects what it was like to grow up the son of Italian immigrants in Rochester during the 1930s and 1940s. He tells how, with the help of his father, Gus, he was signed directly out of Jefferson High School to a "Bonus Baby" contract for the then-exorbitant amount of $52,000. He also talks about his entrepreneurial visions, how he wisely invested in his first Firestone tire store while he was still playing— a move that would enable him to become a multi-millionaire and even more successful in business than he had been in baseball.
"I had a lot of fun reminiscing with Scott for this book," says Antonelli, an active octogenarian, who, with his wife, Gail, divides time between Rochester and their residence in Santa Fe, N.M. "We got together for a couple of hours a week for several months and he'd ask me about this game or that player. It really was like traveling back in time for me. I enjoyed the trip down memory lane and I hope the readers will, too."
The softcover edition of Johnny Antonelli: A Baseball Memoir is available for purchase for $17.95 at the RIT Press website or by calling RIT Press at 585-475-6766.
Note: RIT Cary Graphic Arts Press and its imprint, RIT Press, are scholarly publishing enterprises at Rochester Institute of Technology. The Press is associated with the Melbert B. Cary Jr. Graphic Arts Collection, one of the country's premier libraries on the history and practice of printing.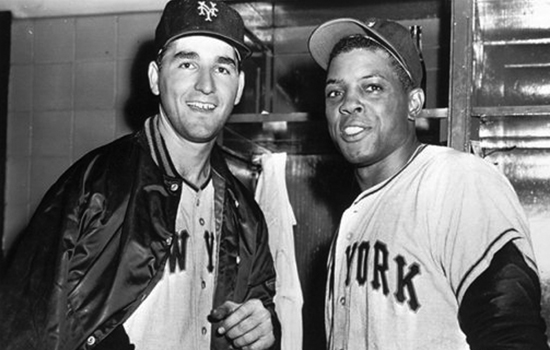 Topics