July 28, 2014
by Marcia Morphy
RIT Press publishes biography on Vignellis
Jan Conradi shares the couple's passion and legacy in biography published by RIT Press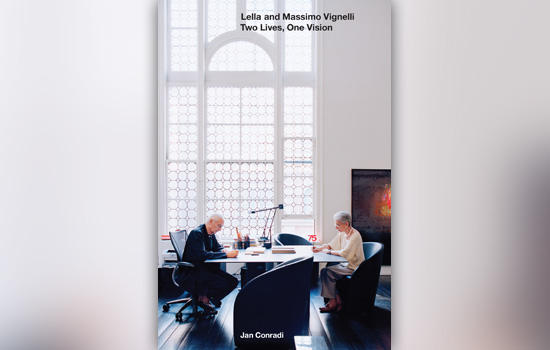 Lella and Massimo Vignelli merged European modernist design forms and attitudes with American energy and optimism.
—Jan Conradi, author
It was truly a marriage of design—in more ways than one.
After Italian designers Lella and the late Massimo Vignelli (1931-2014) settled in the U.S. in the mid-1960s, their iconic designs became status symbols of daily life—from the American Airlines logo, to Bloomingdale's Brown Bag, New York City's subway signs, Fodor's Travel Guides, furniture, housewares, architectural interiors and jewelry.
Jan Conradi reveals their enduring legacy in Lella and Massimo Vignelli: Two Lives, One Vision, published by RIT Press, the scholarly publishing enterprise at Rochester Institute of Technology.
Through a mix of archival research and personal interviews with Lella, Massimo and their many colleagues and clients, Conradi documents the Vignellis' nuanced approach to "cleaning up" an often chaotic and messy society by adhering to a minimalist and structured design method.
In their lifetime, the Vignellis defined the word integrity, and were true partners, both personally and professionally for more than 50 years. Believing that "Design was an encompassing profession, not a job or a trade, but a profoundly ethical profession that we should embrace or reject," they were consistently outspoken in raising the consciousness of what good design is and why it matters—as evidenced in their extensive professional archives, now housed at RIT's Vignelli Center for Design Studies.
"They sought timelessness, not in a static, bubble-wrapped way, but with consideration of functionality, material integrity, message and purpose," Conradi said. "Every project was valued and each client was treated with respect. Their mantra, 'If you can't find it, design it,' was a call to active engagement."
A professor of graphic design at Rowan University in Glassboro, N.J., Conradi met the Vignellis in 1986 when she was a graduate student writing a thesis about Unimark International, a company Massimo founded in 1965—which later served as the foundation for her book published in 2010, Unimark International: The Design of Business and the Business of Design.
From her ongoing research, Conradi noted the Vignellis had a reputation for turning clients into friends and that there was little separation between their professional and personal lives. She said there was an extra bonus: "Having Vignelli credentials opened doors for dozens of designers; railing against Vignelli vision bolstered recognition for others. Only great visionaries can have it both ways.
"Their indelible impact is inspiring on several levels—and demonstrates the power an individual has to shape the world. Lella did it elegantly; Massimo did it with enthusiasm. The Vignellis were iconic contributors to the 20th century and it was an honor to tell their story."
Lella and Massimo Vignelli: Two Lives, One Vision is available in softcover for $34.99 at the RIT Press website or by calling RIT Press at 585-475-6766.
Topics