RIT Press publishes book on audio signal processing
Book published by RIT Press explores technical side of audio engineering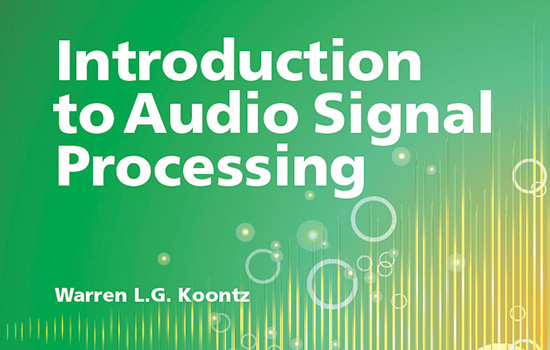 Audio signal processing is at the heart of every song transmitted at a concert, every sound enhanced in a movie and every album stored in your music library.
A new book, written by RIT Professor Emeritus Warren Koontz, provides students and technical professionals with the knowledge to process audio in real time on their own computers. The book, titled Introduction to Audio Signal Processing, is published by RIT Press, the scholarly publishing enterprise at Rochester Institute of Technology.
Audio signal processing is used to convert between analog and digital formats, to cut or boost selected frequency ranges, to remove unwanted noise and to add effects, among many other desired results. While this process can be done using specialized recording equipment, it is commonly completed using ordinary PCs or laptops.
Koontz describes basic signal-processing tools and algorithms that undergraduate engineering and engineering technology students can use to record and produce audio content. He also provides examples and exercises using the mathematics programming language MATLAB.
"I recommend that any course based on this book includes exercises using MATLAB or a similar tool," said Koontz. "It is crucial that students are able to implement some of these concepts, especially in the digital arena."
Koontz begins with a basic overview of sound and analog audio signals. He then describes the sampling and quantizing processes used to convert analog signals to a digital format. In later chapters, he examines specific applications such as equalizer design, effect generation and file compression.
Koontz received a bachelor's degree from the University of Maryland, master's degree from MIT and Ph.D. from Purdue University—all in electrical engineering. He spent more than 30 years at Bell Laboratories, managing the development of digital transmission systems. After retiring from Bell Labs, he became a faculty member in RIT's Department of Electrical, Computer and Telecommunication Engineering Technology, where he helped create an audio engineering technology option.
Introduction to Audio Signal Processing is available in softcover for $39.95 at the RIT Press website or by calling RIT Press at 585-475-6766.