January 9, 2013
by Marcia Morphy
RIT Press publishes book on Vignelli transit maps
RIT publishes book on the story behind New York City's graphic subway system signage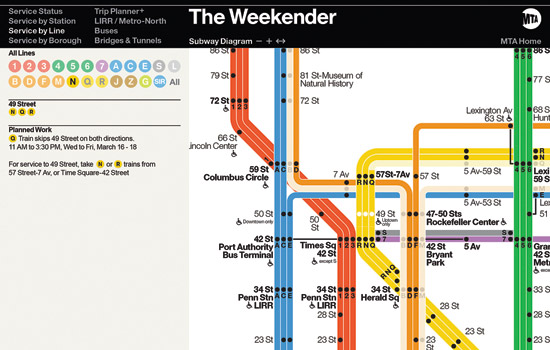 "How did Vignelli initiate the design process of the subway map? Speaking in the historic present tense that reflects his vivid memory, he says, 'I draw it!'"
Vignelli Transit Maps; Peter B. Lloyd
Massimo Vignelli's once controversial subway map of the New York City transit system still sparks discourse, and in his new book, Vignelli Transit Maps, author Peter B. Loyd (with Mark Ovenden) uncovers the history of the Vignelli map that includes the legacy of the people who created and promoted this New York icon—as well as those who hastened its demise. Published by RIT Cary Graphic Arts Press at Rochester Institute of Technology, the book includes a first glimpse at original, early development sketches of the famed map and of its recent successors.
"Vignelli's map of the New York City subway is one of the most famous, and most hotly debated transit maps in the world," says Lloyd. "The book describes the transit maps that preceded Vignelli's work and explains the sequence of events that led—via the debacle of the 1967 map—to the Transit Authority's commissioning Unimark International (New York-based design firm founded by Vignelli in 1966 until he resigned in 1971) to start redesigning the map in 1970."
During the 1970s era, subway passengers heading to the Shubert Theater on West 44th Street, the Metropolitan Museum on 5th Avenue, the Statue of Liberty near Battery Park, or a baseball game at Yankee Stadium in the Bronx, relied on transit map signage that seemed somewhat complicated. But as Vignelli explains in the book's introduction, the central problem in designing the New York subway map was "fragmentation."
"Too much information at every stop was making it difficult to follow the flow of each line. This was one of the principal issues that prompted me to adopt a diagram solution of clean, uninterrupted lines, each one in its own color, flowing along a regular grid of 90 degrees and 45 degrees. Every stop indicated by a dot: no dot, no stop. Simple!"
Vignelli assumed that if it had worked well in London since 1939, it would work in New York, too. "Well, I must have misjudged New York and the pragmatism of its inhabitants," he says. "In any case the map was done and it turned out to be beautiful but nevertheless short-lived. In 1979 it was replaced, and this book investigates its history, revealing interesting details about its demise."
But all was not lost, according to Vignelli Transit Maps. In 2008, Vignelli took up an offer to print the New York subway map as a limited-edition art piece for a benefit. It was a success, and in 2011, the Metropolitan Transportation Authority asked the Vignelli design team to update and adapt the 2008 diagram for The Weekender, a Web feature that instantaneously conveys transportation changes to riders about subway service during weekends.
Or as Lloyd summarizes in his book, "Out of the blue, it has been brought back into use, has been welcomed by subway riders, and is settling in with adjustments and progressive improvements. Forty years on, the Vignelli map still packs a surprise."
The softcover edition of Vignelli Transit Maps is available for purchase for $34.99 at the RIT Press website or by calling RIT Press at 585-475-6766. RIT Press and its co-imprint, RIT Cary Graphic Arts Press, are scholarly publishing enterprises at Rochester Institute of Technology.
About Massimo Vignelli
Born in Milan, Italy, Massimo Vignelli is the co-founder of Vignelli Associates with his wife, Lella, and works in the Modernist tradition using basic geometric forms. His body of work includes interior design, corporate and environmental design, package design, graphic design, furniture design and product design for high-profile companies such as IBM, Bloomingdale's and American Airlines. In 2008, the Vignellis donated the entire archive of their design work to establish the Vignelli Center for Design Studies at RIT.
About the Author
Peter B. Lloyd worked for thirty years in the software design industry and has a passion for collecting subway maps from around the world. He obtained a BSC Hons in Mathematics from Cardiff University and a Certificate in Philosophy from Oxford University. He is co-editor of Paris Metro Style in Map and Station Design (2008) and the author of several books on the philosophy of George Berkeley.