RIT professor Poornima Padmanabhan honored with NSF CAREER Award
Chemical engineering faculty member will address chirality and the building blocks of molecules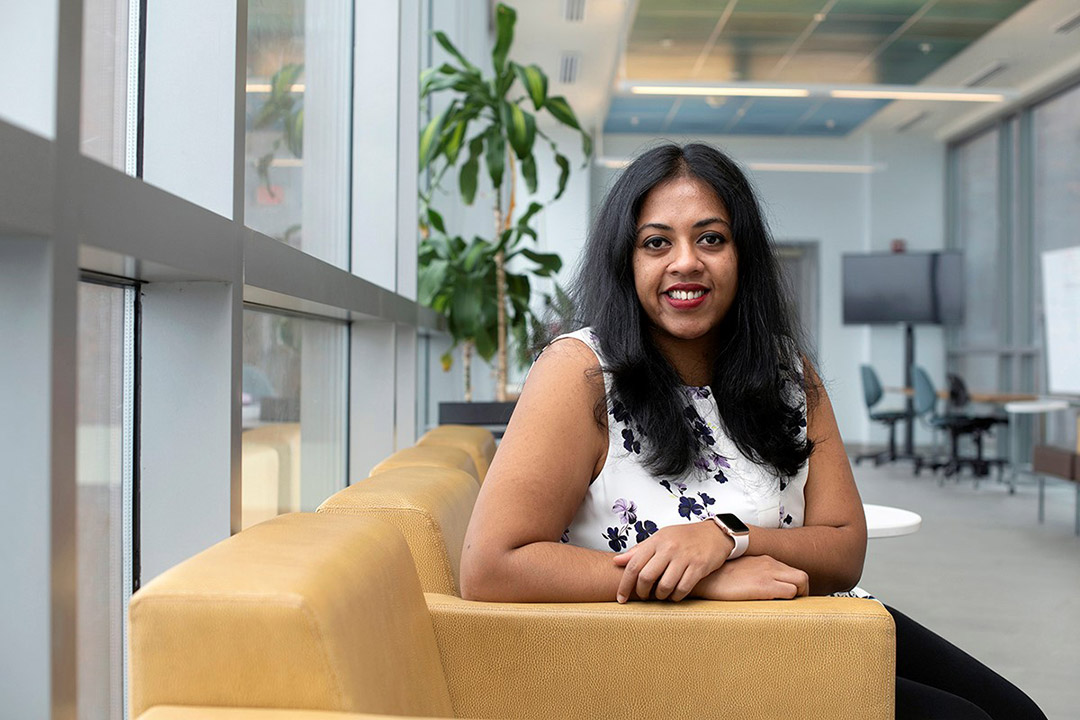 Scientists look to space for origins of the solar system; chemical engineers like Poornima Padmanabhan are searching for the origins of life based on minute systems of molecules.
Padmanabhan recently received a National Science Foundation Faculty Early Career Development (CAREER) award from the NSF's division of Materials Research for "Chirality and polymer thermodynamics: frustration and amplification."
The five-year, $478,476 award was given to discover how chiral structures—or mirror-image, entangled molecules—function, a process essential to understanding how different cell types are formulated in biochemical development. The concepts can provide information about how synthetic materials can be further developed for use in the pharmaceutical industry, in agriculture or food analysis, and in the development of novel materials to enhance sensing and imaging applications.
Chirality means "handed-ness" and anything in nature that can be identified as right- or left-handed are essentially mirror images. Polymers are long molecules made from smaller entities that are bonded together. When these smaller entities are chiral, they form much larger chiral polymers, such as proteins which become the building blocks of life systems. In turn, hundreds or thousands of polymers can come together to form even larger structures.
"We can think about how proteins fold, how life originated, we can think about how biology forms chiral structures and the reason the work is very exciting is we don't know how these phenomena happen," said Padmanabhan, an assistant professor of chemical engineering in RIT's Kate Gleason College of Engineering.
In chemical systems where complex interactions lead to formation of molecular structures at a multitude of length scales, chirality may or may not result in each of those length scales. Numerous examples exist on both sides of the spectrum where chirality at the smaller scale is also exhibited at the larger scale (amplification), or where chirality at the smaller scale does not translate to chirality at the larger scale (frustration).
"We cannot predict when something will be frustrated or when something will be amplified. That is what we are trying to discover with this work," she said.
Understanding when and how chirality is transferred from the smallest to the largest length scale will be explored by studying the underlying thermodynamic principles and interrogating the molecular-level detail. A thermodynamic understanding of conditions when such transfer is amplified, or conditions when such transfer is hindered, remain unknown, but through discovery, the information can be used to build artificial systems that mimic biology for engineering applications, she added.
"One cool part about chirality which was a total surprise—and we still don't know why this is true—many of the biological molecules in our body are all of one type of chirality," said Padmanabhan, who has been at RIT since 2017 and has expertise in thermodynamics at the nanoscale and development of novel material structures. "At some point early on, during evolution, something about the thermodynamics of the system led us down this one single path. We don't know why. It's so crazy how these amazing things are observed."
At RIT, she is co-director of the Computational Materials Research Nucleus Lab with Patricia Taboada- Serrano and Obioma Uche, both faculty in the chemical engineering department. The team researches development of "extreme" strength polymers, electrochemistry, and alternative energy resources.
Prior to coming to RIT, she was a post-doctoral researcher at Cornell University and received its Alice H. Cook and Constance E. Cook Award, given by the Office of Faculty Development and Diversity for commitment to women's issues and improving the climate for women at the university. Padmanabhan continues to be an advocate for gender diversity and increasing the pipeline of students in STEM degree programs.
The CAREER program is an NSF-wide activity that offers awards in support of junior faculty who exemplify the role of teacher-scholars through outstanding research, excellent education, and the integration of education and research within the context of the mission of their organizations.