RIT professor works to end domestic violence
RIT professor urges integrative treatment for substance abuse and aggression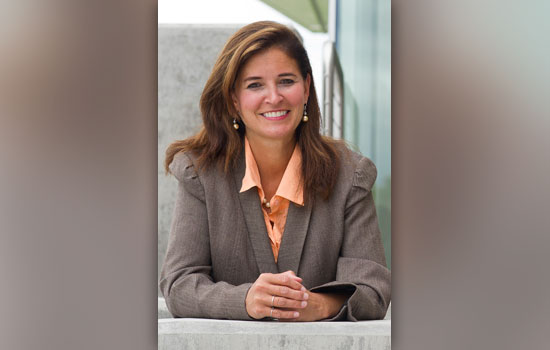 A professor at Rochester Institute of Technology is working to reduce the high rates of domestic violence by influencing policies and procedures locally, nationally and internationally.
Caroline Easton's research underscores the World Health Organization's findings that one out of three women have been physically or sexually abused, mostly by their intimate partners. Her work seeks to increase awareness and change negative behaviors, and supports the national campaign that has named October "Domestic Violence Awareness Month."
"Family violence is a breeding ground for addiction, mental health and medical problems," said Caroline Easton, forensic clinical psychologist and professor at Rochester Institute of Technology. "It is no different than a contagious disease within a family. If we can treat and prevent the chaos, drug use and the verbal and/or physical aggression, then we can help."
Easton—a leader in the field of family violence prevention—is challenging the standard court-referred treatment program for anger management with an approach that is evidence-based and grounded in cognitive behavioral therapy. Her Substance Abuse-Domestic Violence Behavioral Therapy is a client-centered alternative to the generic group therapies for aggression, and other larger group treatments, known as the Duluth Model.
The standard Duluth model and its derivatives grew from the Duluth Domestic Abuse Intervention Project that began in Minnesota 30 years ago. The confrontational model, based on accountability, uses a one-size-fits-all approach without proper screenings for mental health and/or substance abuse issues, Easton said. High-rates of re-offense and relapse led her to develop and refine an alternative approach while at the Yale School of Medicine, Law and Psychiatry Division.
Randomized controlled trials have confirmed that Easton's method reduces substance use and builds healthy coping skills for handling negative emotions. Growing support for Easton's behavioral health research has influenced policy and procedures in Monroe County, New York, Connecticut and Victoria, Australia.
The Monroe County Office of Mental Health in Rochester, N.Y., has adopted Easton's approach to intimate partner violence as the county's blueprint for reducing future episodes of domestic violence and related criminal offenses. The treatment plan was piloted at four designated treatment sites in 2014. Monroe County Executive Maggie Brooks highlighted the Intimate Partner Violence Project in her 2015 State of the County address, calling domestic violence "an epidemic, a community challenge."
Roll out of the Intimate Partner Violence Blueprint was a three-year effort that required the support of local stakeholders across the Monroe County criminal justice system, mental health facilities, chemical dependency service providers and local advocacy groups. Easton and Cory Crane, assistant professor of biomedical sciences in RIT's College of Health Sciences and Technology, provided training and supervision, and continued oversight, of clinical staff and supervisors during transition to the integrated model of care for addiction and family violence.
"The Catholic Family Center site has a program that is doing very well at capacity and is starting the model in Spanish," said David Eckert, senior contract manager, Monroe County Office of Mental Health. "We're really pleased how it's going, and we love our collaboration with RIT on it. The entire field is moving toward evidence-based practices."
Easton, in September, briefed the Connecticut Public Health Division and State Legislature on her recommended changes in policy and allocation of funding for treatment protocols and prevention efforts for offenders of intimate partner violence. Easton based her findings on a yearlong study she led for the Connecticut General Assembly Public Health Committee to target common causes of violence and develop prevention strategies for pilot projects.
In the report, Addressing Family Violence in Connecticut: Strategies, Tactics and Policies, Easton called for intimate partner violence reform and evidence-based treatment methods grounded in science and theory. She recommended replacing traditional large treatment groups with individualized therapy or client-centered treatment to break the generational cycle of family violence. Outdated paradigms that discount mental health and addiction treatments are, Easton wrote, "unethical and potentially contribute to the risk of violence in the home, since these behavioral health problems will remain untreated."
Easton is hopeful that New York will adopt Connecticut's move toward integrative and evidence-based treatment.
"Connecticut is progressive and their models of care are usually followed by other states," she said.
Concern about domestic violence—and dissatisfaction with standard treatment models—is not limited to the United States. The Royal Commission into Family Violence in Victoria, Australia, contacted Easton with similar questions about the relationship between substance abuse and family violence, and alternative treatment methods. She consulted with the Royal Commission via teleconferences in August on an independent review of family violence and preventions and remotely participated in public hearings.
"The Royal Commission and the U.K. are also interested in moving beyond large groups and the Duluth models of care to more client-centered approaches," Easton said.
Editor's Note: The coordinated effort in Monroe County was implemented at two community sites run by Unity Health System (now part of Rochester Regional Health), and Delphi and Catholic Family Charities ambulatory treatment clinics.
Topics