September 20, 2022
by Luke Auburn
RIT program to help underrepresented prospective faculty kick-start career searches returns in-person
Fourteen scholars from across the U.S. to participate in Future Faculty Career Exploration Program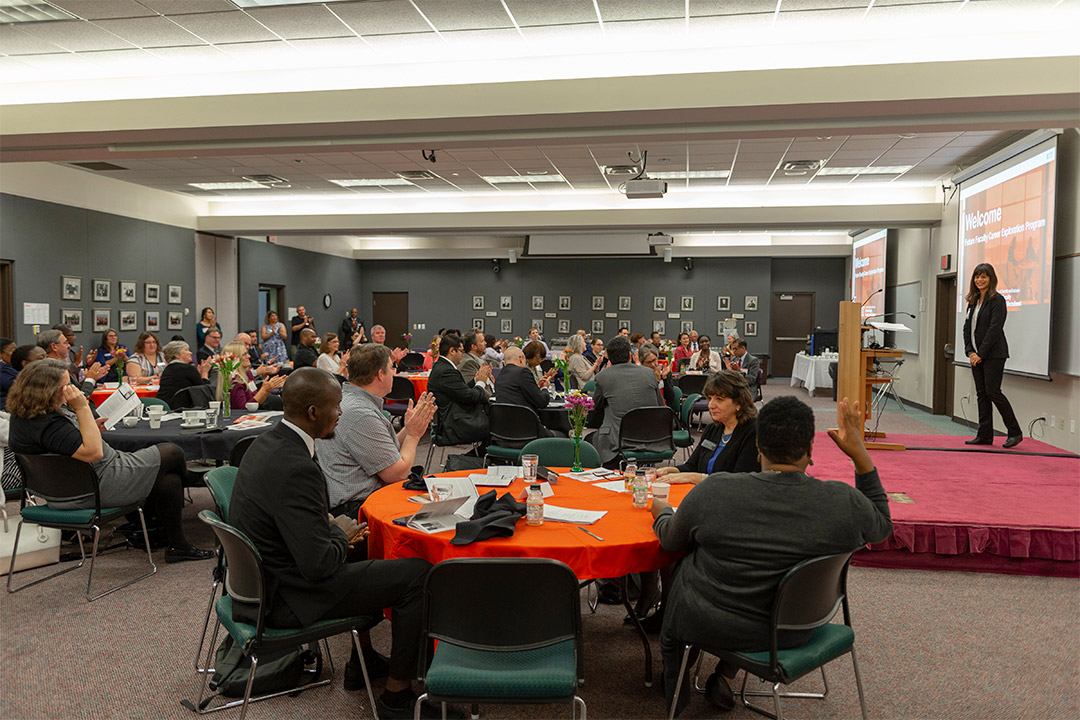 African American, Latino/a American, and Native American scholars and artists from across the U.S. are coming to Rochester Institute of Technology this week to learn how to successfully navigate their career search process while getting a "behind-the-scenes" glimpse into life as an RIT faculty member. RIT's Future Faculty Career Exploration Program (FFCEP) will welcome its 19th cohort from Sept. 21 to 24, inviting 14 scholars from universities varying from Stanford University to Florida Agricultural and Mechanical University.
The program focuses on recruiting prospective candidates nearing the completion of the highest academic degree in their field, as well as junior faculty and those on post-doctoral assignments. Participants get an opportunity to engage with RIT's diverse administration, faculty, and students while on campus. The program offers additional opportunities to enhance interview skills, practice job-talk presentations, and explore the research, teaching, and service expectations of RIT faculty members.
To date, the program has welcomed nearly 400 participants since its inception in 2003, and RIT has hired dozens of program participants to faculty positions. Most recently, Dennis Delgado joined RIT as a visiting lecturer in the School of Photographic Arts and Sciences after participating in the virtual FFCEP event last year.
"This program represents a longstanding commitment to inclusive excellence here at RIT that is dedicated to recruiting the best talent in America," said Donathan Brown, assistant provost and assistant vice president for faculty diversity and recruitment. "These scholars were chosen through an exhaustive and rigorous nationwide search and represent the best minds in higher education, as represented by their research, art, expertise, and skillsets. We look forward to learning about their work and career aspirations."
Each participant will present their research to the campus and all interested RIT community members are invited to attend. The schedule is posted to the Office of Faculty Diversity and Recruitment website.
This year's participants include:
Paola Baldaguez Medina, Ph.D. candidate, University of Illinois Urbana Champaign (chemical and biomolecular engineering)
Ibrahim Balogun, Ph.D., University of Delaware (civil and environmental engineering)
Andrea Cuadra, Ph.D., postdoctoral scholar, Stanford University (computer/information science)
Sean Jackson, Ph.D. candidate, Florida Agricultural and Mechanical University (industrial and manufacturing engineering)
Chloe Jones, Ph.D. candidate, Auburn University (kinesiology)
Melissa Lamanna, Ph.D., postdoctoral researcher, University of Florida (microbiology)
Anne Wangari Njathi, Ph.D. candidate, instructor, North Carolina State University (communication, rhetoric, and digital media)
Adurangba (Victor) Oje, Ph.D. candidate, University of Georgia (engineering)
Jessica Oler, MFA, conceptual artist, Chautauqua School of Art Residency Program (photography)
Bolanle Salaam, Ph.D. candidate, limited term instructor of record, University of Georgia (mathematics)
Stephanie Sandoval, Ph.D. candidate, Georgia Institute of Technology (materials science and engineering)
Ronald Smith, Ph.D. candidate and graduate research assistant, Purdue University (agriculture and bioengineering)
Katreena Thomas, Ph.D. candidate, Arizona State University (engineering education systems and design)
Matheus Venturyne Xavier Ferreira, Ph.D., postdoctoral fellow, Harvard School of Engineering and Applied Sciences (computer science)
To learn more about FFCEP, go to the Office of Faculty Diversity and Recruitment website.