May 21, 2014
by Ellen Rosen
RIT to purchase new cleanroom technology
MOVPE System will spur technology and generate regional job growth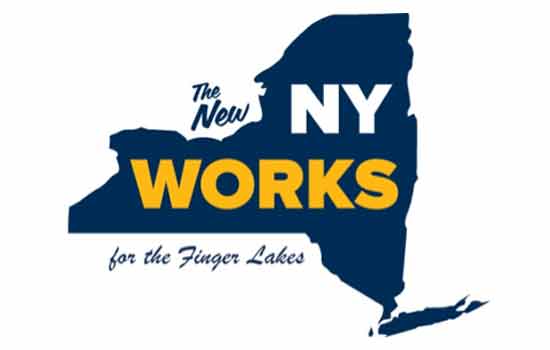 The Finger Lakes Regional Economic Council (FLREDC) today announced that Rochester Institute of Technology will purchase a metal organic vapor phase epitaxy (MOVPE) system for growth of novel materials, thin film crystals and nanostructures. The MOVPE system, which represents a major upgrade to the RIT cleanroom user facility, allowing this facility to become competitive on a regional and national scale, will be available to research teams across multiple disciplines, including optics and photonics industries. RIT will be the only university in New York state with this system and will provide essential resources and new capabilities in multiple nanotechnology applications for regional academic and industrial partners.
"High-tech equipment is key to enabling research and will contribute to academic-private research activity in the optics and photonic industries that will generate regional job growth," said Finger Lakes Regional Economic Development Council Co-Chairs, University of Rochester President Joel Seligman and Wegmans Food Markets CEO Danny Wegman. "We applaud RIT on its excellence in education and research which builds on the Greater Rochester region's economic competitiveness."
"RIT is very grateful to Governor Cuomo for this investment, which will allow the university to add important capability to our nanopower research program," said RIT President Bill Destler. "Only one other U.S. university has this capability, so now RIT and Upstate New York will be in an elite category for research and industrial development of these new materials. We have already received inquiries from companies that want to use this equipment, including one that has been purchasing these services overseas and wants to bring it back to the United States. We thank Governor Cuomo for his vision and the Finger Lakes Regional Economic Council for its support of this important project."
The National Science Foundation has provided partial funding for RIT's proposal to acquire the MOVPE system. RIT is contributing resources to the purchase and installation of the system, and a $300,000 New York state grant through Empire State Development and the FLREDC will complete the project funding. The total project cost is $1,545,585 and will begin immediately with completion by the end of the year.
FLREDC Optics, Photonics and Imaging Workgroup Co-Chairs Jay Eastman and Jim Sydor said, "The optics, imaging and photonics field in the Finger Lakes region has a long history as a global center for innovation and we expect the field to grow with the creation of next generation materials, products and devices. RIT's MOVPE system will strengthen the linkage of industry and academia to encourage closer collaboration and the means necessary for businesses to expand their operations in our region."
"We're looking forward to the exciting new opportunities for collaboration between RIT and Rochester's optics companies," said Empire State Development President, CEO & Commissioner Kenneth Adams. "As research in the material sciences grows, the MOVPE system will attract investment and innovation that benefits all of Rochester."
The materials grown by MOVPE have led to technological advancements in the last 25 years, including the lasers and photo-detectors that power the backbone of the internet and other long distance communication systems, transistors used to send and receive signals in our mobile communication devices, high luminous efficiency white lighting, high storage density optical disks and some of the highest efficiency solar cells ever created. The MOVPE system will be used to study a range of new materials designed to enable advances in areas including high efficiency photovoltaics, ultra-fast optoelectronics and next generation microelectronics as well as quantum dot and nanowire based lasers and photovoltaics.
FLREDC recognized the optics industry as a critical sector in its strategic plan. The MOVPE system will directly impact the ability of the region to meet several of its strategic goals, including to optimize business creation, retention and expansion, as well as to strengthen academic and industry partnerships.
Assembly Majority Leader Joseph D. Morelle said, "Today's announcement further positions RIT to expand its role as a national leader in optics research and development, enhances innovative collaborations with our private sector partners, and ultimately accelerates job growth throughout the region. I applaud Governor Cuomo for his commitment to this exciting project and I thank RIT for their continued vision and leadership."
Sen. Joe Robach said, "RIT has long been at the forefront of utilizing innovation and new technology in higher education on a national level. The purchase of this new high-tech equipment will not only benefit research at RIT, but will also be a great resource for the Rochester community as we continue to emerge as a leader in nanotechnology and optics, which will lead to more jobs and opportunities for our region."
About NYS Regional Economic Development Council Initiative
The Regional Economic Development Council initiative is a key component of Gov. Andrew Cuomo's transformative approach to State investment and economic development. In 2011, Gov. Cuomo established 10 Regional Councils to develop long-term strategic plans for economic growth for their regions. The Councils are public-private partnerships made up of local experts and stakeholders from business, academia, local government, and non-governmental organizations. The Regional Councils have redefined the way New York invests in jobs and economic growth by putting in place a community-based, bottom up approach and establishing a competitive process for State resources. For more information visit the New York State Regional Economic Development Councils website.