RIT Rallies: Alumnus manages crisis personnel deployment for COVID-19 response efforts
Christopher Tarantino uses business administration, firefighter/EMT expertise to train emergency personnel in public and private sectors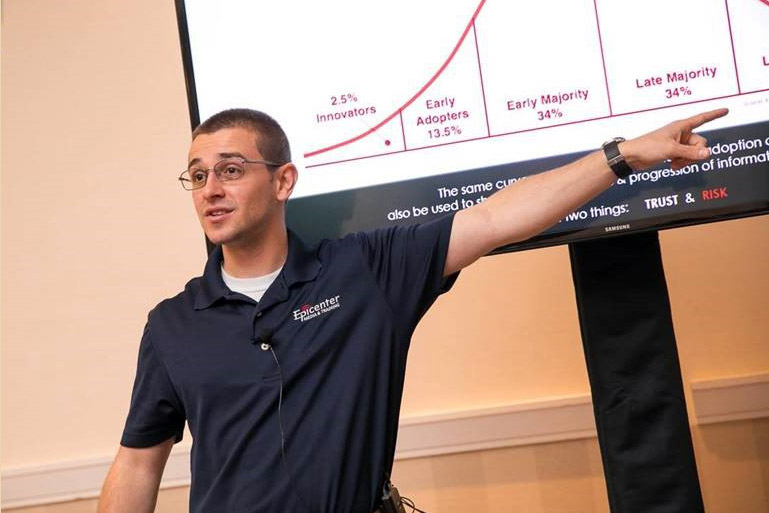 The Society for Technical Communication
Years of expertise as an emergency manager and volunteer firefighter and EMT has allowed RIT alumnus Christopher Tarantino '13 (business administration) to develop his training and consulting company. And as a result of COVID-19, his company is making a difference by helping those in private and public sectors create plans to mitigate this public health crisis and save lives.
Before COVID-19, Tarantino, founder and CEO of Denver-based Epicenter Innovation, and his team had trained thousands of emergency management professionals in municipalities, higher-education institutions, healthcare systems, incident management teams, and global private-sector tech companies in more than 38 states. Training included how to effectively use technology and communications to prepare for, respond to, recover from, and innovate during disaster response and recovery operations such as those from natural hazards, man-made issues like terrorism and civil unrest, and health crises, including pandemics.
Now, as part of its COVID-19 response plan, the company has deployed more than 20 of its employees to Washington, D.C., helping healthcare and government entities coordinate response efforts within emergency operations centers and alternate care sites, along with managing functions such as isolation, quarantine and testing.
In addition, Tarantino's company has pivoted to fill gaps related to Personal Protective Equipment (PPE) procurement, supporting more than 100 emergency management organizations throughout the United States.
"The best compliment we get — and we get it frequently — is that our team is great to work with because we think differently," said Tarantino. "I started in emergency response working on ambulances in my home state of Connecticut and I was able to support them during COVID-19 by helping them procure PPE. That brings my whole story full circle. Even though I'm not a traditional first responder any longer, it feels good to help on both the macro and micro levels."
Topics