RIT receives $2.8M to support diversity programs
University receives five years of funding for Upward Bound Classic, LSAMP and McNair Scholars programs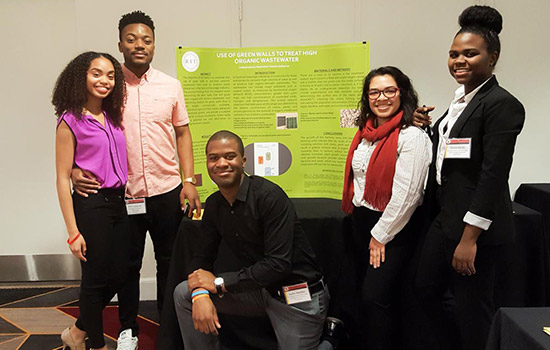 Rochester Institute of Technology received three grants totaling $2.8 million to help underrepresented minority students receive access and support in their education. RIT's Division of Diversity and Inclusion secured new funding for three national outreach programs:
Upward Bound Classic is a program new to RIT funded by a five-year grant totaling $1.28 million through the Department of Education. It will serve 60 eligible high school students from Greece Olympia and the Leadership Academy for Young Men, allowing them to attend a six-week summer program, along with specialized workshops and tutoring support throughout their academic experience from 9th to 12th grade. This is in addition to RIT's recently-announced Veterans Upward Bound program.
RIT's Ronald E. McNair Postbaccalaureate Achievement Program received a five-year, $1.16 million extension to continue serving a diverse group of talented RIT second- and third-year students who are interested in pursuing post-baccalaureate education. The RIT McNair Scholars Program provides an enriching scholastic experience that prepares eligible scholars for graduate education, with an emphasis on doctoral studies.
The Louis Stokes Alliance for Minority Participation (LSAMP) program at RIT received a five-year National Science Foundation grant extension totaling $375,000. The program's aim is to increase the quantity and quality of STEM (science, technology, engineering and math) graduates from diverse backgrounds. The program serves under-represented minority students enrolled in designated STEM majors. Students join starting in the fall of their first year at RIT.
This marks the first time RIT is offering the Upward Bound Classic program, which will help high school students and their families prepare for college. "We're excited to expose students to the state-of-the-art STEM faculty and facility resources at RIT to reinforce the tangible tools and opportunities for these students and their families," said Tomicka Wagstaff, the Division for Diversity and Inclusion's senior director for academic access and success, and principal investigator on the federal grant.
The Upward Bound Classic program will provide students a real-life college experience that includes a two-week introductory program, followed by a four-week residential program at the RIT campus. Each Upward Bound student work through an academic schedule, experiencing cultural activities and visiting other colleges in the Rochester area and beyond.
RIT originally launched its LSAMP and McNair Scholars Program in 2007. This fall the Division of Diversity and Inclusion also partnered with the College of Applied Science and Technology to launch Veterans Upward Bound at RIT, a national outreach program to help veterans obtain college degrees.