May 26, 2014
by Marcia Morphy
RIT receives $300,000 NSF grant
Project led by Simone Center for Student Innovation and Entrepreneurship and MAGIC Center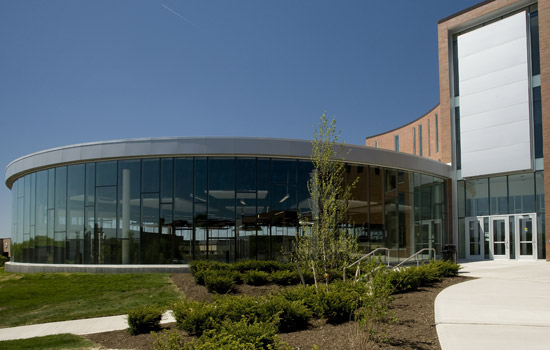 Rochester Institute of Technology received a three-year $300,000 grant from the National Science Foundation Innovation Corps (I-Corps) for a university-wide project that is designed to help convert STEM (science, technology, engineering and mathematics) research into marketable products and services.
The RIT I-Corps Sites grant, "Enhancing the Technology and Design Entrepreneurship and Innovation Ecosystem at Rochester Institute of Technology," will be used for advancing student-oriented projects with commercial applications and for training faculty members to expand the I-Corps process throughout the university, said Richard DeMartino, endowed chair and director of the Simone Center for Student Innovation and Entrepreneurship at RIT and associate professor in Saunders College of Business
"RIT is thrilled to be selected by the National Science Foundation as one of 15 universities to become an I-Corps Site," said DeMartino, the project's principle investigator.
The project will be under the helm of the Simone Center and the Center for Media, Arts, Games, Interaction and Creativity (MAGIC). The award began mid-May and runs through April 30, 2017.
Co-PI's on the RIT collaborative project are Andrew Phelps, director of the MAGIC Center and professor in B. Thomas Golisano College of Computing and Information Sciences; Denis Cormier, Earl W. Brinkman professor in Kate Gleason College of Engineering; E. William Clymer, associate professor at the National Technical Institute for the Deaf; and Michael Slifka, assistant professor in the College of Applied Science and Technology.
"Innovation bridges important new ideas with their implementation in the marketplace—and RIT is a leader in mentoring student-based ventures positioned to realize the great commercial opportunities generated by innovation," said Denny DeLeo, senior partner of Trillium Group and president of Venture Jobs Foundation.
"The NSF I-Corp Sites grant is a reflection of this expertise and history of success," said DeLeo, who serves as an advisor/mentor for the Simone Center. "It will generate new resources that RIT can utilize to advance the internal and regional innovation eco-system to the next level."
In agreement is Phelps, who said the NSF I-Corps Sites designation is significant.
"The MAGIC Center is thrilled that this grant will allow us to strengthen our relationship with the Simone Center and other units on campus to continue to engage with students on multi-disciplinary projects with entrepreneurial goals," said Phelps. "This in turn will have sustained impact both within Rochester and throughout the country."
The National Science Foundation is an independent federal agency created by Congress in 1950 with an annual budget of $7.2 billion—serving as a funding source for approximately 24 percent of all federally supported basic research conducted by America's colleges and universities. In conjunction, NSF I-Corps seeks to develop and nurture a national innovation ecosystem by helping discoveries from fundamental research that lead to the commercialization of new technologies that benefit society.
Topics