RIT researchers give online security a new look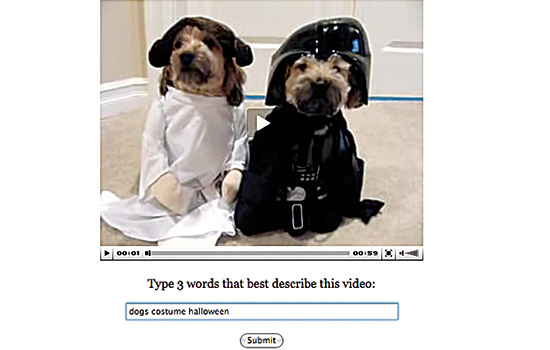 After days of planning, you're a few mouse clicks away from scoring front-row tickets to the hottest concert in town. All that's left is entering your credit card information. Well, that and the annoying security question with the distorted text.

J-K-B-3-I. Incorrect. R-X-Z-6-2. Incorrect. 

You pound the desk in frustration before trying again. V-Q-S-2-3. Got it—finally. But instead of the front row, you're now in obstructed-view seats. Better luck next time.

That common annoyance is called a captcha. And RIT researchers have created a way to make them a bit more efficient—at least in certain scenarios.

Kurt Alfred Kluever '08 (computer science) and Richard Zanibbi, an RIT computer science professor, have developed a video captcha. Instead of answering an odd question or entering incredibly distorted text into a field, Kluever and Zanibbi have developed a way for users to watch a video and simply type in key words associated with it.

"Captchas have become increasingly hard to do and they're not as secure as they used to be," says Zanibbi. "In order to make them more secure the text is getting more compressed and increasingly illegible. Kurt didn't like text captchas and wanted to come up with something different."

Kluever turned the project into his master's thesis.

"There had been text captchas and audio captchas. The next logical step was video," Kluever says. "My literature review showed that nobody had explored video captchas before. I decided that's exactly what I wanted to do."

Kluever and Zanibbi went to work and ultimately developed a video-based system that has demonstrated strong early results. 

"I wouldn't say it's a replacement for traditional captchas, but perhaps an alternative," Kluever says. "It might be worth using for sites that are entertainment or video focused, like YouTube. But I wouldn't recommend it for online banking. The early results are strong, but it still needs a lot of work."

And that work continues today. Kluever, now a software engineer for Google, has continued developing the project during Google's "20 percent time," which allows employees to use up to 20 percent of their work hours on something creative. He is in regular communication with Zanibbi, who hopes to find another master's degree candidate who is interested in working on the project. 

"This could work out really well," says Zanibbi. "Kurt will advance it on the commercial side and we'll advance it on the 
academic side."

Kluever would like to see Google adopt the idea and begin using it in some of their production systems, eventually rolling it out to a small selection of YouTube users 
for further testing. He thinks that could 
potentially happen within a year.