RIT to showcase computing accessibility work
RIT professor Vicki Hanson serves as keynote speaker for international event in Rochester, N.Y.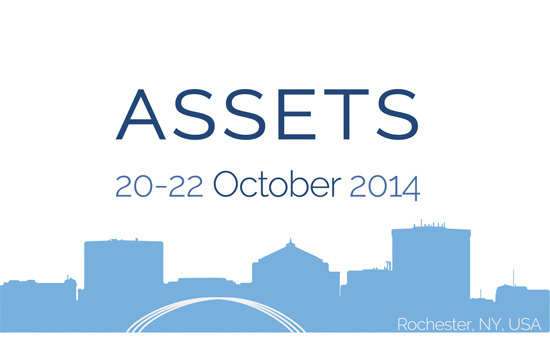 Rochester is hosting some of the leading experts in computing accessibility in an effort to design computing and information technologies that benefit older adults and people with disabilities.
Rochester Institute of Technology is a key supporter of the ASSETS conference, the 16th International Association of Computing Machinery SIGACCESS Conference on Computers and Accessibility, Oct. 20–22 at the Hyatt Regency Rochester. Vicki Hanson, a distinguished professor in RIT's B. Thomas Golisano College of Computing and Information Sciences and vice president of the Association of Computing Machinery, will discuss "Computing for Humans" as keynote speaker for the conference.
"Computing is an instrument of the human mind, with a primary goal of enhancing what humans are able to do," said Hanson. "Nowhere is such a computing goal more evident than in the field of accessibility, where we seek to create devices and software to serve people with extreme needs."
The event is centered on the idea that both physical spaces and information spaces need to be accessible to everyone. Researchers, clinicians, teachers, rehabilitation personnel and policy makers will meet to learn about and discuss new accessibility technologies that vary from steering wheels that provide haptic cues to blind and vision-impaired drivers to a multiplayer video game that supports social connection for children with cerebral palsy.
The ASSETS conference will serve as a forum to present innovative research on mainstream and specialized assistive technologies, accessible computing, and assistive applications of computer, network and information technologies. This includes the use of technology by and in support of:
Individuals with hearing, sight and other sensory impairments
Individuals with motor impairments
Individuals with memory, learning and cognitive impairments
Individuals with multiple impairments
Older adults with diverse capabilities
Professionals who work with these populations
The conference features a "Text-Entry Challenge," where 10 teams will demonstrate their newly developed alternative approaches to the traditional way of entering text into a computer. The program will also include presentations, posters and demonstrations from experts, varying in topics from wearable technology to Web accessibility. Several researchers from RIT and the National Technical Institute for the Deaf will present at the conference, showcasing the university's ongoing commitment to accessibility.
"ASSETS provides an important venue for researchers to come together and share the latest research regarding accessibility of computing systems," said Andrew Sears, dean of RIT's Golisano College. "It is great to have this community of researchers come to Rochester, which provides an opportunity for everyone to learn more about the related work happening here at RIT."
ASSETS is sponsored by the Association for Computing Machinery (ACM), the world's largest educational and scientific computing society, and its Special Interest Group on Accessible Computing (SIGACCESS). RIT is partnering with University of Rochester to bring the event to Rochester.
For more information about the ASSETS conference, go to assets14.sigaccess.org.