RIT students add social justice options to Alternative Break
Trips planned to Alabama, Florida, Louisiana, West Virginia and Puerto Rico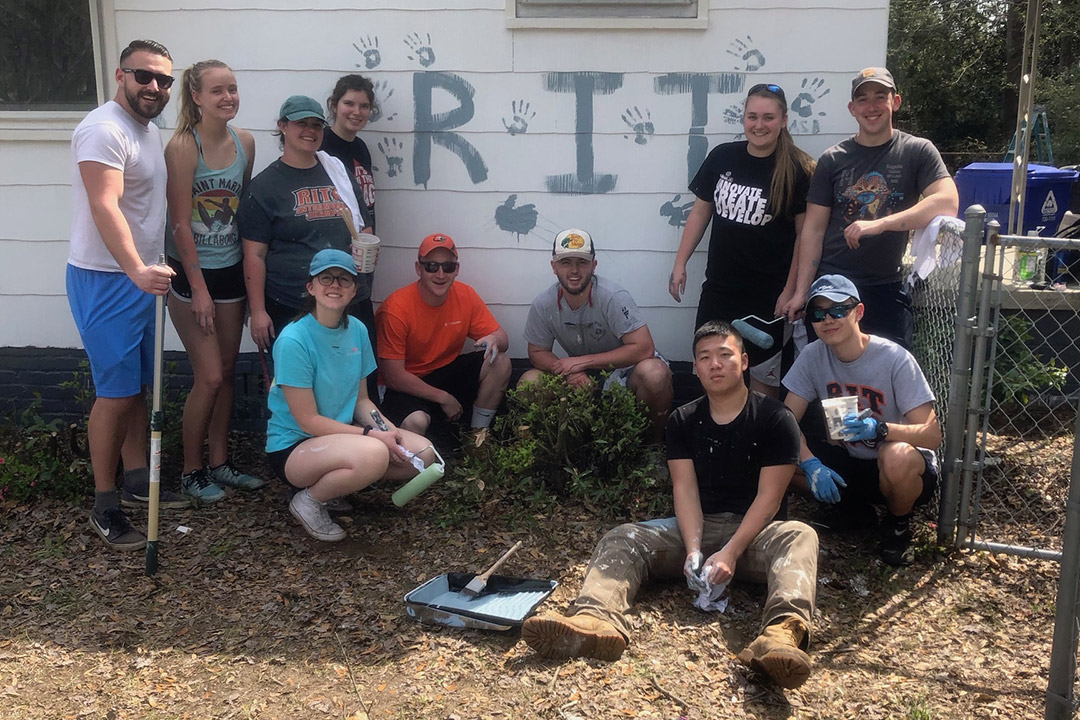 Next spring and summer, as college students enjoy a well-deserved break from their studies, dozens of Rochester Institute of Technology students will be traveling south, but not to lie on a beach.
They'll be restoring hiking trails, helping preserve wetlands, rebuilding communities ravaged by natural disasters and, for the first time, interacting with community members to better understand issues such as food and social justice.
"We're seeing this generation coming in and wanting to know why some challenges exist," said Kathryn Cilano, assistant director for RIT's Center for Leadership and Civic Engagement.
"It's easy to discuss issues like homelessness or poverty, but when we really focus on the root cause of these issues, you start to think how you can work to fix these things not just by applying a band-aid by serving dinners at a shelter one day, because they are still going to be hungry tomorrow," said Alex Tubridy, civic engagement coordinator for the Center for Leadership and Civic Engagement.
RIT's 2020 Alternative Break trips are planned March 8-14 to:
Selma, Ala., where they will partner with Black Belt & Central Alabama Housing for housing rehabilitation and social justice. Students will help construct new houses and rehab old houses for community members. They will also learn about the history of Selma and civil rights from people who marched in Selma in 1965 with Martin Luther King Jr.
Wheeling, W.Va., where they will partner with Grow Ohio Valley for food justice in the rustbelt. Students will work on community farms, serve healthy meals, support a local shelter and learn about food insecurity issues and understanding what it means to live below the poverty line from guest speakers.
New Orleans, where they will partner with Common Ground Relief for sustainable communities and coastal wetland conservation, planting trees, propagate wetland vegetation and learn about how sustaining a robust wetland environment benefits the ecosystem.
St. Mark's, Fla., where they will partner with American Hiking Society for preservation of protected lands. Students will maintain hiking trails on one of the oldest wildlife refuges in the United States.
A summer trip is planned (which is why the word "spring" was taken out of the annual "Alternative Spring Break") May 14-22 to San Juan, Puerto Rico, where students will partner with Para la Naturaleza for environmental restoration, helping restore forests, doing beach cleanups, working in a tree nursery and rebuilding communities.
Eight to 11 students plus staff members and student leaders will go on each of the trips, which include airfare, housing and meals.
The cost ranges from $500 to $650 for the spring trips and $1,250 for the summer trip. Several scholarships based on need are available, and crowdfunding is encouraged. Last year, 21 percent of students did not pay anything out of pocket because of scholarships and crowdfunding.
Omkar Borse, a fourth-year mechanical engineering major from Essex Junction, Vt., usually spends his spring break hiking or "stuck at home." He attended an information session about the break options and is thinking about applying to go on the Florida trip because he's never been there and wanted to build something.
"I want to do something new," he said. "I enjoy traveling and going to places I've never been before and doing something meaningful. To go someplace new is kind of cool."
Students will interact with residents and community leaders and learn about different issues residence face in those communities. They'll also have time to visit museums and historical or nature areas, and will learn and develop leadership, teamwork and collaboration skills, soft skills that employers seek.
"You're going to be challenged, and you're going to step outside your comfort zone," Cilano said. "You're going to meet new people, get messy and have a lot of fun."
The students will also schedule reflection each evening time to discuss what they saw and did that day.
"When you don't have time to talk as a group, sometimes it's not as meaningful," Cilano said.
Students may apply for a trip before Nov. 1. Contact the office of Center for Leadership and Civic Engagement, or visit them at Campus Center Room A610.