RIT students and parents 'Explore Croatia'
Non-credit student abroad experience offered by Parent & Family Programs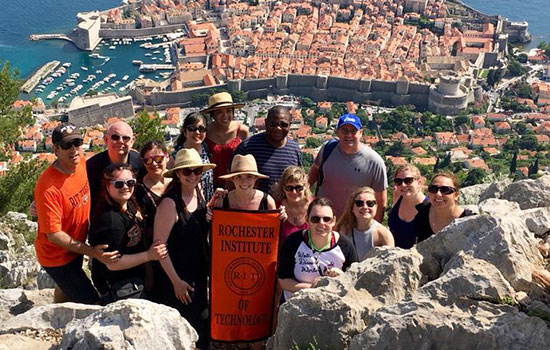 For most college students, summer means a break from classes and books. But for some Rochester Institute of Technology students, the learning didn't stop at the end of the semester. They found a way to study abroad while spending time with their families with an overseas trip to Croatia.
Six students and eight parents spent a week at the end of May in Croatia for "Explore Croatia," a program sponsored by RIT's Parent and Family Programs that provided non-credit study-abroad experience. It was the first time a trip was planned for students as well as their parents.
"Explore Croatia is about encouraging global mindedness, supporting study abroad and providing RIT students and parents the opportunity to experience the world as a family," said Chelsea Petree, director of RIT's Parent and Family Programs. "Incorporating parents in this experience has a number of benefits, including giving families a shared experience, increasing parents' understanding of the benefits of study abroad and providing parents with an experience that they may have never had the opportunity to have themselves."
Increasing global experience for students is part of RIT's strategic plan.
Petree accompanied the students and parents on the trip, as did Rick Lagiewski, assistant professor of hospitality and tourism management, and Jim Myers, associate provost of international education and global programs.
Highlights included visiting the mayor of Dubrovnik, Mato Franković, a 2003 graduate in hotel and resort management from RIT Croatia, wine tasting and a seafood meal in the coastal village of Ston, a boat tour of the Elaphite Islands and day trips to neighboring countries of Bosnia and Herzegovina, and Montenegro.
The students and their parents gave rave reviews about their experiences and would consider going on future trips together.
"Instead of sending photos to my mom and calling her to tell her about my amazing trip, I could experience it all with her," said Eliza McCarthy, a second-year packaging science student from Goshen, N.Y.
"I'm absolutely thrilled with the many successes of this trip, including the campus partnerships that made it possible, the enthusiasm and growth of the participants, the way they have already demonstrated plans to share lessons learned in Croatia, and opening minds to new and unique international experiences," Petree said. "I'm looking forward to continuing this program in the future."