RIT students creatively connect with one another
Concerns over close contact creates opportunities for students to reach out virtually
Gabrielle Plucknette-DeVito
RIT students are creatively connecting with each other, using applications like Discord and Slack to virtually study and socialize day and night.
Discord is a free instant messaging and Voice over Internet Protocol application designed for creating communities ranging from gamers to education and business. Slack is a communication platform that offers features like chat rooms organized by topic, private groups, and direct messaging.
In many cases, students join these servers to ask other students or faculty questions about homework, projects, and lab assignments. Inevitably, these exchanges morph into chatter on other channels about students' favorite video games, life in the residence halls, and weekend plans. Others make connections with students who can provide a sympathetic ear in difficult situations, or offer advice and encouragement.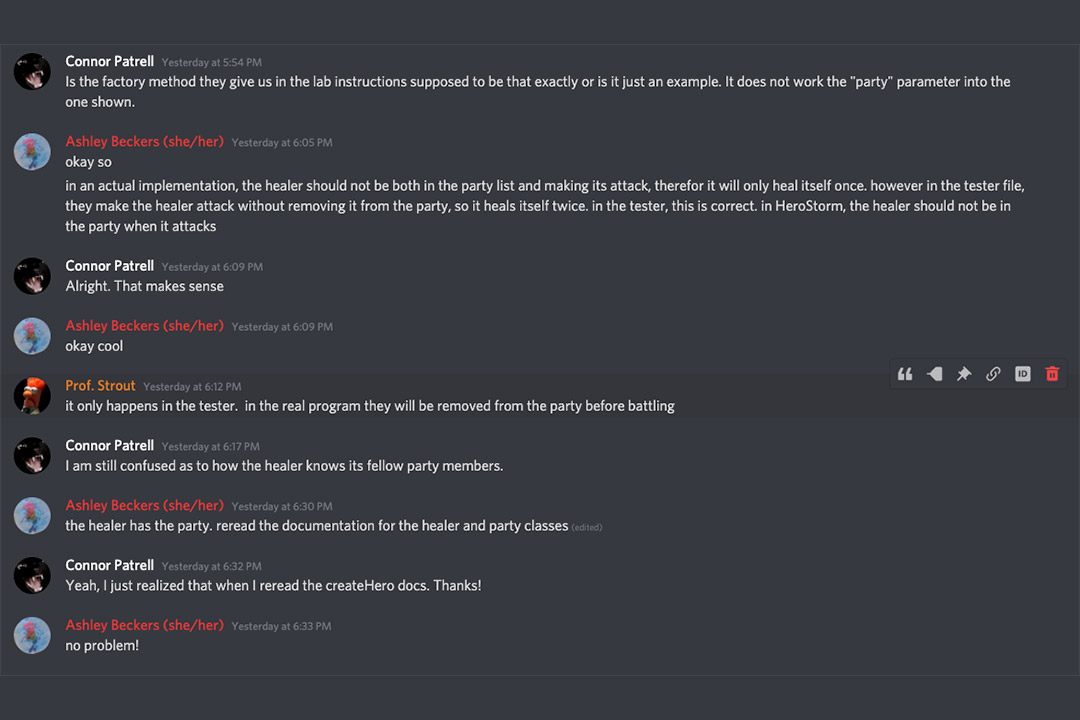 Steven Feldman, a first-year game design and development student from Lima, Peru, moderated two Discord servers created over the summer when he took classes as part of RIT's First Class Academy and DDI Summer Experience. Since arriving on campus this fall, he has joined several Discord groups including the Sol Heumann Hall server, the RIT Game Dev Club server, RIT Players server, RIT Class of 2024 server, and the Electronic Gaming Society server, among others.
"There are so many Discord groups on campus, too many to count, actually," he said. "And new ones are being created all the time."
Since joining the Sol Heumann group, Feldman has connected with other students in his residence hall for meals and board game sessions. And being a part of the RIT Game Dev Club server has enabled him to connect with upperclassmen in his major.
Brandon Keller, a fifth-year BS/MS computing security student from Cuyahoga Falls, Ohio, was instrumental in developing the computer science Discord server and handles the queuing system that allows students to get one-on-one help from mentors virtually. Keller said the feedback has been great and the students love the opportunity to connect with their peers.
"There are lots of places students are going online to socialize and to get help," said Keller. He explained that there are two primary social Discord servers, one designed for the entire student body, and another for first-year students and select upperclassmen to provide advice and answer questions.
"On the academic side, there are class-specific Slacks and Discords hosted by faculty members. On top of school-sponsored communities, there are also dozens of smaller Discords based on interest or subject matter, such as math or science."
Cha Ron Sattler-Leblanc is senior director of RIT's Academic Success Center. When the campus shifted to remote instruction in March, the ASC worked with tutoring centers across campus to help students find support in the virtual environment. When students returned to campus this fall, but with limited in-person engagements, Sattler-LeBlanc and her team thought carefully about how they could create community in a two-dimensional setting. They developed their own space on Slack to connect with students.
"Our team had one of those RIT 'ah-ha moments' when we all realized that 'of course, computer science students are communicating on Discord.' We opted to use Slack. It was important to create some 'virtual real estate' to foster rapport and organic connecting. In addition to tutoring support, our student staff and team workspaces have channels for work as well as 'daily shenanigans' with team members engaging in daily trivia and meme battles."
The ASC team runs its Slack channel like a community workspace, with all of the same expectations for how staff and students should conduct themselves in person. "It's been amazing to see how communication and connections have emerged and evolved while being apart," she said.
Jordan Gates, senior staff assistant in the Department of Computer Science, said that one benefit of this virtual space is that shy students often feel less inhibited when trying to connect with others.
"This virtual space is accessible to everyone and students can choose what they share with each other. If they just want to use it for homework help, that's perfectly fine. If they choose to reveal other things about themselves, they can do that, too."
Gates also has safeguards in place to ensure that users feel safe. "We ask the students for their names so we know who is engaging in the platform. Then they can change their usernames to a nickname if they'd like. So far, all students have been in compliance and we haven't had any security issues. But, we are still working to provide additional safety measures that will roll out soon."
Feldman offered some tips to students to get the most out of their virtual experience. Among them, he said, it's vital to be active in these groups, participate in conversations, and seek out people.
"Give yourself a voice. Be a part of the experience and make your personality stand out."
How to Create Community
Cha Ron Sattler-Leblanc, senior director of RIT's Academic Success Center, shares thoughts on creating community.
Find an on-campus job. Sattler-Leblanc says this is one of the best ways to meet new people, including faculty, staff, and other students.
Get involved. There is something for everyone at RIT. Determine what you're interested in and join a club, sport, or other organization. If what you're interested in doesn't currently exist, start your own group.
Join in the fun. Look for, and be a part of, the silliness that happens around campus.
Be a leader. This pandemic has caused many of us to look within ourselves and realize what is truly important. Think about how you can channel passions, support causes, or be a leader in addressing problems.
Don't beat yourself up. We are all experiencing some level of difficulty and layers of isolation. What can we do about it? Be a helper. Go out of your way and say "hello" through your mask. Be more expressive when speaking or signing since faces are covered.
Reach out to the Academic Success Center. In addition to providing academic support and mentoring, ASC can work with students on how to improve communication skills.
Sattler-Leblanc adds: "There are some really unique opportunities to connect with one another. It may take a little extra effort. But we're Tigers, and we'll figure this out."