July 29, 2019
by Luke Auburn
RIT students show eighth graders how to have fun with math and science at SMASH
RIT hosts Summer Math Applications in Science with Hands-On (SMASH) Experience for Girls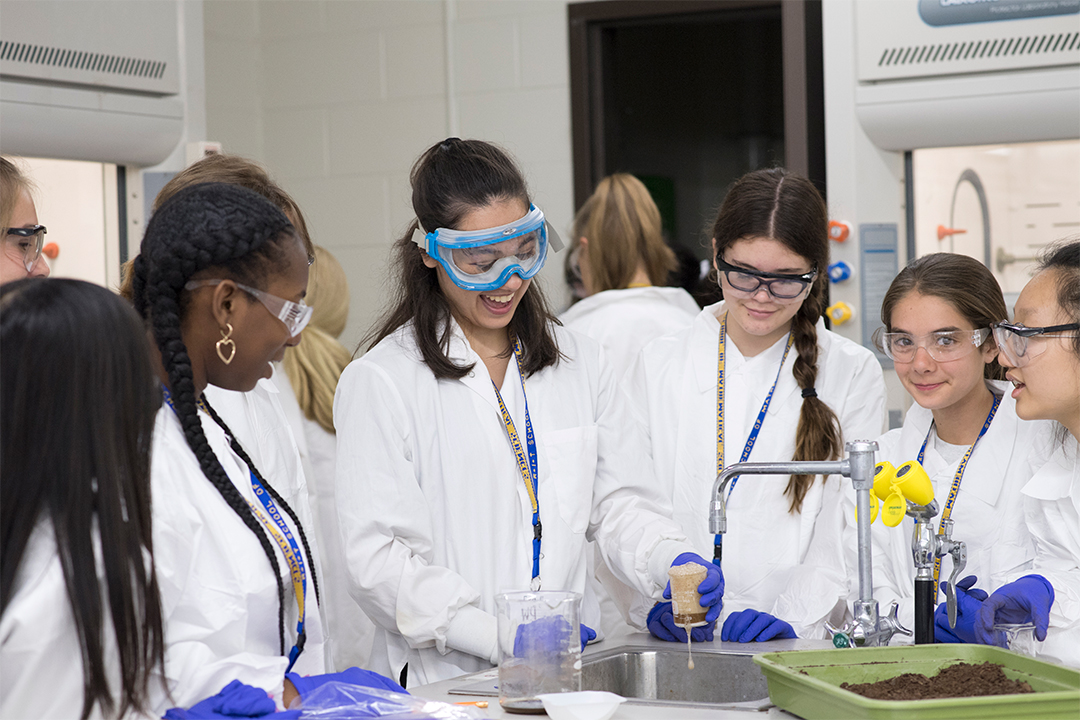 A group of 36 girls entering the eighth grade received a weeklong crash course in the science and math behind climate change thanks to a unique, interactive curriculum designed and delivered by four Rochester Institute of Technology students. The middle schoolers participated in RIT's annual Summer Math Applications in Science with Hands-On (SMASH) Experience for Girls, aimed at building confidence and engagement in STEM education and careers.
Throughout the week, SMASH participants conducted experiments in water filtration and ocean acidification, analyzed big data sets related to rising carbon dioxide levels in the atmosphere and got an early taste of college life. Under the guidance of SMASH Director and Associate Professor Kara Maki, Director of Experiments and Associate Professor Lea Vacca Michel and School Without Walls high school mathematics teacher Karie Shaw, the RIT students crafted and offered activities to show the middle schoolers how fun and rewarding studying science and math can be.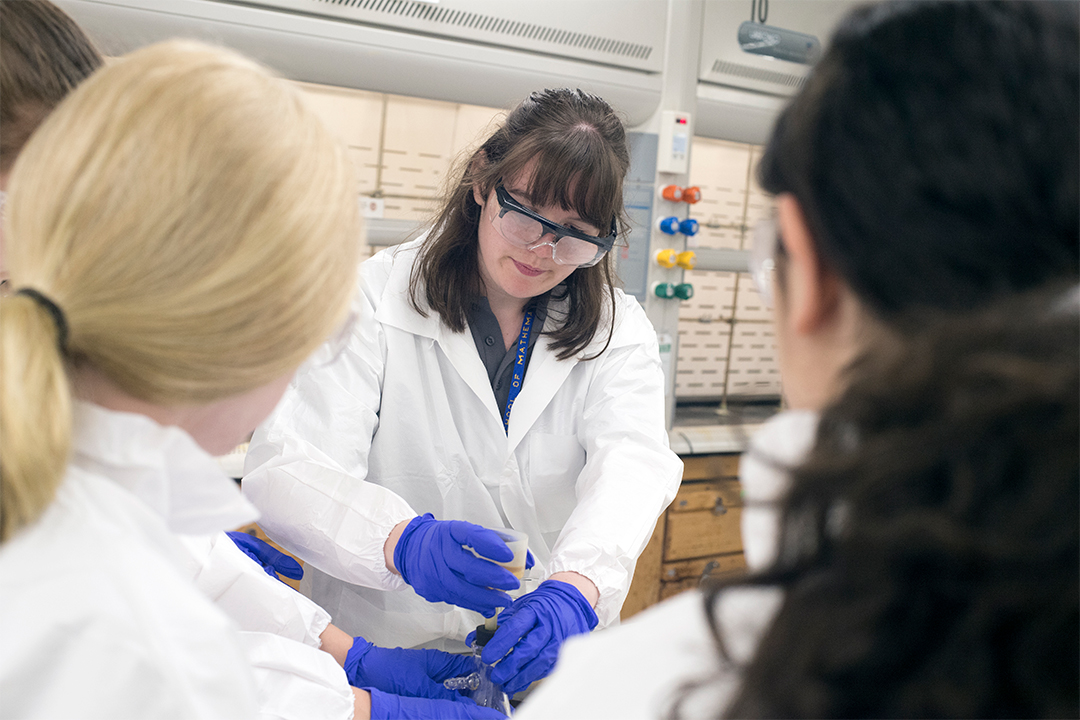 A. Sue Weisler
"We want to get these girls really excited about math and science, pursue careers and help them find new interests," said Dominique Caldwell, a third-year applied statistics and actuarial sciences student from Lockport, N.Y. "We want them to be able to find something that they're really passionate about, whether it's expanding on an interest they've already had or something new introduced in one of our labs."
SMASH organizers said one of the overarching goals of the camp is to level the playing field between men and women studying science and math.
"There's a huge achievement gap in math and science for young girls and it really starts in middle school," said Eva Earnest, a second-year biochemistry student from Brookline, Mass. "When you look at test scores and enthusiasm about math and science in elementary school, it's all pretty equal between girls and boys. Middle school is really when it starts to dip for girls."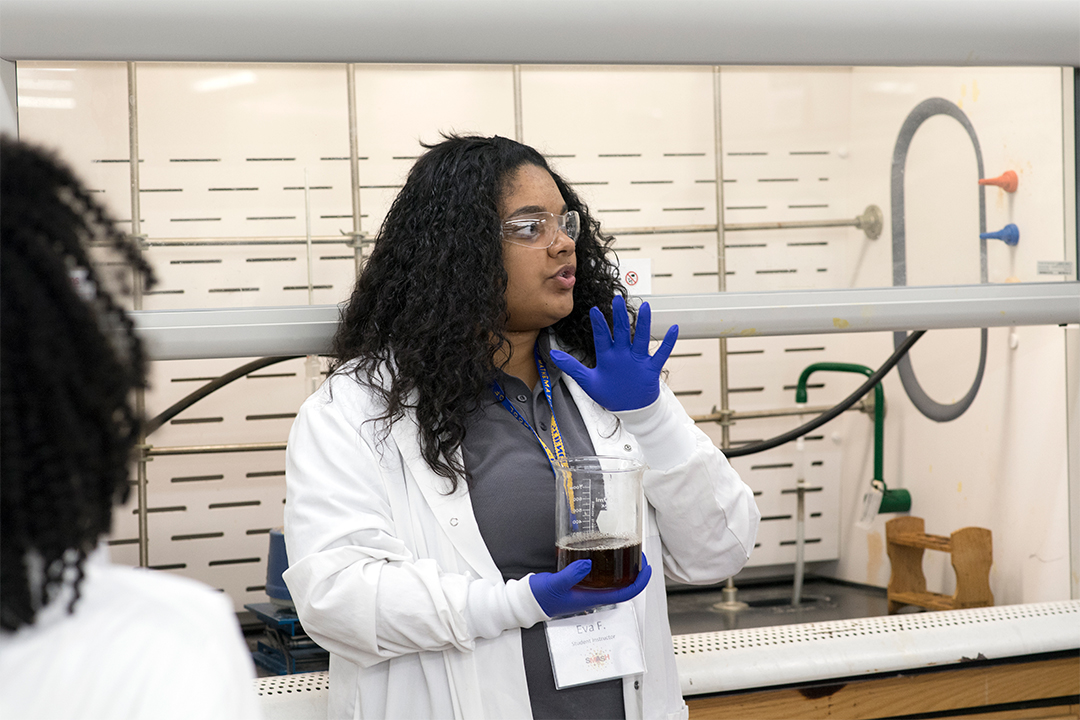 A. Sue Weisler
Additionally, SMASH presents an opportunity to expose young students to opportunities beyond grade school that they might not know they have. Eva Fuentes, a second-year biomedical sciences student from Rochester, said she was excited to see students from her alma mater James Monroe High School participating.
"It's great to see people from my high school participating in things like this," said Fuentes. "I want to give back to the younger generation and be able to show them that they're in the city now but they can come to college. It's something they can obtain if they put their minds to it."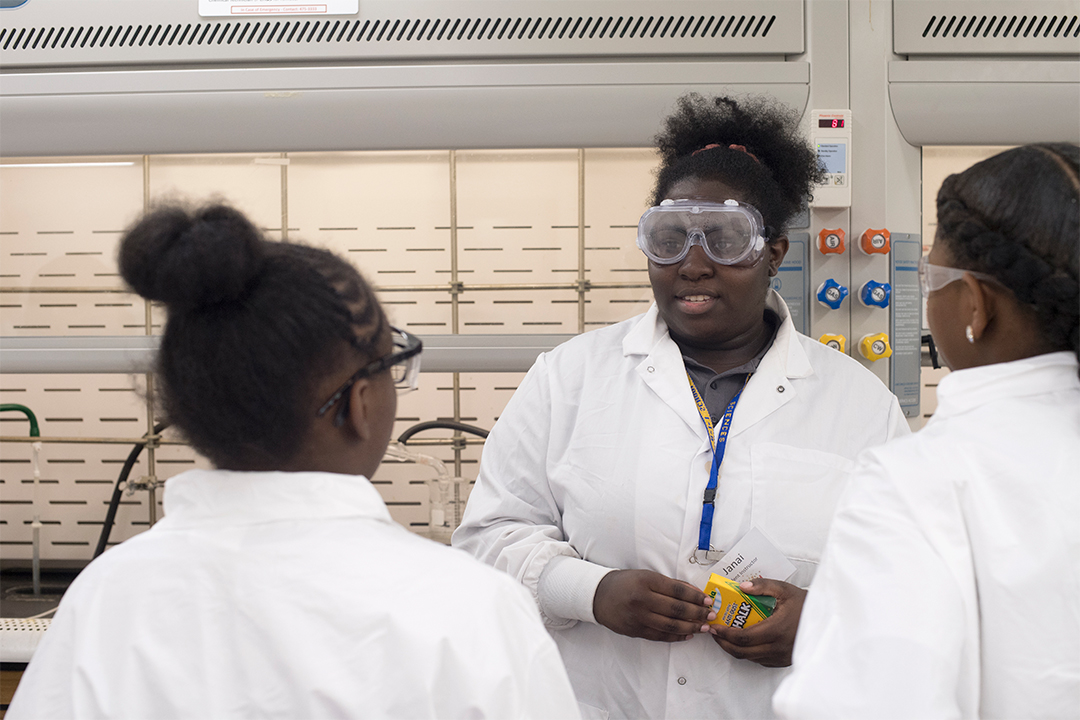 A. Sue Weisler
Ultimately, the RIT students hoped that the SMASH participants walked away with a sense of confidence empowerment.
"I want them to know they don't always have to sit in the passenger seat," said Janai Perdue, a second-year chemistry student from Rochester. "Climate change is a human problem that affects all of us— women, children, adults, everybody. We wanted them to learn that they can be on the front and center making the changes needed themselves and not waiting for someone else to do it."
For more information about the SMASH Experience for Girls, visit https://www.rit.edu/castle/programs/smash/overview.
Topics