RIT students spend Alternative Spring Break helping communities in need
Students cleaned beaches, painted buildings and more in Florida, Puerto Rico and South Carolina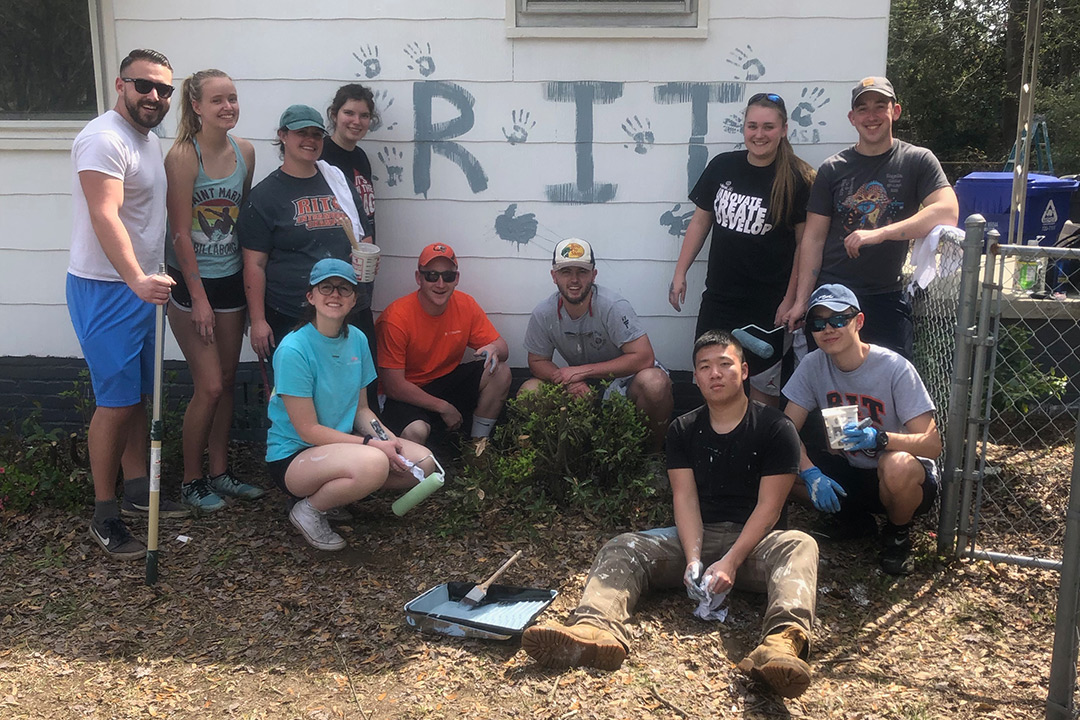 More than 40 Rochester Institute of Technology students spent a week during their Alternative Spring Breaks clearing hundreds of pounds of trash from beaches, painting school buildings and preventing erosion while providing a habitat for oysters.
RIT students have participated in Alternative Spring Break community projects for more than 10 years, said Kathryn Cilano, assistant director of RIT's Center for Leadership and Civic Engagement, which helped organize the four trips this year. The students paid for their air fares.
"Alternative Spring Break is a learning opportunity for us," Cilano said. "It's a chance to teach students how they can have an impact on different domestic communities and to interact with people from those communities. It fits in with RIT's mission to create active citizens."
The groups partnered with local community organizations that helped them find projects that would help their communities the most in the time that they had to spend there.
Cilano, who accompanied a group of students to the area around Luquillo, Puerto Rico, said the connections they made with the local residents were most memorable for her.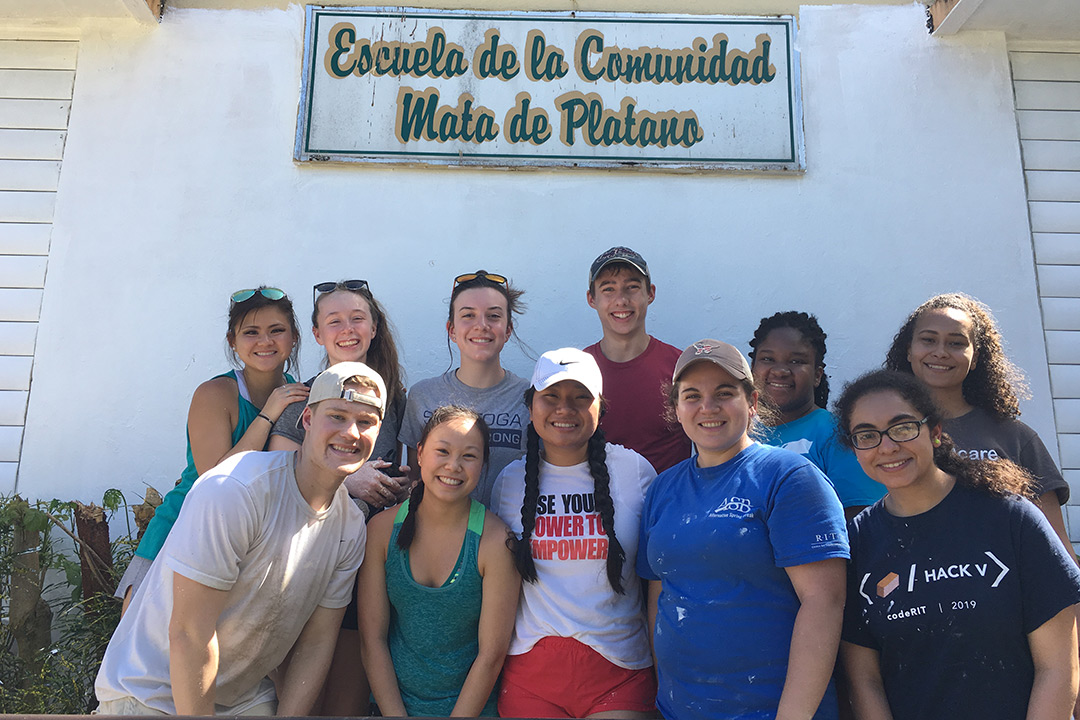 "We didn't come face-to-face with the aftermath of Hurricane Maria, but we met so many residents who were motivated to strengthen their communities because of the hurricane which happened there," she said.
One of the 11 students in the group, Emilyn Nguyen, a fourth-year biomedical science and international global sciences double major from Greece, N.Y., participated in her second year of Alternative Spring Break, having spent last year's break in Houston in cleanup efforts following Hurricane Harvey.
"It's important for me to give back to the community," Nguyen said.
The students spent time at a nature preserve helping plant trees, making sure the existing ones were healthy and cleaning more than 150 pounds of trash – glass, plastic bags, Styrofoam, bottles, aluminum cans, "and a surprising amount of flip-flops" – from a beach there. They picked up nearly 300 pounds of additional trash from a wetlands area.
The group spent two days clearing a yard and painting a building marked to open as a school, and visited a Boys & Girls Club, where they read to the students, taught them English, helped them with art projects and played some dodgeball.
"Even if you're just picking up trash or teaching children English, when we met the people, we realized the work we were doing was super meaningful," Nguyen said. "It's through that engagement that we realized how impactful our work was."
Colin Hurley, a third-year management information systems major from Longmeadow, Mass., was one of 11 RIT students who spent a week in a low-income neighborhood in Charleston, S.C., where the group cleared a community garden that had been abandoned and painted a house. They painted "RIT" along with their handprints before applying a final coat.
He said it would have cost the homeowner $5,000 to have the house painted. "Having us there was definitely a money saver for them," Hurley said.
The group worked with a local nonprofit there called Metanoia that specializes in asset-based community development.
This was Hurley's second year volunteering during spring break, and he said it won't be his last.
"I've always enjoyed community service," Hurley said. "It's cool to see how other people live. You don't always appreciate something until you don't have it. And you get a good feeling inside when you can help a different community than your own."
Two of the groups traveled to communities in Florida. Sivan Moyal, a third-year industrial engineering major from Austin, Texas, joined a group from RIT that traveled to Miami.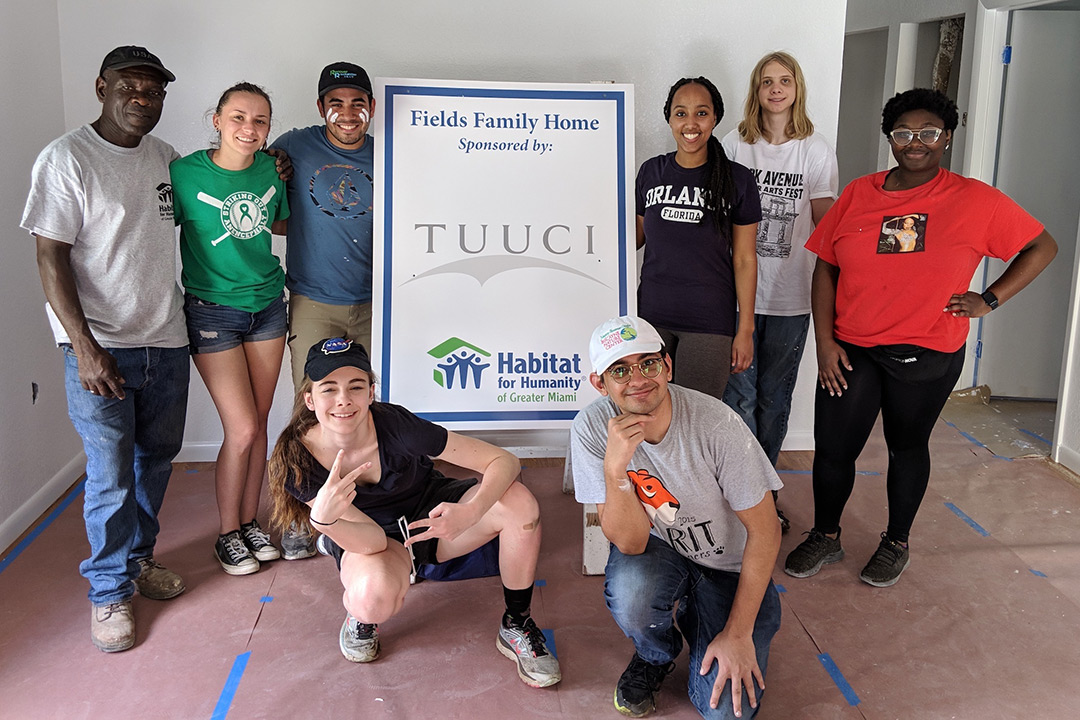 They teamed up with Guitars Over Guns, a nonprofit that works with at-risk middle and high school students, teaching them how to play musical instruments and express their voices.
"The school is a safe haven for these kids," Moyal said.
The RIT students cleaned classrooms, organized their library and did some tutoring.
They also spent part of their week painting houses for Habitat for Humanity and cleaning beaches at the Key Biscayne Conservation Center, where they also cleared and tilled the soil in a community garden that benefits abused women.
"I thought it would be a good idea to go to a different place and learn about a new area," Moyal said. "It was eye-opening. One of my goals was to learn about the misconceptions of Miami. We saw there was a lot of poverty, a lot of gentrification."
Victoria Utz, a fourth-year physician assistant major from Orchard Park, N.Y., was one of 11 students who traveled to Destin, Fla. Most of their week, they partnered with Samaritan's Purse, a nonprofit that was organizing cleanup following Hurricane Michael in Panama City Beach.
"We went to houses and mostly cleaned up palm trees and debris in their yards so they could start getting their houses fixed," Utz said. "There were trees down everywhere. The residents were very thankful for the team for helping them get back on their feet after all these months. People driving by saw our T-shirts and stopped and thanked us for coming."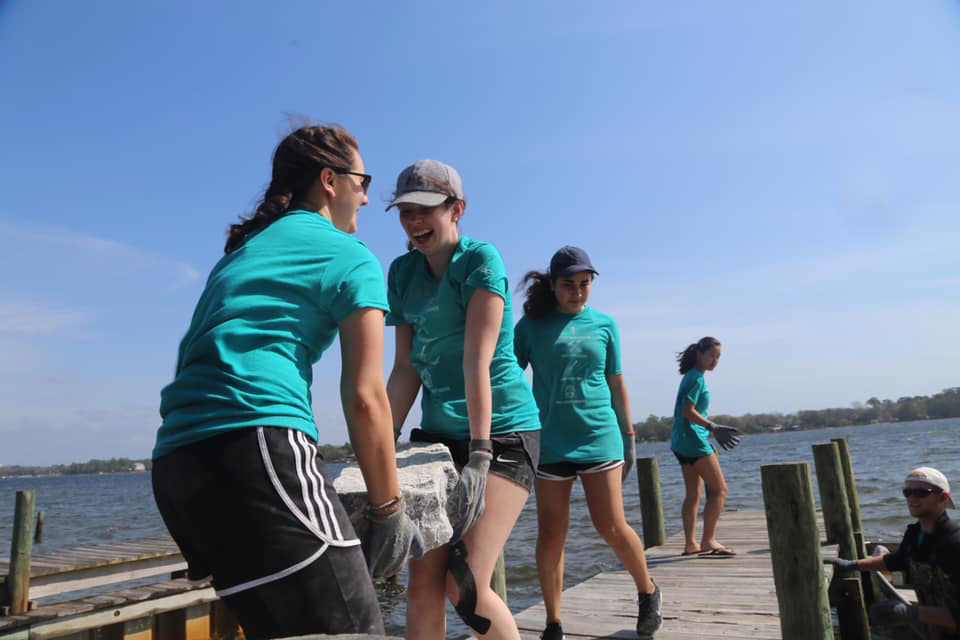 And they spent a day with the Choctawhatchee Basin Alliance working on a shoreline restoration project, moving limestone rocks to prevent erosion and create a habitat for oysters to breed.
It was Utz's first Alternative Spring Break.
"Before, I'd stay at home and do nothing," she said. "I saw this opportunity to use my energy to better another community."
And she also received an unexpected benefit from the trip.
"It was a service-based trip, so I was expecting to put a lot of energy to restoring this community," Utz said. "But I didn't realize the friendships I would get out of it. After our work, we would all hang out and chat. I really made some friendships that will last for the rest of my life."
Nguyen agreed.
"The people that I traveled with, they were 10 other strangers when we started," she said. "But we came out with 10 new friendships. It was really powerful."