RIT Team Captures Second in World Punkin Chunkin Contest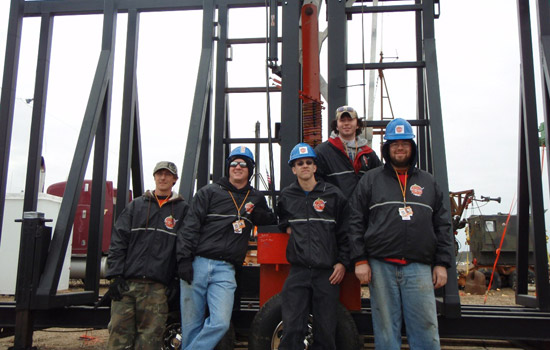 Submitted
A team of RIT students and alumni claimed second place at the World Championship Punkin Chunkin contest in November.
Matthew DiFrancesco '10 (mechanical engineering), Jason Nichols '10 (mechanical engineering), business management student Andy Nichols and environmental management student Chris Nastasi launched a pumpkin 2,316.17 feet with their machine called NASAW, North American Sliding Axle Whipper. The winning team in the trebuchet division shot its pumpkin only 10 feet farther.
"We may not have won but we were the first trebuchet team ever to throw twice over 2,000 feet in one competition in the United States," says DiFrancesco, team captain.
The event took place Nov. 4-6 in Bridgeville, Del. The competition is divided into categories by the type of machine used. A trebuchet is a sort of catapult that is powered by gravity and was used in the Middle Ages to throw stones.
More than 100,000 spectators watched 3,000 contestants toss pumpkins using 113 different machines over the three-day event. The competition was first aired on the Discovery and Science channels on Thanksgiving Day and was hosted by stars of the television show Mythbusters.
This is the fourth year the team, called Urban Siege, has competed in the world championship. But it's the first year members have used NASAW. The machine was built this summer and tested on the upstate New York farm of newest member Nick Wendel.
The second place shot was only the 13th time the machine had been fired and marked the strongest performance by the team, which first formed when DiFrancesco, Jason Nichols and Nastasi launched watermelons in 2006 in an American Society of Mechanical Engineers event on campus.
Next fall, Urban Siege hopes to compete in the world championship again, and with some tweaking, DiFrancesco says, the goal is to shoot a pumpkin at least half a mile, or 2,640 feet.
"The competitions are just great fun," DiFrancesco says. "Chunk week is my favorite week of the year. The simple idea of just launching a pumpkin as far as possible appeals to me in such a unique way."
To learn more, go to punkinchunkin.com.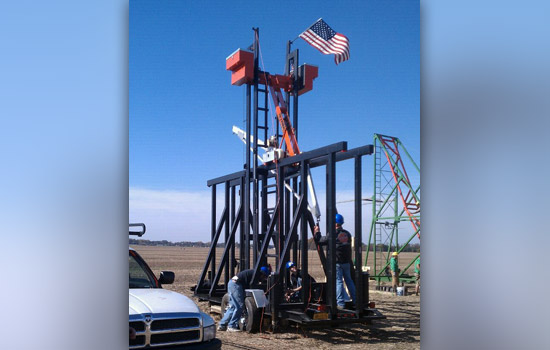 Andrew Nichols